Girls Varsity Tennis Team Prevails Over COVID and Darkness
Thursday, 12 November 2020 09:30
Last Updated: Thursday, 12 November 2020 09:45
Published: Thursday, 12 November 2020 09:30
Anna Cho
Hits: 887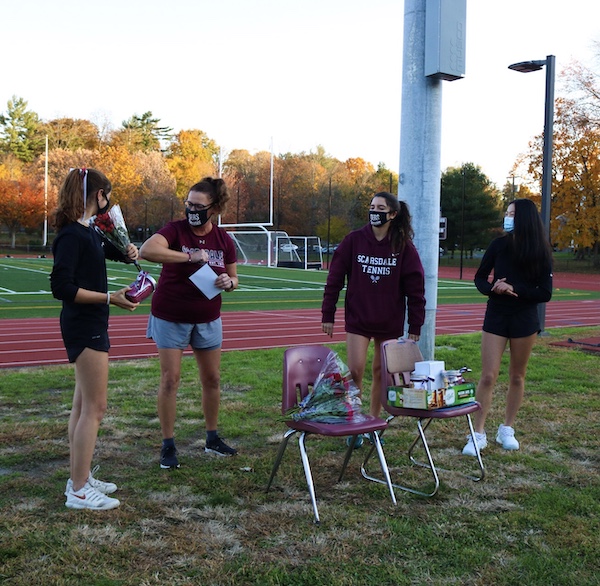 Coach Roane gives a COVID elbow bump to Senior Anya Kornfeld.The Varsity Girls A Tennis Team prevailed over COVID and early darkness to eke out a shortened but successful fall season. Under the leadership of Coach Jennifer Roane, they held tryouts, practices and five league matches, giving the talented team the opportunity to compete. As the season extended into November, days ended early and by 4:30 the girls were playing in the dark. Despite all these challenges and the requirement to play wearing masks, the team triumphed.
Senior captains Zoe Tucker and Devin Goldman pose next to their posters.On Friday November 6, they celebrated their seniors with posters, flowers, chocolate, and lots of laughter prior to a match against Rye. With nine seniors on the team, this day was a special one for the seniors, the team, parents and siblings. Parents proudly watched as Coach Roane lauded each senior and presented them with gifts and flowers.
The celebration was followed by a match against the team's biggest rival, Rye. Although Rye posed as a bit of a challenge, the girl's fought and won with a score of 5-2, and the team remains undefeated with a record of 5-0. Although the season usually ends in October, this year it started late and was extended until November 13. The last match, scheduled for Tuesday November 10, was cancelled due to a COVID exposure at the high school.
The month of November brought early sunsets and cold weather with the sun setting around 4:40 causing the girls to struggle to play in the fading light. Last week, the players were forced to cut their matches short when playing away at Mamaroneck where there are no overhead lights. At Scarsdale High School the hard courts are lit which allows the team and the community to play when darkness falls.
Seniors Natalie Schonfeld and Anya Kornfeld
Despite the season consisting of only a handful of matches, the girls really made the best of it and continued a second season with zero losses. The entire team is very thankful that they had a season at all. Co-Captain Zoe Tucker, a four-year member of the team, expressed her gratitude to "Coach Roane for keeping us all in line and fighting hard for us to have the season that we had." Co-Captain Devin Goldman said, "Our team has been doing really well given the circumstances of the season. I'm glad that even though we have a short season this year, we have been able to play as well as we always do."
Here is the team line-up and scores for the match against Rye. This year, one eight-game set was played rather than two sets.
First singles player Natalie Hu (8-6)
Second singles player Zoe Tucker (8-5)
Third singles player Emily Tsai (2-8)
First doubles players Laura Mendes and Anya Kornfeld (8-3)
Second doubles players Katherine Rolfe and Anna Cho (6-8)
Third doubles players Megan Niu and Natalie Schonfeld (8-6)
Fourth doubles players Devin Goldman and Sabrina Siegel (8-3)
Fifth doubles players Maggie Maronilla and Maya Cukierman (8-3)
Senior Megan Niu