Scarsdale Parents Greet Hometown Heroine Dr. Becky
Tuesday, 13 September 2022 17:34
Last Updated: Tuesday, 13 September 2022 17:47
Published: Tuesday, 13 September 2022 17:34
Joanne Wallenstein
Hits: 2010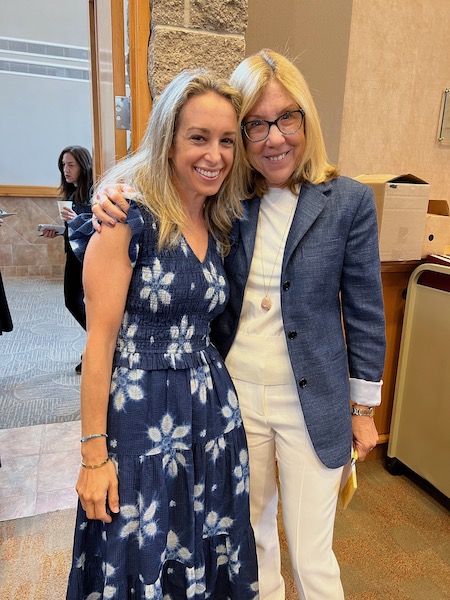 Dr. Becky with Mom Debbie PrinceScarsdale native and parenting guru, Dr. Becky Kennedy, aka Becky Prince in the 'dale, returned to her hometown on September 12, 2022 to launch her first book and greet over 150 fans at an event sponsored by the UJA at Shaarei Tikvah.
In just two years, "the parenting whisperer" has amassed 1.3 million followers on Instagram, who turn to her for help on managing their children, their families and their own emotional health. She has built an impressive brand around "Good Inside," that includes podcasts, videos, a newsletter, daily emails and now her first book.
A clinical psychologist, Dr. Becky noticed that patients would come to her practice and say they had great parents but nonetheless, they felt empty, unsatisfied, and like nothing was ever good enough. She realized that they were no more able to deal with disappointment at the age of 18 than they were at the age of 2, sometimes because they were unable to process their own feelings. She said, "In order to deal with a feeling you have to feel it."
She developed a new parenting paradigm that begins with the premise that everyone, both parents and children, are good inside. Rather than seek to control bad behavior through punishments and time-outs, Dr. Becky advises parents to join their kids on their "side of the table," and to use empathy and reasoning to help children understand and cope with their feelings. By offering them skills to recognize and deal with frustration and hurt, children can craft their own solutions and avoid tantrums, acting out or hurting others or themselves.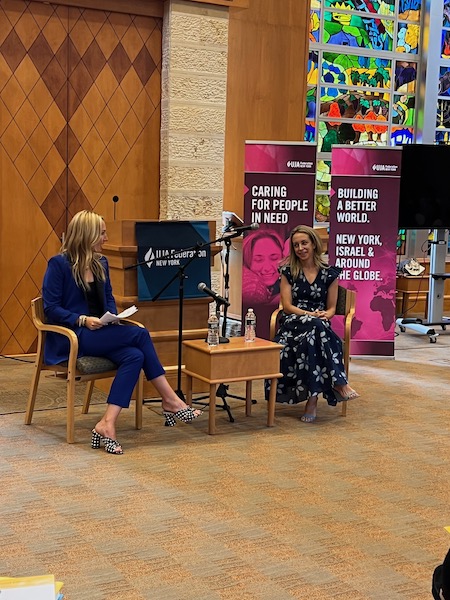 Dr. Becky was interviewed by Lindsay Weinberg, founder of DohLife.
She does not believe it is up to parents to make their children happy. She says, "When things don't work, don't jump in and make them happy. Let them find their own happy bench …. We can't always find happy – let them experience that feeling. As a parent, don't always solve the problem for your child. Sit with them on the unhappy bench and say – "uh that stinks! I am so glad we're talking about this – that's so important." Build their confidence and say something like, "I remember being six and not being invited to a slumber party.""
According to Dr. Becky, resilience is the ability to tolerate the feelings. Remove the aloneness of the feeling and your children will be able to cope on their own. She urged parents to ask their kids the right questions to help their children find the answers.
For parents, what happens when you do blow up and say things you wish you hadn't said? Dr. Becky is a big advocate of making a "repair." She advises you to apologize for what you said, validate your children's emotions and add connections, understanding and an explanation.
Asked about her own development and rapid evolution in the past two years, Dr. Becky said, "We have 17 women working full time which has been an energizing shift." She said, "It lights me up inside to connect with the people in the office and our readers. I feel like there is something bigger that "Good Inside" is delivering. This "feels so much bigger than me and my individual home."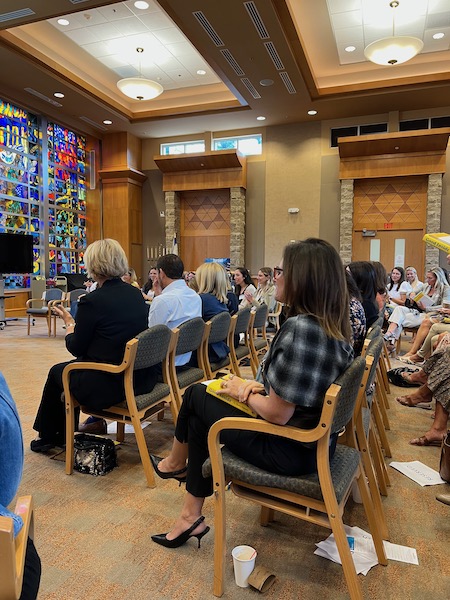 The event attracted over 150 attendees.Dr. Becky admitted that running the business while raising three young children was complicated, but that it gives her a sense of purpose. The following day, she was headed around the country for an eight day national book tour of "Good Inside, A Guide to Becoming the Parent You Want to Be," at the same time her three children were headed back to their first week of school.
Follow her on Instagram at @drbeckyatgoodinside
The event was sponsored by UJA-Federation of New York who works with a network of hundreds of nonprofits, extending its reach from New York to Israel to nearly 70 other countries around the world, touching the lives of 4.5 million people annually. Every year, UJA-Federation provides approximately $180 million in grants. For more information, please visit ujafedny.org.