A Party in the Streets of Scarsdale: Music Festival Brings Thousands to the Village
Tuesday, 06 June 2023 13:03
Last Updated: Thursday, 08 June 2023 12:19
Published: Tuesday, 06 June 2023 13:03
Randall Rainer
Hits: 1276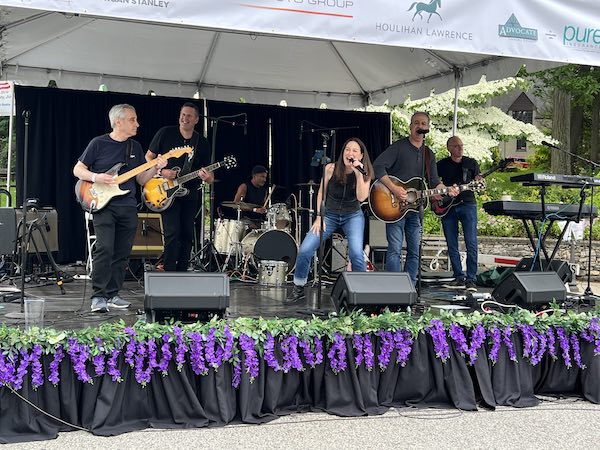 The Del BocasThe Scarsdale Music Festival returned better than ever to the streets of Scarsdale Village on Saturday June 3rd . With two stages, there was no break in the music, permitting one band to set up as the next one played.
The bands were first-rate and the crowd loved it, singing, dancing and rocking out on Chase Road. We arrived to see Scarsdale hometown favorites The Del Bocas performing covers of crowd pleasers like "I Melt with You," Tom Petty's American Girl, Joplin's "Me and Bobby McGee and even The Beatles, I want to Hold Your Hand." Lead Singer Erika Radin was pumped… jumping, grooving and clearly enjoying herself as much as the crowd enjoyed her performance.
The event lasted a mega seven hours – and the audience built as they day went on. We caught The Velcrows singing Steeley Dan and "Tied to the Whipping Post" by the Allman Brothers, tunes that resonated with some of Scarsdale's boomers. Rennie Pincus and Friends with Lovelight added a country twang, staring out with Willie Nelson's "On the Road Again," followed by another number that got the audience moving – The Grateful Dead's "Bertha" and Arlo Guthrie's "City of New Orleans."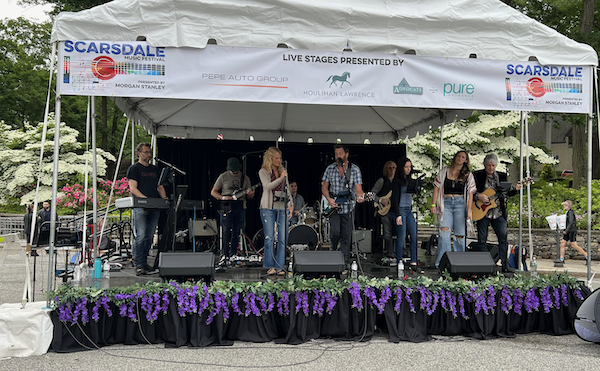 Rennie Pincus and Friends with Lovelight
Long Island-based Bombzr took the north stage around 4:00, playing their unique style of funk, jazz and soul fusion. Front man Rich Bombzr (sax, keys, talkbox) led a spirited set, backed by other band members on guitar, keys and drums. The band exhibited great musicianship, and a well-rehearsed tight sound.

Taking the south stage around 5:00 was Scarsdale's own Rachel Bochner (SHS Class of 2015), an up and coming pop vocalist currently cutting her chops in NYC and other venues. Accompanied by an acoustic guitarist, Bochner sang to a crowd that included many of her longtime local fans and supporters.

And there was lots more to enjoy, beyond the music. Zachys hosted a large liquor and wine tent where visitors could sample both wines and mixed drinks. At the Family Fun Zone, hundreds of children were doing crafts, having their faces painted, trying out instruments from Hoff Barthelson and just having fun chasing bubbles.
Community organizations including SNAP, SVAC, the Scarsdale Forum and the Conservation Advisory Council hosted tables where they engaged with residents and encouraged participation.
A nice array of food trucks and booths from local restaurants were doing a brisk business. There were steak sandwiches from One Rare Steakhouse, pizza, lemonade from Meritage, cookies from Baked in Color, Longford's ice cream and lots more.
Also new this year were two big bars on Spencer Place. Beer and wine were for sale and drinking was permitted in the streets.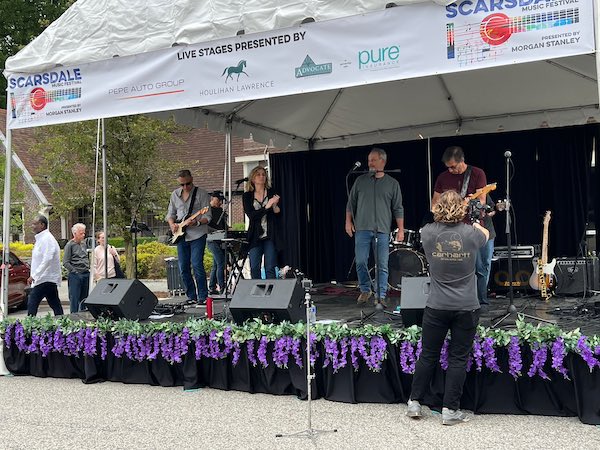 The Velcrows
Marcy Berman Goldstein, the head of the Scarsdale Buisness Alliance and the producer of the event said the Music Festvial was a big success.
She said, "We are so proud of our exceptional, family-friendly event, which drew over 5000 attendees. With 10 extraordinary bands performing on two live stages, delicious food options from over a dozen vendors, and expanded activities, there was something for everyone. The VIP Grand Tasting Tent placement, with prime viewing of both stages, and beer and wine consumption permitted throughout the festival venue were great enhancements this year!
We could not have succeeded without the generosity and support of our talented musicians, event sponsors, participating vendors and community partners, and the Village of Scarsdale. We are also grateful to the community for their support of the Scarsdale Business Alliance and this year's charitable recipient, the Center for Cancer Care at White Plains Hospital.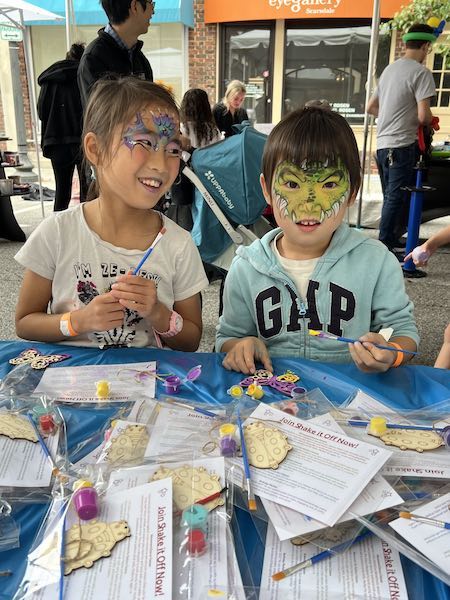 The SBA is thrilled to continue to enhance the vibrancy of our downtown center by bringing cultural arts and diversity, and expanding our community's connection to Westchester County and the greater Tri-State area. We look forward to next year's event!
We look forward to building SMF from its great foundation. We have sent surveys out to attendees who purchased tickets to gather specific feedback so we can continue to grow and improve the festival. We look forward to connecting to even more people and businesses throughout the Tri-state area. Anecdotally, we have heard amazing feedback and comments about this year's festival. In particular, attendees have commented on the amazing energy throughout the day, extraordinary talent of the musicians, the ability to purchase and consume alcohol throughout the venue, and the expanded offerings of food and activities.