The Postcard: A Detective Story That Grows Into An Exploration Of Family
Wednesday, 23 August 2023 08:15
Last Updated: Wednesday, 23 August 2023 08:45
Published: Wednesday, 23 August 2023 08:15
Harriet Sobol
Hits: 521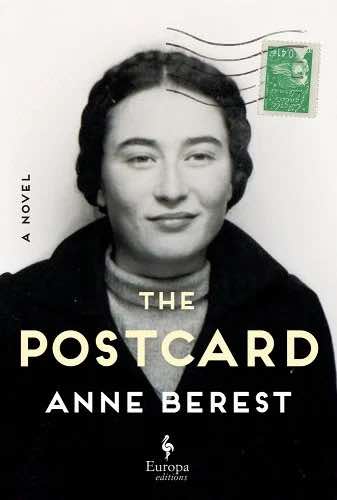 The following was written by Harriet Langsam Sobol, who will lead a class on The Postcard on September 13 at 1 pm at Scarsdale Library.

France, 2003. It was a surprise to twenty-four year old Anne Berest when her mother, Lélia, showed her an anonymous postcard that had arrived in the Christmas mail. On one side was a picture of the Opéra Garnier. On the other were four names. The list included Anne's maternal great grandparents, Ephraïm, his wife, Emma, and two of their three children, Noémie and Jacques. The third child, Myriam ,was not included. Anne knew her grandmother but, didn't know anything about her siblings. Myriam and Lilia rarely mentioned them, just as their Jewish heritage was not a topic of conversation in the home.
Anne and Lélia were nervous about who had sent the mysterious postcard and why. Was it some sort of a threat? There was an air of antisemitism in France. The postcard was put away and forgotten.
Ten years passed. On bed rest, because of her pregnancy, Anne was staying at her mother's home. She became painfully aware that she knew little about her mother's family. She felt the need to learn about them. Lélia, a retired professor, began to tell Anne the bits and pieces she knew about Anne's great grandparents, and their children. She called it a "blended" story, made from facts and Lélia's imagination where there were gaps.
The search for the senders and Anne's family history begins.
The women work diligently, chasing down information from experts, government officials, legal sources, diaries, and letters. When they encounter unknown moments, they create them.
A story that begins nearly a century ago is contextualized by contemporary life. The mystery of the postcard drives their search but Anne and Leila's story compels the action into today's world. When Anne's young daughter reports anti-Semitic remarks a schoolmate makes, and Anne is shamed at her first seder for her ignorance of Jewish culture, the reader is reminded of the relevancy of Anne's quest.
Berest skillfully braids fact and fiction, past and present into a page-turner that starts as a detective story but grows into an exploration of family. The reader hurtles toward an inevitable ending compelled by the answers behind the postcard.
Anne and Lélia hire experts, a graphologist to interpret the handwriting on the postcard, a private detective to investigate who could have sent the postcard. When possibilities emerge, Anne and Lélia interview people who might have information about their mother's aunts and uncle. They travel to Les Forges, the town where Ephraim and Emma were captured in 1942. They discover a letter from the mayor at the time that leads to clues of their fate.
We are deeply satisfied when Anne and Leila finally learn who wrote the postcard. But the excitement of the story is in the telling of it, the process of finding the the men and women who formed Lélia and Anne's historical links to their ancestors' past life.
Sobol will lead a discussion of the book at 1 pm on Wednesday September 13 at Westchester Reform Temple and a session with guest speaker Michael Reynolds, Editor-in-Chief of Europa Editions, who will talk about The Postcard and other Europa books on Wednesday, September 20th at one o'clock at Scarsdale Library. Registration is open for the classes on the Scarsdale Adult School's website https://scarsdale.augusoft.net/.