Sunday Celebrations in Scarsdale
Friday, 30 September 2011 10:39
Last Updated: Friday, 30 September 2011 11:13
Published: Friday, 30 September 2011 10:39
Hits: 3011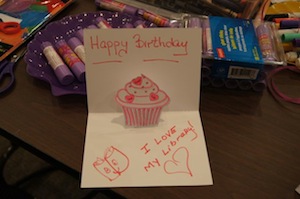 On Sunday September 25, Scarsdale celebrated the library's 60th birthday with games, stories and fun for their youngest readers – while the Chamber of Commerce welcomed newcomers at an event at the Scarsdale Women's Club. Young children and their parents were on hand in the Scott Room of the library to make birthday cards for the library, do spin art and enjoy story time, balloons, hula hoops and cupcakes to mark the Scarsdale Library's 60th.
At the Scarsdale Women's Club on Drake Road, the Scarsdale Chamber of Commerce, lead by Lewis Arlt and Carolyn Stevens hosted a fair to inform newcomers about all that Scarsdale has to offer.
There was a good turnout from Village businesses, civic and school organizations, all there to inform and share. Among the groups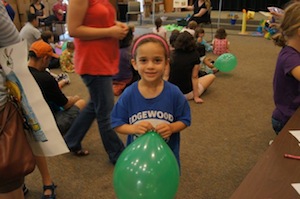 represented were the Scarsdale Forum, Maroon and White, League of Women Voters and the New Choral Society. All the major realtors were represented as well as host of other enterprises including Great Play of Scarsdale, Lifetime Events by Jacqueline, La Dentelliere, Green Design Expo, Country Bank, HSBC, ServPro of Scarsdale, Korth and Shannahan and more.
Everyone enjoyed a free barbequed lunch from Lange's Deli of Scarsdale. Learn more about the Scarsdale Chamber of Commerce and what they have to offer here: http://www.scarsdalechamber.org/