Celebrating Arbor Day - in the Rain
Monday, 29 April 2019 14:37
Last Updated: Monday, 29 April 2019 14:37
Published: Monday, 29 April 2019 14:37
Joanne Wallenstein
Hits: 2332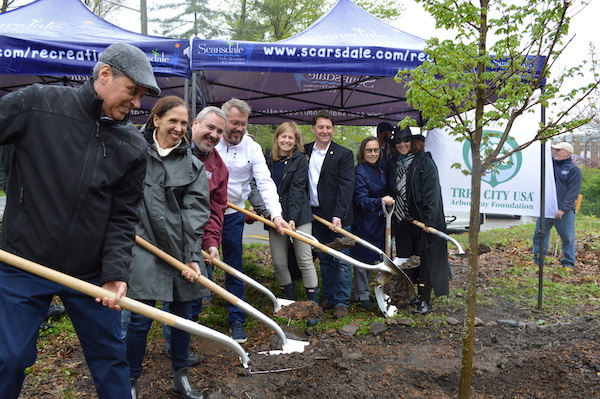 Why were the School Superintendent, President of the Board of Education, Village Manager, Village Mayor, former Village Mayor, Village Trustees, Friends of the Scarsdale Parks and Assemblywoman Paulin huddled under a small tent, ankle-deep in mud on Friday April 26? No it's not the beginning of a mystery based in Scarsdale; but a gathering for a very rainy celebration of Arbor Day -- and the fact that Scarsdale was named a "Tree City" for the 36th year in a row and received it's first ever Tree City USA Growth Award.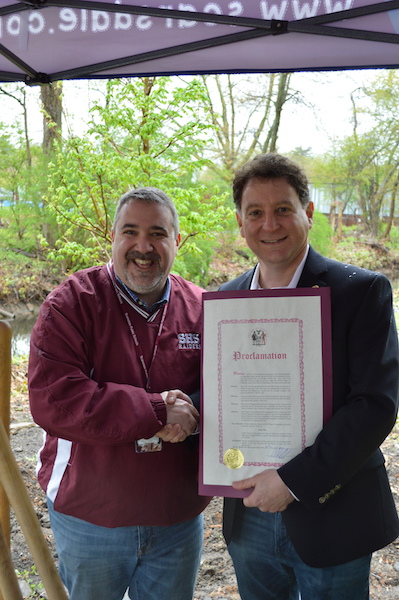 The Scarsdale schools and village cooperated to plant three new trees along the watercourse at Harcourt Woods – an oak, a maple and a fringe tree. The watercourse extends from George Field in Greenacres down through the high school, eventually emptying into the Bronx River. It has helped to alleviate flooding in the high school parking lots. The Friends of the Scarsdale Parks has planted over 1000 trees and shrubs in Harcourt Woods and cleared miles of invasive knotweed.
School Board President noted the collaboration between the Village and the Schools to eradicate the knotweed and congratulated the Village on its designation as tree city.