Health, Beauty and Wellness Fair Brings All Generations to the Village
Tuesday, 07 May 2019 11:23
Last Updated: Thursday, 09 May 2019 11:58
Published: Tuesday, 07 May 2019 11:23
Jamie Robelen
Hits: 2422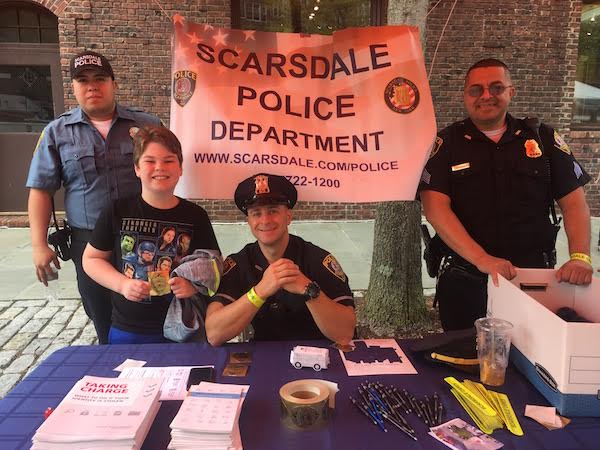 On Saturday, May 4th, local businesses gathered in Scarsdale for the Scarsdale Business Alliance's first Health, Beauty, & Wellness Fair. Admission for the fair was free, and people of all ages were welcome. At check-in, attendees were given a gift bag filled with information and promotions from participating businesses. Among these "goodies" were a coupon for a free class at The Bar Method, a gift card to Greenwich Medical Spa and more. White tents and tables lined Boniface Circle with representatives from Bronx River Books, Equinox, The Child & Family Institute, Elder Care Homecare, Westchester Parenting, and more. Many of these booths offered giveaways, pamphlets, or coupons.
Also in attendance were Scarsdale Police Department, Scarsdale Fire Department, and Scarsdale Volunteer Ambulance Corps. There was an ambulance, fire truck, and police motorcycle for people to look at and even go inside. Kids were able to see the cab of the fire truck, and go inside a real ambulance. Also for kids, was a bouncy castle and face painting sponsored by Houlihan Lawrence. At the Scarsdale Volunteer Ambulance Corps, there were a few students helping out who are training to become EMTs for their Senior Options projects.
Throughout the day, businesses gave presentations open to all in the fair's central tent. In the morning, Club Pilates, Orange Theory Fitness, and The Bar Method offered free sample classes to everyone. The Child & Family Institute offered a panel of professionals to discuss Cognitive Behavioral Therapy. Nordic Edge held a demonstration of their cryogenic fat-freezing. Later, there were presentations by Metro Behavioral Health Associates, Scarsdale Ambulance Corps, and Scarsdale Integrated Medicine.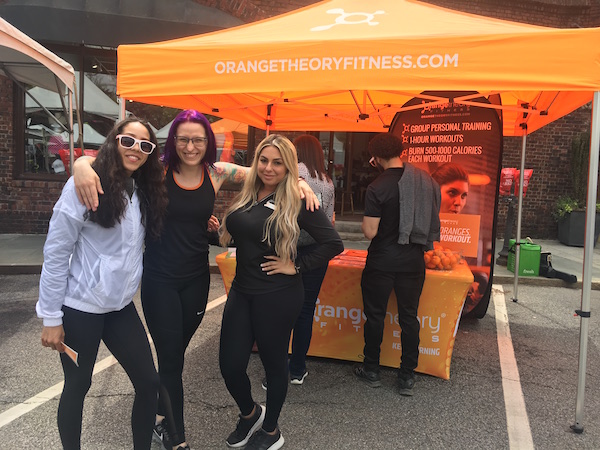 Attendees could buy food from two different food trucks. DoughNation offered a variety of personal pizzas for people to buy, and Graziella's Italian Street Fair Truck served burgers, sliders, pasta, and other Italian favorites. Bango Bowls, a local acai bowl restaurant, had a table at the fair and offered free samples of their bowls, which people could purchase at their store one street over. Additionally, people walked around the fair modeling clothing from local boutiques such as LF, Mixology, and BLVD.
Overall, the fair was full of fun for all who participated. There were activities for people of all ages, and everyone who attended learned a lot about Scarsdale businesses. What may have started out as a grey, cloudy day definitely turned into a day of sunshine and smiles for Scarsdale residents.
SHS Seniors training to become EMTs help out at the fair.
The fair ends with a presentation by Scarsdale Integrative Medicine.
People gather in the main tent for a presentation by The Child & Family Institute on cognitive behavioral therapy.
Locals start their morning with a sample exercise class by Orange Theory Fitness.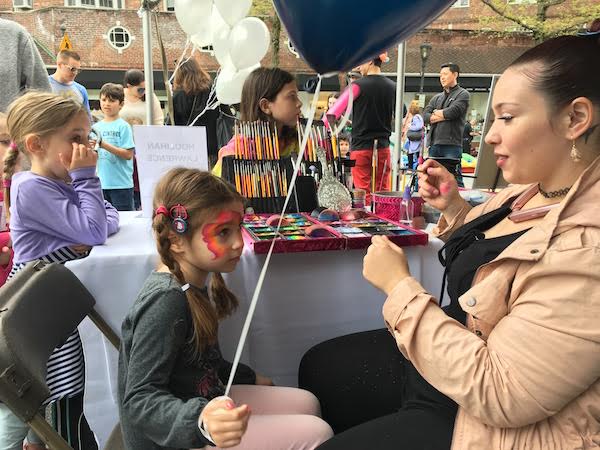 Kids flock to Houlihan Lawrence's face painting booth for colorful, sparkly designs.
A young girl looks at the books on display at Bronx River Books' table.