Greenacres Girl Scouts Donate Supplies to Steve's Camp at Horizon Farms
Monday, 20 May 2019 10:16
Last Updated: Monday, 20 May 2019 21:29
Published: Monday, 20 May 2019 10:16
Rachel Kessner
Hits: 2204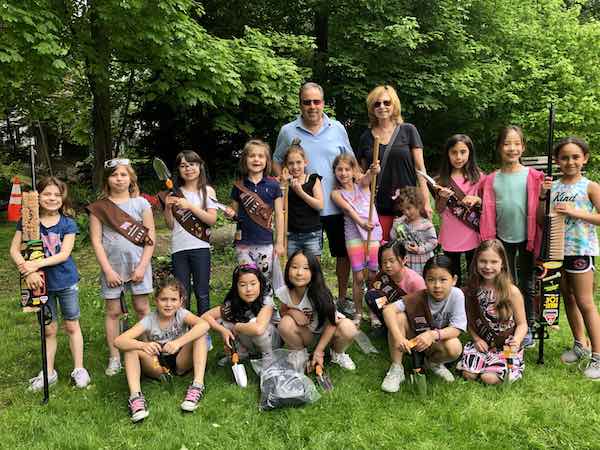 On Friday, May 17th, the second grade Greenacres Girl Scout troop presented Steve and Cheryl Kessner, Scarsdale residents and grandparents to two of the troops members, with an array of gardening equipment to benefit their not-for-profit organization, Steve's Camp. Every summer, the camp provides life changing experiences to about 200 underprivileged young teens through programming that helps them realize their true potential outside the confines of their inner city communities.
Following months of hard work selling cookies online, door-to-door and at Cookie Booths, the troop was able to raise over $12,000. The girls gathered, discussed and voted on the most worthwhile causes to donate a portion of their proceeds to and choosing a local organization with ties to their school community felt like the right way to go.
At their last girl scout meeting of the year, the girls presented Steve and Cheryl Kessner with items such as shovels, trowels, loppers and hoes to help maintain the camp's garden which helps teach the campers about harvesting food and healthy eating. Steve thanked the troop for their hard work and generosity, letting them know how much their donation would help the campers. Then cookies were enjoyed by all!
About Steve's Camp:
Steve's Camp at Horizon Farms revolves around the idea that an intense residential experience can provide the spark that ignites a lifetime of change for youth from chronically underserved communities in NYC.

Participants first spend two weeks on our 100 acre campus deep in the Catskill Mountains where they begin the cycle of change by exploring the interconnected concepts of healthy body, healthy heart, healthy mind. The camp experience can be life changing, but like with tinder where fire catches easily, this spark can go out quickly.

The spark grows into a tiny flame through the school year Afire programs. Campers are encouraged to participate in all three 6-week workshops which cover topics of interest - like Health + Wellness, Arts + Discovery, and Critical Issues - and build on concepts introduced over the summer.

That small fire is fanned into a blaze of enthusiasm, with Evolutionary Leadership. Campers have the opportunity to pursue mentorship programs, job training for roles with increasing responsibilities, and college readiness guidance that grow confidence and develop life skills.
For more information, click here to visit their website.