Behind Closed Doors: Raising Awareness About Domestic Violence
Friday, 11 October 2019 09:20
Last Updated: Friday, 11 October 2019 09:24
Published: Friday, 11 October 2019 09:20
Joanne Wallenstein
Hits: 1916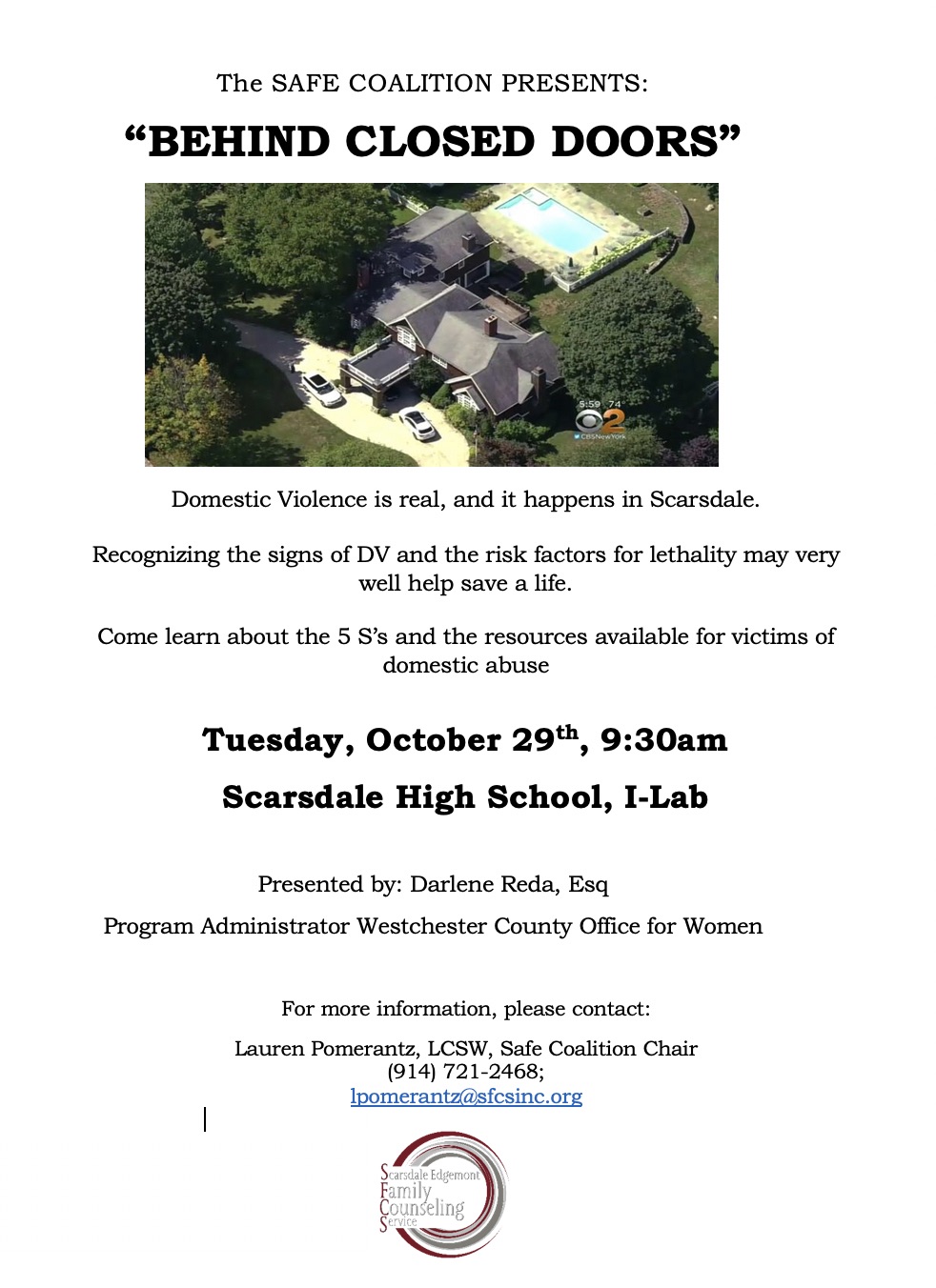 The reality of domestic violence is that it can sometimes be lethal, even in Scarsdale. Less than four years ago, Dr. Robin Goldman was stabbed fatally by her husband as she prepared to divorce him. A Poughkeepsie woman was found murdered by the Bear Mountain Bridge this past weekend. She filed for divorce only three weeks ago. Separation is known to be the most dangerous time for a victim of domestic violence.
While it's impossible to know what goes on in other people's homes, learning to identify the risk factors that are correlated with domestic lethality, just may save a life. One in 4 women and 1 in 9 men experience severe intimate partner physical violence, intimate partner contact, sexual violence, and/or intimate partner stalking, with impacts such as injury, fearfulness, post-traumatic stress disorder, use of victim services, and the contracting of a sexually transmitted diseases. While not all domestic violence results in serious injury or death, domestic victimization is correlated with higher rates of depression and suicidal behavior.
The Safe Coalition: Children, Families, Community will be hosting a presentation titled "Behind Closed Doors" in an effort to raise awareness about the risk factors of lethality and to provide resources for those that might be in a potentially perilous situation. The program will be facilitated by Darlene Reda, Esq, Program Administrator for the Westchester County Office for Women. Ms. Reda will discuss the Five S's, separation being one of them, as part of a countywide initiative to implement a lethality screening program and risk assessment protocol.
October is Domestic Violence Awareness month and accordingly the program will be held on October 29th at 9:30 am in the I-Lab of Scarsdale High School. I hope you will consider attending this free and informative presentation. For more information, please contact Safe Coalition Coordinator, Lauren Pomerantz, LCSW at lpomerantz@sfcsinc.org or 721-2468.