No Hate, No Fear March Draws Large Crowd
Tuesday, 07 January 2020 14:08
Last Updated: Tuesday, 07 January 2020 14:24
Published: Tuesday, 07 January 2020 14:08
Amy and Ray Cooper
Hits: 2159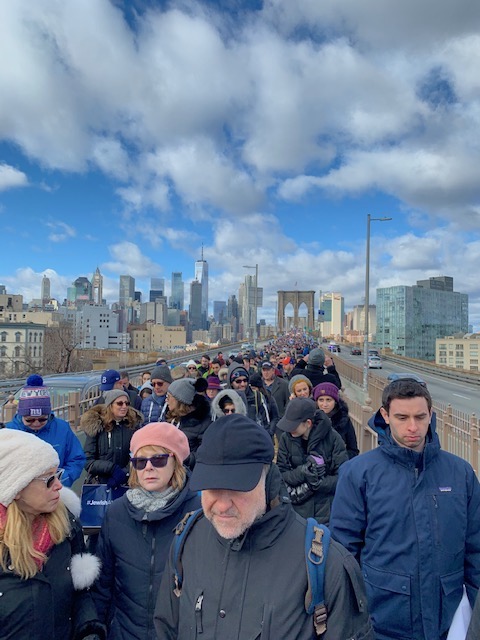 This past Sunday, under bright skies, thousands of people showed up in unity to protest anti-Semitic attacks in the region. This "No Hate, No Fear" event began at Foley Square in lower Manhattan, continued with a march over the Brooklyn Bridge, and ended with a rally at Cadman Plaza in Brooklyn. According to event organizers, the NYPD estimated the crowd at approximately 25,000. The event was organized by the UJA Federation of NY in collaboration with the AJC, Antidefamation League of NY/NJ, Jewish Community Relations Council and the NY Board of Rabbis.
While dignitaries were in abundance at the event – including Governor Cuomo, Senators Schumer and Gillibrand, Mayor De Blasio, Congressman Engel, among others – the rally featured other speakers who moved the crowd. In addition to event organizers and Jewish community leaders, speakers included activist Deborah Halberstrom, whose son was murdered on the Brooklyn Bridge in 1994, Pastor Gil Monrose, co-founder of the "GodSquad", and Cardinal Timothy Dolan and Bishop DiMarzio of Brooklyn.
The majority of the march-goers came from synagogues in the greater NY region, including Scarsdale's local Temples. Many also came by the bus load from Cleveland, Philadelphia, Boston, Montreal, and Toronto. The event was organized as a "Solidarity March" and included a large group from the Sisterhood of Salaam Shalom, a national group of Muslim and Jewish Women, with local chapters who marched together.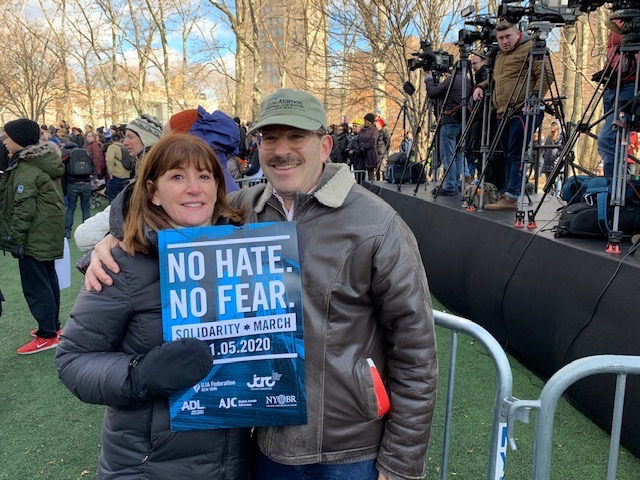 It was clear that participants felt unified under a common theme – to voice concerns about growing anti-Semitism. Additionally, the importance of showing Jewish pride was echoed by speakers and marchers alike. Scarsdale residents Joy and David Chalfin put it simply: "Sometimes you have to stand and be counted, and this was one of those times."