Let's Continue to Breathe Life into Scarsdale Village
Tuesday, 01 September 2020 08:21
Last Updated: Wednesday, 02 September 2020 08:22
Published: Tuesday, 01 September 2020 08:21
Joanne Wallenstein
Hits: 1726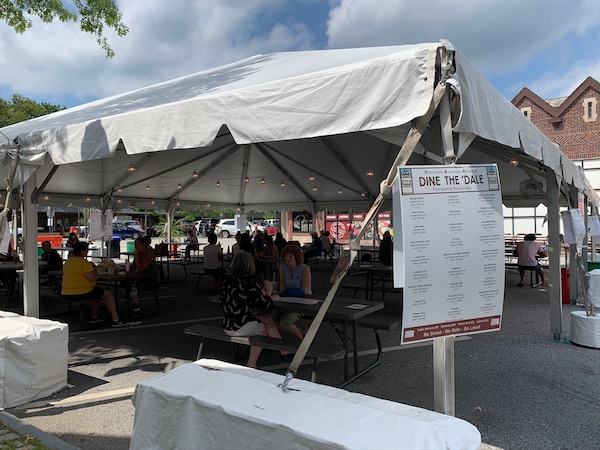 This letter was written by Marcy Berman-Goldstein, Co-President of the Scarsdale Business Alliance: Dear Editor: As the summer is drawing to a close, the Scarsdale Business Alliance (SBA) would like to extend its gratitude to Scarsdale Village, Scarsdale Forum, Friends of the Scarsdale Parks, local property owners and corporate sponsors for partnering with us to reinvigorate our Village Center during these challenging times.

Since the onset of the pandemic, the Village Board and staff have helped us to reopen our businesses safely and creatively. They have been responsive, flexible, and forward-looking. They have focused on supporting all stakeholders -- merchants, property owners, customers, and residents -- and have worked with us to ensure it was done prudently and Covid-consciously, with public health and safety at the forefront. Initiatives that might not have been possible in the past have been made a reality. There is finally vitality in the Village Center after months of relative dormancy.

The Board and Village staff were early to recognize the need to expand the use of outdoor space. They amended codes to allow sidewalk usage for the display and sale of wares, and have worked with our local restaurants to expand their sidewalk cafe footprints to allow for safe outdoor dining. Additionally, the Village approved a week-long Sidewalk Sale with road closures in the Village center to allow for safe, socially distanced shopping, minimizing crowds and drawing a constant flow of traffic in support of our merchants.

The 'Dine the 'Dale' tent has been a huge success in the downtown center. We are grateful to our donors, both local property owners and corporate sponsors, whose generosity has helped to create a buzz in our Village Center as shoppers and diners utilize the dining tent and stay to shop.

The Scarsdale Forum and Friends of the Scarsdale Parks identified Boniface Circle as an area that was underutilized and overgrown. These two groups have helped return this special area to our community through their generous financial contributions, time, and expertise. President Madelaine Eppenstein (of both the Forum and Friends of the Parks) and Forum Committee Chair Susan Douglass were driving forces behind this project.

Special thanks to Trustees Justin Arest and Jane Veron, Assistant Manager Ingrid Richards, Engineer David Goessl, and Planner Greg Cutler. Along with representation from the SBA, this group has met at least once every week over the past few months and has been the driving force on these initiatives. Without the collaboration and hard work of this group, none of this would have been possible.

We are excited to announce that the dining tent will remain up through October, and we encourage residents to continue to Dine and Shop the 'Dale. We, your local merchants, are here to serve you and appreciate your business. Let's continue to breathe life back into our Village Center in a safe and Covid-conscious way.
Marcy Berman-Goldstein, SBA Co-President, on behalf of the Scarsdale Business Alliance Board of Directors
(Left to Right) Sergeant David Rosa Ingrid Richards, Assistant Village Manager Marcy Berman-Goldstein, I Am More Greg Cutler, Village Planner Robert Cucolo, Parkway Ryan Tarantino, Jackie B's