Boys Varsity Soccer Team Celebrates Senior Night
Thursday, 05 November 2020 14:42
Last Updated: Thursday, 05 November 2020 14:55
Published: Thursday, 05 November 2020 14:42
Joanne Wallenstein
Hits: 967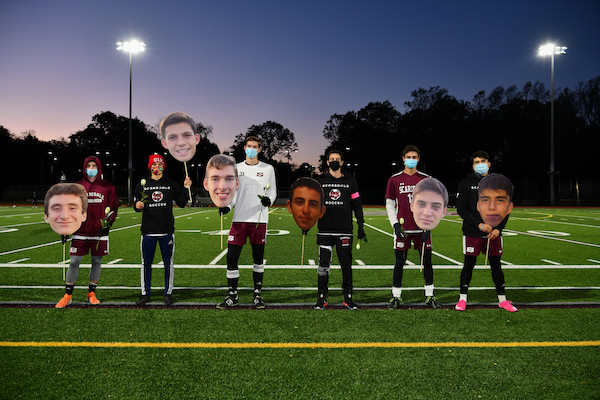 Senior Night ceremony (from left to right): Jack Porter, Michael Waxman, Sebastian Rhett, Cooper Cohen, Adam Wasserman, and Esteban Rudloff. (Senior Alex Coeytaux was unable to attend due to quarantine.)On November 2nd, Scarsdale's Boys Varsity A Soccer team celebrated "Senior Night" with a 3-0 victory over Blind Brook. A pre-game ceremony under Butler Field's new lights honored seniors Alexander Coeytaux, Cooper Cohen, Jack Porter, Sebastian Rhett, Esteban Rudloff, Adam Wasserman, and Michael Waxman. Co-captain Cohen, who tore his ACL over the summer, started off the game with a ceremonial first kick. The crowd's cheers acknowledged Cohen's significant contributions to the team on and off the field for the past four years. Both teams played tough in a goalless first half, with junior co-captain Luke Peltz and junior Roman Tirabassi controlling Scarsdale's midfield and Blind Brook's goalkeeper staving off several strong Raider attacks. Scarsdale's defense remained solid in the second half as its offense asserted itself. With just 6 minutes remaining, Rafael Tassari scored the Raider's first goal, a left-footed strike from 20-yards out. Rudloff quickly added two more goals to the lead, assisted by junior midfielder Eli Gelblum and co-captain-defender Adam Wasserman.
Photos by Jon Thaler. See more here.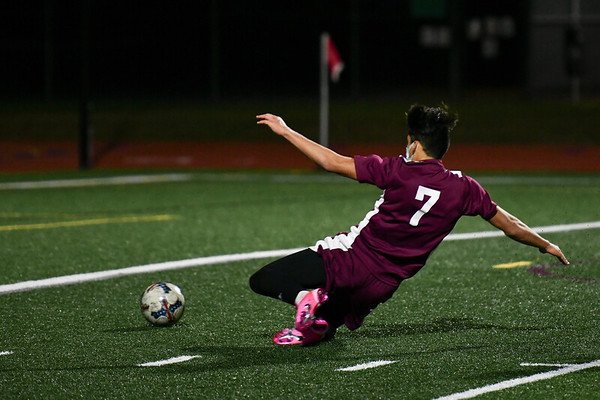 Esteban Rudloff slides and scores to put Raiders up 2-0.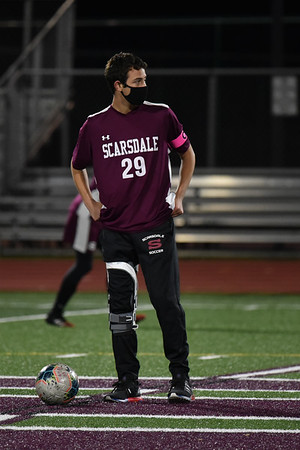 Cooper Cohen taking opening kick-off.