Feeding Westchester: A Lifeline for Thousands of Hungry Residents
Wednesday, 16 December 2020 14:08
Last Updated: Wednesday, 16 December 2020 14:35
Published: Wednesday, 16 December 2020 14:08
Joanne Wallenstein
Hits: 1345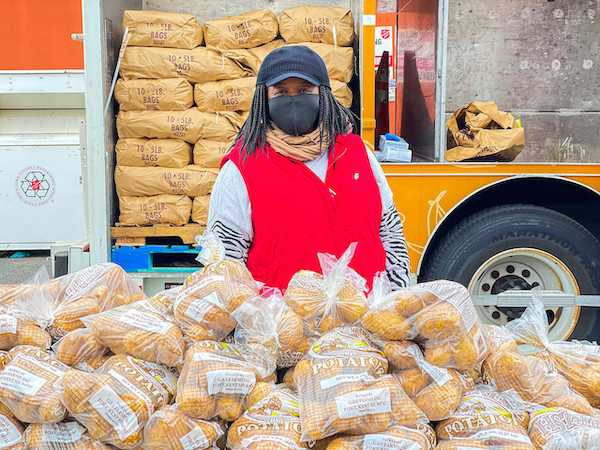 Perhaps you've noticed people clutching empty bags in a long lines just over the border in White Plains. Many from Scarsdale drive by and wonder what these folks are waiting for. Sadly the answer is food. That's right. Even in a wealthy county like Westchester the pandemic has hit hard and thousands have lost their jobs and are experiencing food insecurity, some for the first time. Feeding Westchester, an agency that distributes food to those in need, reports that they are serving 260,000- 300,000 residents per month, twice the number of people they helped before the COVID-19 outbreak.
How do they do it and how can you help? Read below for the story of an organization that is providing a lifeline to those most in need.
Tell us what Feeding Westchester is doing to feed those in need in Southern Westchester.
Feeding Westchester works with a network of nearly 300 partners and programs that distribute food throughout all of Westchester County, including pantries, soup kitchens, schools, and our mobile food pantry. We have also partnered with additional emergency "pop-up" pantries to meet the increased need due to COVID-19.
How do you secure the food? Is it all donated or do you need to purchase some of it?
Food comes to us in three ways. Some is purchased or provided by government programs, while other food is sourced through donation (such as food drives or retail recovery). Our Retail Recovery program allows local grocers and suppliers to contribute, rather than waste, food that is still usable. Those in the food service business may also donate food or household products for local people in need.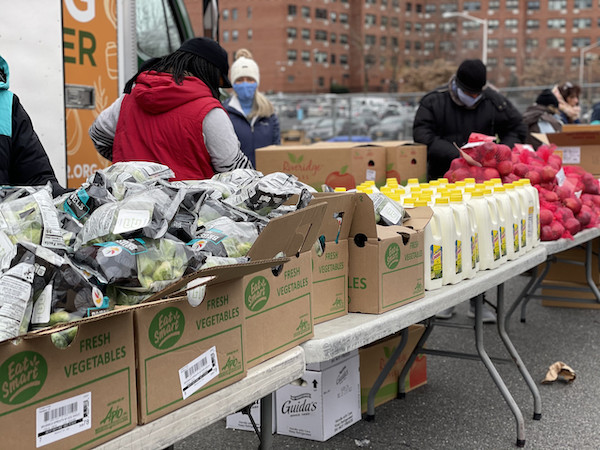 What is typically given to a family when they come to collect food – what are the contents of the bag?

Deliveries of fresh produce and dry goods are made to our programs and agencies each week. Specific items vary based on availability. Produce is sourced at least once a week and people receive all types of food at distributions. Agencies can also select the quantity and type of meat and dairy they wish to receive.
Tell us where and how the food is stored and distributed in this area.
The Feeding Westchester warehouse is located in Elmsford and delivers throughout Westchester. We have been distributing roughly 100,000 pounds of food per day (2 million pounds per month) since March through our partners and programs—twice the volume as compared to pre-COVID. Our partners include schools, pantries, soup kitchens, mobile food pantries, United Way of Westchester and Putnam Counties, Boys and Girls Club Mount Vernon, DoorDash, and our senior grocery program.
In terms of numbers, how have you seen the demand for food grow since the beginning of the pandemic? Do you ever run out of food and have to turn people away?
Feeding Westchester's programs and partner agencies are serving between 260,000 – 300,000 residents who are hungry each month — more than twice as many as pre-COVID-19. This includes a number of individuals and families who are experiencing food insecurity for the first time as a result of the pandemic. We have distributed nearly 20 million pounds of food, or 17.4 million meals, in the last year compared to 10.2 million pounds in 2019.
Thankfully, Feeding Westchester has never run out of food. We have also created "pop-up" distribution sites when needed, to ensure that every person in need has access to fresh, nutritious food.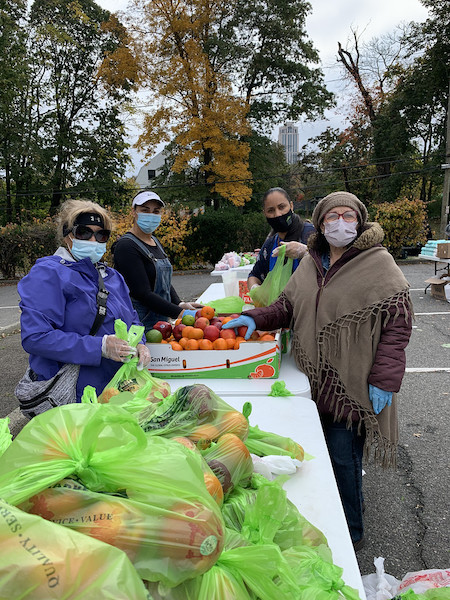 Do you receive any government funding?
Yes, Feeding Westchester receives funding from the county, state and federal government in addition to support from individuals, corporations, and organizations throughout our community.
Tell us briefly about the history of Feeding Westchester. When and how did it start and how has it evolved?
The mission of Feeding Westchester is to end hunger in Westchester County. As the heart of a large network, we source and distribute food, and other resources, to towns across Westchester helping to ensure that none of our neighbors are hungry.
We were incorporated in 1988 as the "Food-PATCH" (People Allied to Combat Hunger) to fight the growing problem of hunger in Westchester County. At that time, operations consisted of one man, one van, and one small room at the Sharing Community Center in Yonkers, NY.
In 1990, we moved to a distribution facility in Hawthorne and distributed over one million pounds of food. We also became affiliated with America's Second Harvest (now Feeding America).
We changed our name in 2007 to Food Bank For Westchester, distributing over 5 million pounds of food through 167 local programs. Five years later, we moved into our current distribution center in Elmsford, which houses the largest walk-in freezer in Westchester County.
In 2017, we launched our first Fresh Market programs. With the celebration of our 30th anniversary in 2018, we rebranded as Feeding Westchester to better reflect our mission and the scope of our work.
As mentioned above, Feeding Westchester is a member of Feeding America, the nationwide network of more than 200 food banks serving every state in the United States. Our membership gives us access to millions of pounds of donated food products from national companies and also provides access to trainings and resources that help us maximize efficiency. We are proud to be part of the top ten percent of Feeding America's member food banks for distributing nutritious food to local people.
Today, Feeding Westchester supplies the region's food pantries, soup kitchens, shelters, and daycare and residential programs. Our collaboration with major retailers and corporations, and our expertise in food procurement, storage, and distribution, turns every monetary donation into fresh food for our community.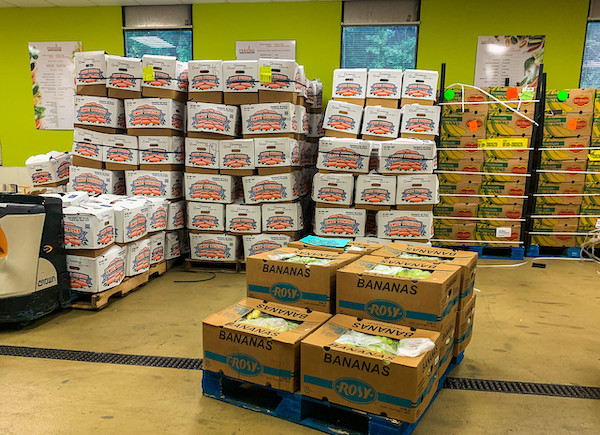 Do you envision any long-term solutions to the problem of hunger in Westchester?
Hunger is here — right where we live. Although many in Westchester are wealthy, the cost of living is high. With fixed expenses like rent and childcare on the rise, groceries are often the first line slashed in a household's budget.
Feeding Westchester is at the heart of a network that expertly sources and distributes food and resources to feed people who are hungry in every town in Westchester, nourishing all who are in need. Our mission is to end hunger in Westchester County.
How can readers help – do you need food donations, monetary donations or volunteers? Please provide details on how readers can get involved.
As Westchester continues to navigate COVID-19, our neighbors are relying on Feeding Westchester more than ever. Readers can get involved by making a donation, hosting a food drive or by participating in a virtual volunteer opportunity.
Karen C. Erren, President & CEO of Feeding Westchester explained, "This holiday season presents an unprecedented set of challenges for many families and individuals right here in Westchester County. From those who are struggling to make the holidays special for their children, to seniors who are spending the holidays alone, the impact of hunger is pervasive in our community. Feeding Westchester is here to support our neighbors who are struggling with hunger and make their holiday season a little bit brighter."
Every $1 donated to Feeding Westchester provides three meals for children, seniors, and working families struggling with hunger over the holida¬¬y season. To find help, or to help, go to feedingwestchester.org.