Masks Off As COVID Rates Decline
Wednesday, 19 May 2021 12:24
Last Updated: Wednesday, 19 May 2021 12:27
Published: Wednesday, 19 May 2021 12:24
Joanne Wallenstein
Hits: 616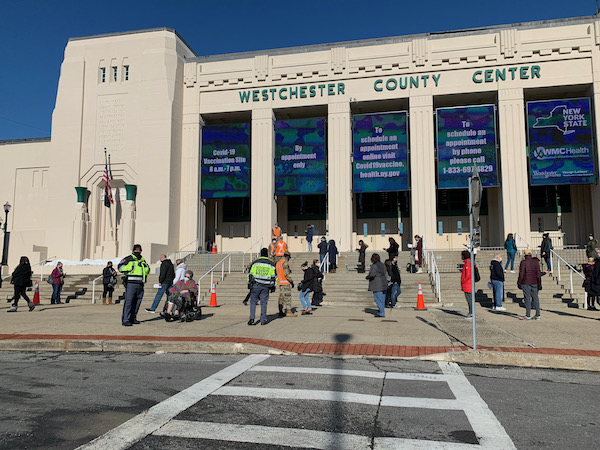 You no longer need an appointment for a vaccine at the Westchester County CenterCounty Executive George Latimer had an upbeat press conference on Monday May 17 when he reported a dramatic decline in active cases in Westchester, down from 4,363 a month ago to 922 on Monday. As of Wednesday May 19, cases had declined even further to 839.
There were corresponding declines in the number of hospitalizations and fatalities with 63 in the hospital with COVID and 4 deaths this past week.
Latimer credits the decline in infections to Westchester's successful vaccination efforts. As of Monday May 17, 70% of the county's population over the age of 18 had received at least one dose. Overall, 47% of the county's population is fully vaccinated. More are expected to be vaccinated in the coming weeks as Pfizer announced that anyone ages 12 and over can receive their vaccine as long as a parent or guardian allows them to do so.
There was also good news about the regulations and restrictions. As of Wednesday May 19 those who are fully vaccinated can remove their masks, however they still need to be worn in the following settings: mass transit, nursing homes, homeless shelters, correctional facilities (jail and state institutions), schools, and healthcare facilities. Private venues can provide rules as they see fit. Latimer expressed concern about people who may lie about their vaccination status and remove their masks but he was hopeful the state would provide some guidelines on how to deal with that situation.
For those not yet vaccinated the big news is that you no longer need an appointment to be vaccinated at the Westchester County Center where walk-ins are now permitted. In order to accommodate more residents new daily clinics are being set up around the county. Dobbs Ferry High School is offering vaccines on Wednesday May 19th, Fox Lane High School is offering vaccines on Thursday May 20th, and the Salvation Army in Port Chester is offering vaccines on Saturday May 22 and Monday May 24.