Scarsdale Bowl Recipient Michelle Lichtenberg Calls On Community to "Work Together To Make Our Village Even Better For The Next Generation"
Monday, 07 June 2021 12:13
Last Updated: Tuesday, 08 June 2021 13:22
Published: Monday, 07 June 2021 12:13
Elyse Klayman
Hits: 674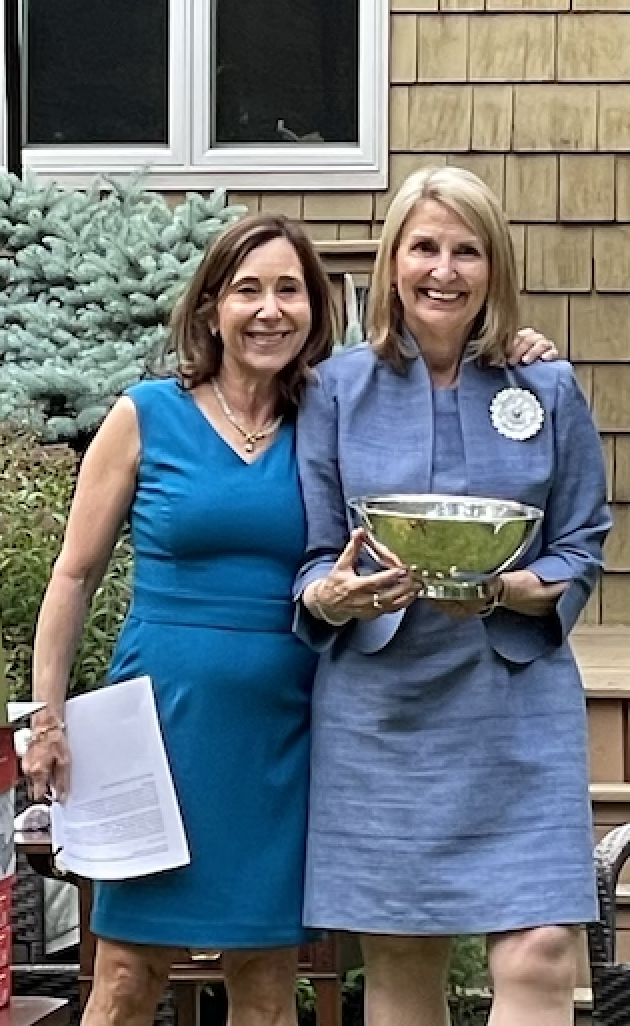 Nancy Michaels and Michelle LichtenbergThis year's Scarsdale Bowl winner, Michelle Lichtenberg, was honored on June 2, at a small backyard ceremony, hosted by Scarsdale Foundation President Randy Guggenheimer and his wife, Liz, an avid volunteer as well. A slice of Michelle's many friends and fellow volunteers, along with her family, gathered to watch her accept the Scarsdale Bowl, a powerful symbol, now in its 78th year, of the high regard this community has long had for volunteer service.

Michelle, who has participated in an exhaustive list of civic organizations as well as perpetrating acts of kindness on a regular basis, was gently roasted by her two grown sons for not being available sometimes when they were kids due to all her commitments--and for sometimes being too present, as a chaperone at various dances and the like, but each of them thanked her setting a wonderful example of how to live a meaningful life. "She taught us to be curious about everyone's story, to invest in long term relationships, and to give our best to bring out the best in others," said Alec Lichtenberg, adding that it was a delight to have this opportunity to honor his mother, who is always lifting up others. "I'm grateful to you, Mom, for all you taught me." His brother, Andrew, agreed, remembering the many dinners during which their mom had to leave the table to take calls, and crediting her with inspiring him to include pro bono work in his portfolio now that he is a lawyer at a big firm.
While everyone looks forward to holding a traditional Bowl dinner next April, honoring Michelle, along with last year's recipients of the Bowl, Jon Mark and BK Munguia, as well as next year's winner, it felt somehow appropriate to focus on Michelle, who is reluctant to be in the spotlight, in such a homespun and low-key way. "I am honored, grateful, a little embarrassed and thrilled" was how Michelle began her remarks after Nancy Michaels, the indefatigable Bowl Committee Chair, who has presided during Covid, presented the award, praising the honoree's "calm diplomatic manner" and her "generosity of spirit" as she contributed her time and energy to nearly every organization in Scarsdale during the last 30 years. Michelle, in turn, remembered Terri Simon, another volunteer with tremendous bona fides who was present, first inviting her to join the PT Council Budget Study Committee, and immediately feeling as though she had joined "a family of volunteers." She also recalled being PTA president on that terrible "first Tuesday of the school year" when 9/11 happened, and then the following September dealing with what she called "the self-inflicted wound" of the 2002 Homecoming debacle, when the New York Times ran a front-page story about students drinking and being sickened at the dance, and the consequences of that episode. A yearlong dialogue among students, parents and school administrators working to make prom possible, yielded the creative response of the now-popular Red Carpet event at the high school, where students gather to take photos and board buses that will take them to prom. Michelle expressed pride in the cultural shift that Scarsdale pulled off in that case, and hope that the Red Carpet, which was recently on hiatus due to Covid protocols, would return next year.
"Stuff happens," she said, "but we are a resilient and caring community. I am humbled to my core, and want to emphasize that collaboration yields the best outcomes. Let's work together to make our Village even better for the next generation."
In addition to her years of service in the school PTAs at every level, Michelle served as Co-Chair of the Scarsdale Drug and Alcohol Task Force, Co-Chair of the Scarsdale Education Transfer Program, a member of the School Board Nominating Committee, the Citizens Nominating Committee, and Scarsdale Forum Education Program Committee, Chair of the Procedure Committee, a Director-at-Large of Scarsdale Edgemont Family Counseling Service, and President of the League of Women Voters of Scarsdale.

There's more! Michelle has also been very engaged with the Scarsdale Public Library for the last ten years, serving as a Trustee from 2011 to 2016 and President from 2013 to 2015. During her presidency, she oversaw the finalization of the Library's first Strategic Plan, the development of the Master Plan, hiring of the architectural firm responsible for the extensive renovation and expansion, and the formation of the Capital Campaign Committee. She's very excited about the just-completed renovation, and is currently a member of the Friends of the Scarsdale Library.
Michelle is also a current board member of the Scarsdale Foundation, the Scarsdale Adult School, and a member of the Greenacres Neighborhood Association, as well as a District Leader and member of the Scarsdale Democratic Town Committee. And you can also find Michelle encouraging residents to run for the SBNC and CNC, as well as the School Board and the Village Board, gathering required signatures for petitions. No task is too large or too small. She intends to resume her volunteer work with critically ill patients at White Plains Hospital once visitor restrictions are lifted, and is working toward her accreditation in Healing Touch therapy. Whew! Scarsdale is clearly a better place thanks to Michelle!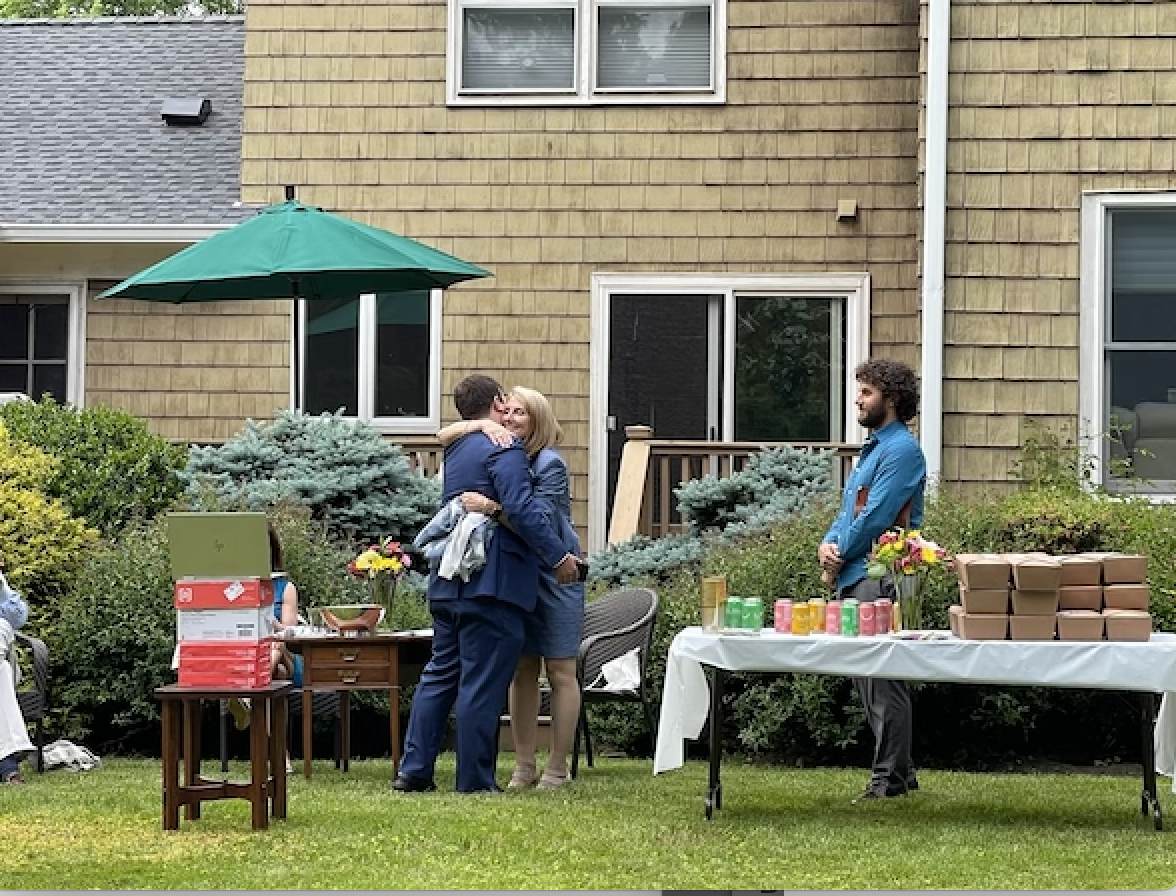 Michelle hugs son Andrew.
Along those lines, the Scarsdale Foundation, which runs the Bowl event, has started a new initiative called the Scarsdale Volunteer Honor Roll where friends, colleagues, first-responders and teens can be honored for good works of all sorts, large and small. The money raised will be distributed to talented, hardworking Scarsdale students who need help paying college bills during their sophomore, junior and senior years. Please visit //bit.ly/3vQRHu5 to name honorees at just $25 apiece. The Honor Roll is about halfway to its goal of raising $50,000 to bolster the chances for academic success for all SHS alumni, regardless of their financial means, while also recognizing the unsung heroes of our town, particularly in light of the pandemic.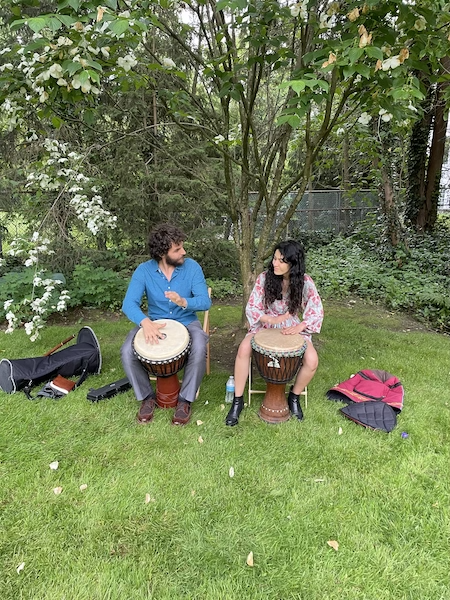 Alec Lichtenberg and Natasha Lee Vega-Colon play the African drums.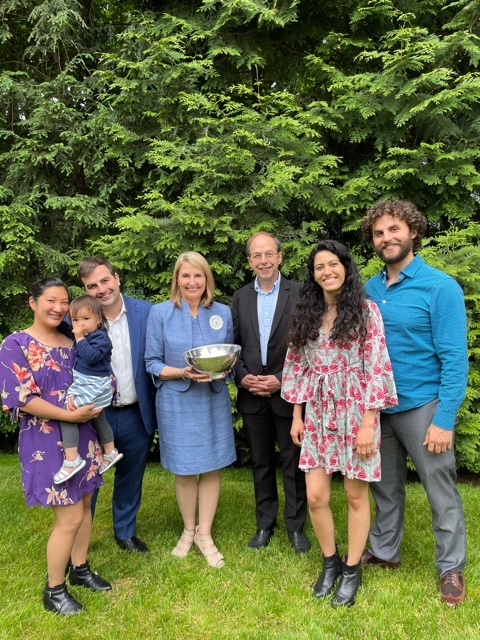 The Lichtenberg Family