Scarsdale Bowl Chair Thanks the Community for Your Support
Tuesday, 15 June 2021 08:29
Last Updated: Tuesday, 15 June 2021 08:32
Published: Tuesday, 15 June 2021 08:29
Joanne Wallenstein
Hits: 893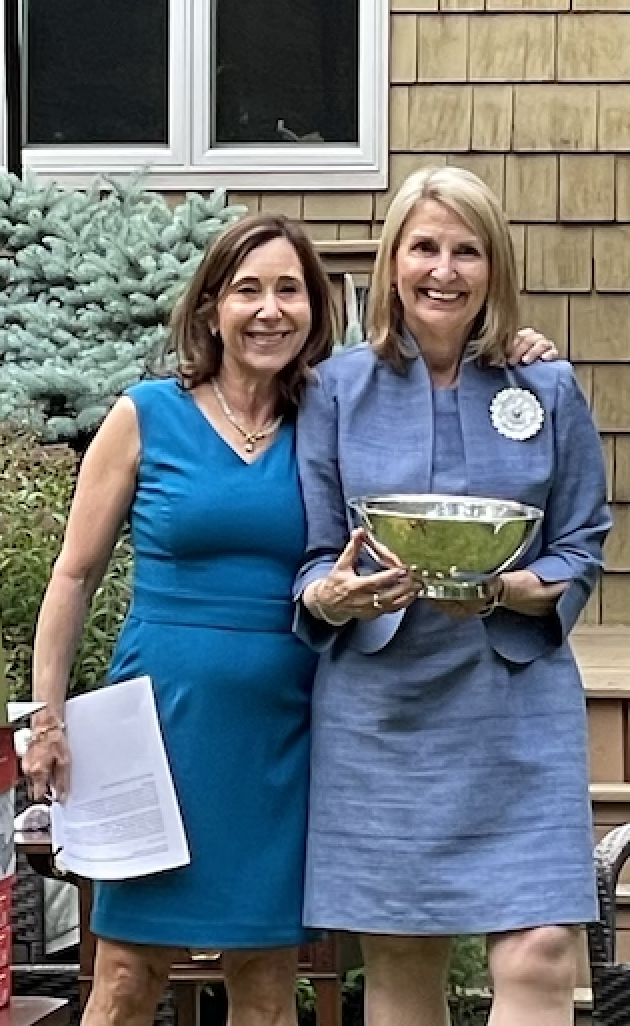 Scarsdale Bowl Chair Nancy Michaels with 2021 Scarsdale Bowl Recipient Michelle LichtenbergThis letter was written by Nancy Michaels, Chair of the 2021 Scarsdale Bowl:

Dear Scarsdale Community,
On June 2nd, in the backyard of Scarsdale Foundation President Randy Guggenheimer and his wife Liz, the Scarsdale Bowl Committee and Foundation Board celebrated this year's Scarsdale Bowl honoree, Michelle Lichtenberg.
Michelle has lived the mantra of a strong belief in public service, and has been an exemplary volunteer whom we are proud to have as a role model. Over the years, Michelle has given unselfishly of her time to a large variety of causes, bringing about positive change via her unique ability to promote cooperation, consensus, commitment, and connections, all with a generosity of spirit, inspiration, and diplomacy. She has constantly gone above and beyond what is asked of her, exemplifying the vibrant spirit and culture of volunteerism that permeates Scarsdale.
Philanthropic giving, leadership, and the generous donation of time and expertise by volunteers like Michelle combine to create the dynamic fuel that helps make Scarsdale a home and desirable community. I was privileged to have worked with the members of this year's Bowl Committee, a terrific and knowledgeable group of volunteers who worked tirelessly on an event that didn't happen in the usual manner, and who extended their tenure to ensure that this year's Bowl celebration would be a memorable night for Michelle. Because of Covid and the need for meetings on Zoom, many on the Committee had never met in person until the evening of the celebration.
Along with this group, our Fundraising and Publicity Committees met weekly to strategize how to meet the formidable goal of raising $50,000 via the Scarsdale Foundation Honor Roll towards need-based college scholarships for Scarsdale students. Our webmaster and marketing and graphic design gurus also helped to guide us in the right direction. Special acknowledgement to Scarsdale Bowl Secretary/Treasurer Abby Sroka, who managed online sales, distributed and sent Evites and eblasts, and was always willing to help. Thank you all.
It was my incredible pleasure and distinct honor to present Michelle Lichtenberg with the 2021 Scarsdale Bowl Award for Outstanding Community Service. We look forward to honoring Michelle, along with last year's recipients BK Munguia and Jon Mark, as well as the 2022 honoree to be selected by the next Bowl Committee, at a blow-out celebration on Thursday, April 28, 2022 with all their friends and the Scarsdale Community present.

Thank you to everyone in the Scarsdale community who has continued to support the Scarsdale Bowl and Foundation, especially during these past two very difficult seasons.

Nancy Michaels
Scarsdale Bowl Chair