Raiders Football Team Defeats Mt. Vernon 34-6
Monday, 25 October 2021 12:01
Last Updated: Monday, 25 October 2021 14:15
Published: Monday, 25 October 2021 12:01
Jack Margolin
Hits: 807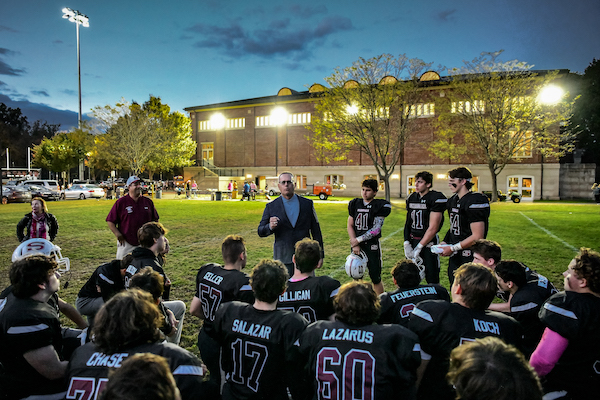 On Friday October 22, a beautiful night for football, the Scarsdale Raiders defeated Mount Vernon 34-6 and honored the team's seniors.
Before the game began, there was a ceremony honoring senior managers, cheerleaders, and football players in what would be the final home regular-season game of their high school career. When the players were introduced, their names were announced, they were given a rose and walked out to applause with their parents.
When the ceremony finished, all the players had to put their emotions aside and go out and play. Coming off a two-game win streak, the Raiders looked to build momentum and take home the victory. They did just that, and it would have been tough to script a better game.
The Raiders started out hot, scoring a TD off a Nick Freihofner run to kick off the scoring and make it 7-0.
Kicker Bennett Abbe followed that up with a field goal to give Scarsdale a 10-0 lead. Mount Vernon would respond with a quick TD, but miss the two-point conversion, and be shut out from there.
It was all Raiders from that point on. Both the defense and offense played exactly how you draw it up. After the failed conversion from Mount Vernon, Scarsdale put together a beautiful drive to get back on the board. QB Adrian Duval started it off with a long run, followed by another Freihofner TD. He wasn't done there, however; he scored his third TD of the night after Colby Baldwin recovered a fumble to set up the score.
Baldwin, like Freihofner, also continued to stuff the stat sheet. After Mount Vernon had a nice kick return with just over a minute to go in the first half, Baldwin intercepted a pass and returned it all the way to the red zone right before the half concluded. Abbe would capitalize on the nice return with another field goal, giving the Raiders a 27-6 lead going into halftime.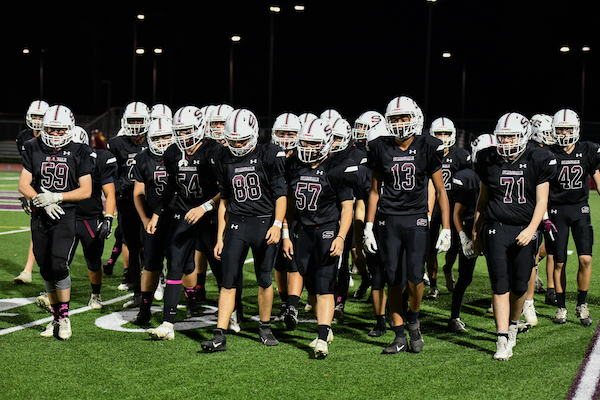 Raiders head for the field.Scarsdale's final TD would come just as the 3rd quarter was coming to a close on a rush by Julian Glantz. The defense stole the show the rest of the way, with interceptions by Ethan Weismer and Will Salazar.
After complete domination on both sides of the ball, it was an extremely successful night for the Raiders and its seniors. Preparing hard all season (and their entire high school careers), their hard work was vindicated and they ended things off on a positive note.
Photos by Jon Thaler - see more here: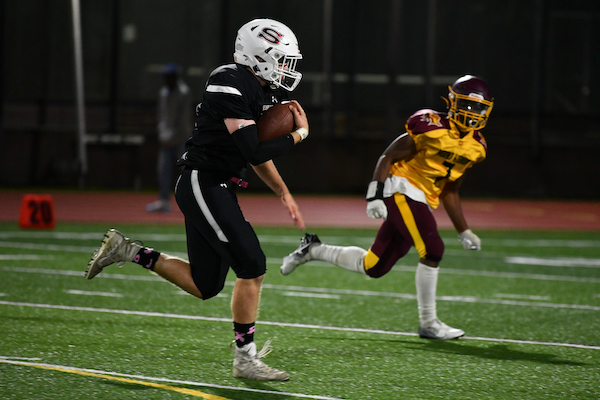 Scarsdale rushes towards the end zone.