Pay It Forward: Fresh Produce Delivered to Those In Need for Thanksgiving
Tuesday, 23 November 2021 13:37
Last Updated: Tuesday, 23 November 2021 22:41
Published: Tuesday, 23 November 2021 13:37
Joanne Wallenstein
Hits: 971
One local business is doing yeoman's work to feed the needy this Thanksgiving. Mike Zalon who runs Westchester Produce is providing fresh produce to families in the Bronx through Montefiore Hospital as well as two Bronx Public Schools, PS 595 and CS67.
The company motto is "Always fresh, always market to door," and they deliver boxes of fresh, seasonal produce selected at the market the morning of delivery. When the pandemic started, Mike Zalon lost his job in the craft beer industry. His brother-in-law works as a restaurant supplier and began delivering boxes of mixed produce on Long Island. Mike saw the opportunity to expand to Westchester and the two began working together.
It was a small operation at first but quickly grew, and now he has been delivering boxes of fresh produce directly from Hunts Point Market all over Westchester and even some towns in Connecticut. It is a family operation! His wife's parents provide the space and help put together the boxes each day, while his father and brother do the deliveries. Sons and nieces can often be found counting apples, too.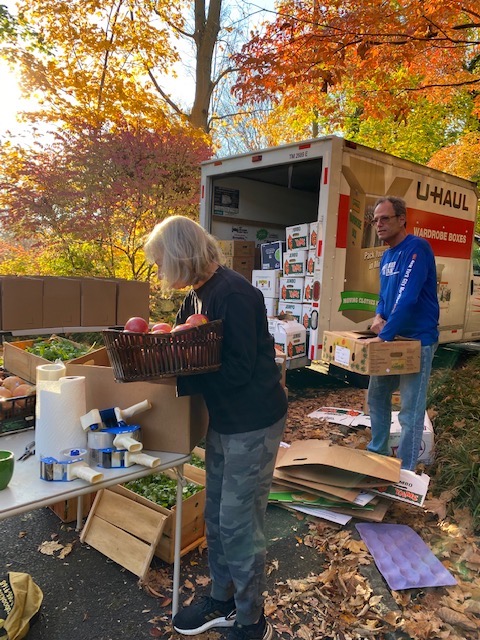 If you're interested in ordering, check out their website at westchesterproduce.com and select Tuesday or Thursday for lower Westchester delivery.
Now to paying it forward: Zalon says, "It started with Montefiore hospital, who reached out through a customer. For two years we have delivered over 30,000 pounds of produce the week before Thanksgiving, which they then bag up and distribute to people in need."
"At around the same time, I was contacted by PS595, and this year by CS67 as well, in the Bronx, who wanted to provide boxes of Thanksgiving produce to families in their school community. This year we delivered 200 boxes filled with all the fresh foods needed for a Thanksgiving meal. We curated customs boxes per their requests. It felt great to know that we were able to help these schools provide healthy meals for their families."
Learn more about Westchester Produce on Instagram account and Facebook page where they post photos of the produce as well as recipes. You can follow @westchesterproduce and send a direct message for orders as well.