Trusts Established to Benefit Pete Sauer's Daughters
Details

Hits: 7921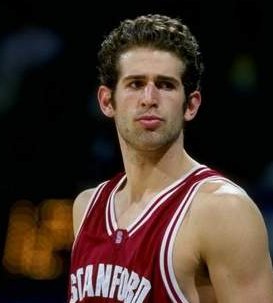 Here is a letter from Mary Rogers Brennan, concerning Pete Sauer who recently passed away at the age of 35. As many of our readers have asked what they can do to help Sauer's family, here are instructions on how to contribute to trusts that have been established to help his three young daughters. Dear Friends: As many of you know the Greenacres community lost a most beloved husband and father, Peter Sauer, 35, last Sunday due to heart complications while playing in a recreational basketball game in White Plains. Peter was a devoted father who dedicated every free opportunity to spending time with his and wife Amanda's remarkable daughters; Cate, (7), Charlotte, (6) and Cassandra, (4). Peter has passed along his magnetic spirit to these three young girls.
Nothing would make Peter more proud than to know that his friends in the community were to respond to such a tragedy by ensuring that his children are educated and well prepared for the future.
In response to the many people who have asked to help, a trust has been established for his children with the primary purpose to provide for their education.
Details are below for those who would like to contribute. In representing the cherish memory of Peter, the Sauer family, and the Swank family, I thank you deeply.
Mary Rogers Brennan

According to neighbor Diane Gurden, "Peter Sauer was a great guy. A wonderful husband to Amanda and a fabulous father to his 3 daughters. He was frequently seen at the pool with multiple children hanging off of him, or biking with his daughters. He was always on the bleachers while his daughters swam at practices and meets with Middies and the Scarsdale Swim Team. Peter and Amanda were about to move back to Pittsburgh, where both of their families were. This was a hard decision because they really felt that Scarsadale was a great place to raise a family."

Here is how to give:
Sauer Children Trusts
Three separate trusts have been established, one for the benefit of each child, the primary purpose of which will be to provide each child with the finest education possible, and to secure their futures. As the funds are received, they will be distributed in equal shares to each of the three trusts.
Wire Instructions
ABA 026009593
Bank of America, N.A.
100 West 33rd Street
New York, NY
(International Wires Add: Swift-BIC #BOFAUS3N)
1st Credit Merrill Lynch
Acct # 6550113516
Further Credit to:
Name: Sauer Children's Trust LLC
Acct # 2BL-02049
Check Instructions
Checks should be made payable to the "Sauer Children's Trust LLC" and sent to:
Merrill Lynch
Attn: Gina Hernandez
540 West Madison Street, Suite 2020
Chicago, IL 60661
Please note account number "2BL-02049" in the memo section on the check.
Questions can be referred to:
Gina M. Hernandez
Senior Private Wealth AssociateVer Bockel / Raihle Group
Merrill Lynch Private Banking and Investment Group540
West Madison Street, Suite 2020
Chicago, IL 60661
W: 312.325.2639 | F: 866.304.3610
gina.m.hernandez@ml.com
Please consult your own tax advisors; however, see below for a description of certain tax matters as provided by counsel to the trust.
The annual gift tax exclusion permits you, individually, to give tax free in each year the sum of $13,000 to any number of individuals. If you are married and your spouse consents to applying his or her annual exclusion amount to each gift, you can give the sum of $26,000 to any number of individuals. Since there are three different trusts, the annual gift tax exclusion permits you, individually, to give tax free in each year the sum of $39,000 to be shared equally by the three trusts. If you are married and your spouse consents to applying his or her annual exclusion amount to each gift, you can give the sum of $78,000 to be shared equally by the three trusts. Gifts to any one individual in excess of the annual exclusion amount may be sheltered from federal gift tax by the lifetime exemption. Again, we urge that you consult your individual advisers on these tax related matters.
Please note that all donations will be treated as gifts and not as charitable donations.
Golf Outing Raises $300,000 for White Plains Hospital
Details

Hits: 3304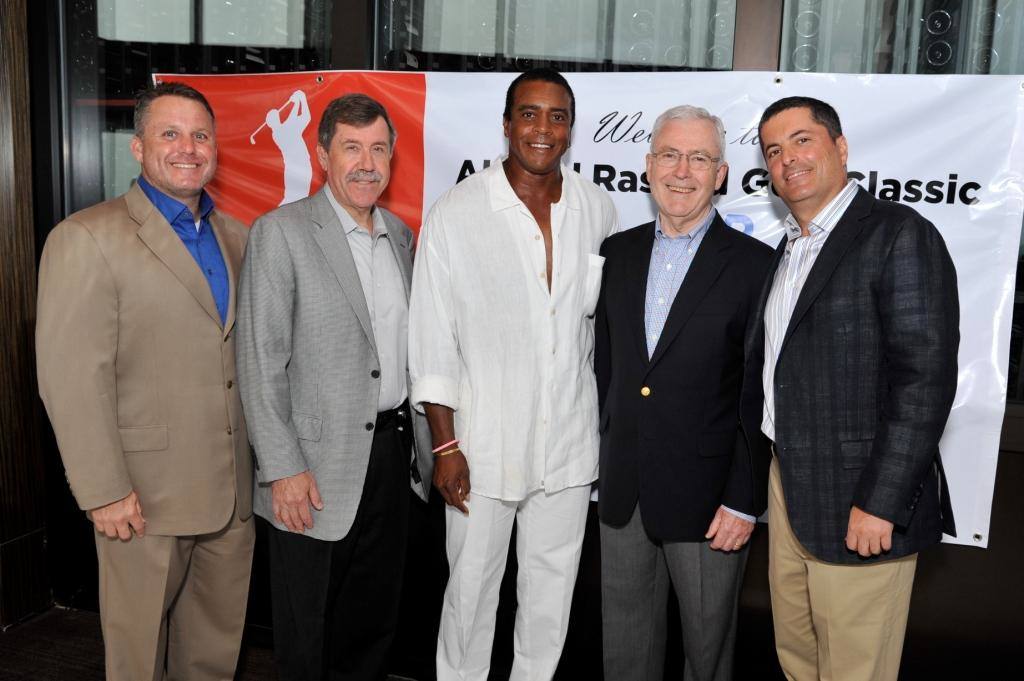 More than 300 people, including sports celebrities, physicians, administrators and friends attended festivities surrounding the Third Annual Ahmad Rashad Golf Outing to benefit White Plains Hospital. The event kicked off with a reception at Restaurant 42 and was followed by the golf outing the next day at Quaker Ridge in Rye. The Hospital raised $300,000 throughout the event.
(Pictured at left: Event co-chair Robert Tucker of Scarsdale; White Plains Hospital President and CEO Jon B. Schandler; Ahmad Rashad; White Plains Hospital Chairman of the Board of Directors Mike Divney of White Plains; event co-chair Jonathan Spitalny of Scarsdale)

Gabriel Mineard Wins Sportsmanship Award
Details

Hits: 3477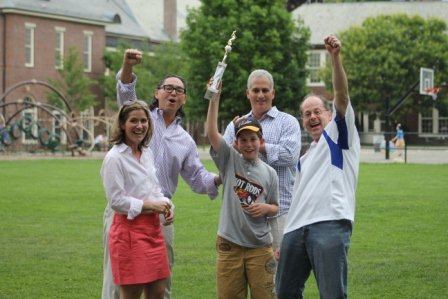 Scarsdale Little League held a ceremony Tuesday 6/19 at Edgewood to award a 4th grade Little League baseball player the Michael Ludwig Sportsmanship Award. The award was created by the League three years ago to celebrate the life of Michael Ludwig, the son of Lisa Nelson Ludwig and Ed Ludwig who "lived for little league baseball". The award is given to an individual who combines the mix of outstanding teamwork and sportsmanship, excellent skills and a passion for the game. The award this year was given to fourth grade Hot Rods player Gabriel Mineard. 4th Grade Little League coordinator Larry Medvinsky presided over the ceremony and paraphrased from the nomination by Gabriel's coaches (Michael Heffner and Lou Mancini):
"Gabriel Mineard was chosen for the Michael Ludwig Sportsmanship Award for his tireless support of his fellow teammates. Gabe was always the first to leave the dugout to congratulate batters, first to give the pitchers an "attaboy", first to shout out to players on the field who make big plays and first to try to cheer up ball players who achieve less than they expect of themselves. Gabriel's work ethic and passion for baseball has shown in his development as a batter, his dependability as a fielder and, in one of his biggest achievements, as a starting pitcher - striking out 2 with no earned runs. Gabe's teammates rally around him and his coaches. His current and former coaches have unanimously said, "You could not find a better kid or one who is more deserving of this award. Gabe unifies."
(Photo right to left: Hayley Mineard, Coach Michael Heffner, Gabriel Mineard, 4th Grade Coordinator Larry Medvinsky, Ed Ludwig)
Photo and article contributed by Hyun Heffner
Heat Stroke Victims Fall at Scarsdale High School Graduation
Details

Hits: 4607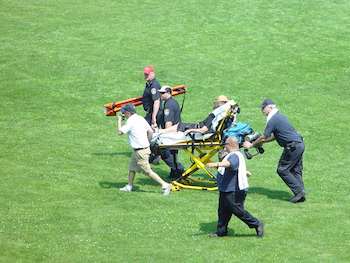 Stifling temperatures and humidity caused six people to pass out at the Scarsdale High School graduation on Friday, June 22 – and another 15-20 to be treated for heat-related symptoms.
Fortunately, Scarsdale Volunteer Ambulance Corps came prepared. Due to the weather forecast and reports of heat-related problems at a graduation in New Britain, CT earlier in the week, David Raizen, President of SCARVAC, put plans in place to deal with heat stroke. But even with his extensive preparations, firemen and police had to be brought in to assist when so many started to pass out.
After getting panicked calls for help, SCARVAC workers went into the stands with stretchers to remove those who were stricken. According to Raizen, it took four SCARVAC workers to lift each affected person – and once the numbers grew, he quickly realized that the 12 SCARVAC workers already on the scene would need more help. So, in addition to the ten EMT's and two paramedics, eight firefighters and seven policemen came to the school including Chiefs Brogan and Cain.
The passed out guests were brought to two tents erected on the side of Dean Field and some were put into the ambulances that were also parked in the lot. These ambulances were air conditioned and worked as cooling stations. Those who could walk were placed under a sprinkler and drenched in cool water to restore their body temperatures. In total, six were unconscious including five older people and one young lady in her twenties. Two of the six were taken to the hospital but later released.
Raizen had come prepared with 100 pounds of ice, donated by Fenway Golf Club and 1,200 cups of water and Gatorade which were distributed to guests as they entered the field. He brought fans fitted above ice water that could cool down the overheated and stretchers to move those collapsed from heat stroke. He had pre-arranged with the Police and Fire Chief to send in reinforcements if more fell than his staff could handle – and fortunately emergency staff arrived quickly.
Though the chaos in the stands was not evident to those in front, guests who were in the bleachers saw other collapse and watched as they were taken away during the ceremony. Some complained that there was not sufficient seating and therefore many stood, exacerbating the risks.
Raizen, an EMT for 35 years, says lessons were learned from the experience. In the future, he plans to move the tents and ambulances right onto the field, and also thinks that it would be better to have graduation in the afternoon, when the entire field is in the shade.
Police Chief Brogan credits Raizen and his crew with "excellent planning." He said they "anticipated the problem and took appropriate measures before it even arose."
"When the problem began, they were ready for it and had all the pieces in place for a desirable resolution."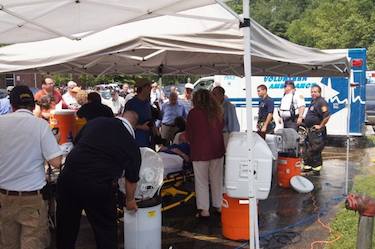 (Pictured at left: EMT's treat victims of heat stroke in tent at Dean Field)

See our coverage of graduation and a photo gallery of the ceremony here: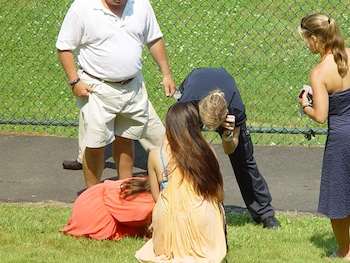 Maggie Dunne: She's Not Afraid to Ask
Details

Hits: 3863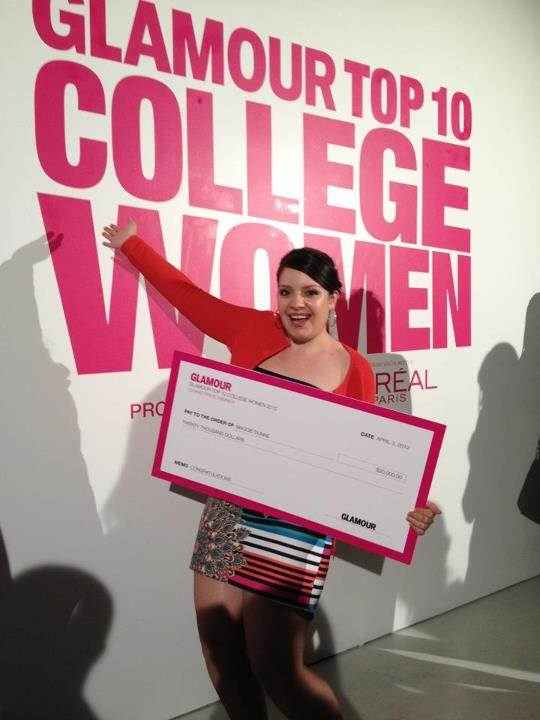 This spring, SHS Alumni Maggie Dunne was honored by Glamour Magazine who named her the winner of the grand prize of $20,000 in the magazine's competition for the Top 10 College Women for 2012. She was selected for her work on behalf of the Lakota Pine Ridge Indians in South Dakota who she has helped via the Lakota Pine Ridge Children's Enrichment Program which she launched. Now a student at Colgate University, Dunne didn't stop and rest when she won the grand prize …. instead she leveraged the $20,000 to find two additional matching gifts – raising even more money for the Lakota.
An inspiration to children and adults, Dunne has worked tirelessly to address Native American poverty. Dunne agreed to an interview for Scarsdale10583. Here is what she shared about growing up in Scarsdale and becoming an activist for those less fortunate:

What are the roots of your volunteerism? What were some of your earliest philanthropic activities as a student in Scarsdale?
From the age of 4 years old I was involved with a very active Girl Scout troop that placed a large emphasis on community service. My family moved to Scarsdale when I was in third grade and I remained active in my old troop, which did a lot of service throughout the school year, ranging from singing at senior facilities to hosting after school cubs. I began figure skating in Middle School and proposed that the rink offer free group lessons to girls with juvenile diabetes, which I taught for a few years. In eighth grade I became one of the founding members of the Youth Action Committee, Founded by Reverend Frances Grenley at the Scarsdale Congregational Church, and which is still going strong and does service activities throughout the school year. Through YAC, in turn, I became a frequent participant in the Midnight Run, which was one of my favorite activities. In my sophomore year, two seniors wanted to do something meaningful for spring break and asked Frances Grenley if she would consider putting together a service trip, and that trip was to the Pine Ridge Reservation (my first trip to the reservation). At SHS I was also Co-President of the "Make it Green" club and we raised awareness about ways for students to be more eco-friendly, and organized a program to sell eco-friendly school supplies packages to Scarsdale students.
Who influenced you to advocate for those who are less fortunate?
The primary influences have been the women around me. My little sister is low functioning autistic and has experienced discrimination in many aspects of her life. Her condition and our close relationship has had a tremendous impact on my ability to connect to those less fortunate and, also, to put the problems of daily life into perspective. My girl scout leader juggled a demanding career and always made time for service, running a troop of 17 girls with 17 working mothers and about 12 service activities every year. When I returned from my first trip to Pine Ridge I felt a need to do more than just volunteer but the problems on the reservation seemed so overwhelming that I did not know where to begin. I brainstormed with Frances Grenley, who encouraged me to take action and helped me narrow my focus so that I could act on my passion. A local attorney followed my progress and offered to create the corporation that I now run to help the children of Pine Ridge. Of course, my mom is always there for me and my family is incredibly supportive! We are a great team!
Are there any teachers at SHS or SMS who helped you along the way – or people you met in the community?
The most supportive influences at SHS were Chris Renino, who was my Senior Options mentor for a fundraiser that brought representatives from Pine Ridge to Scarsdale and raised over $4000. He was always extremely supportive of my projects and a great mentor. He has continued to be an occasional box filler and hauler for the Scarsdale shipments. Mr. Klemme always encouraged me to follow through with my outreach efforts and to follow my heart. He was my reference for an internship at the Grameen Bank in Bangladesh the summer after I graduated from High School.
Tell us something about your visits to South Dakota:
It is hard to get there from NY! It takes about 10 hours, two flights, and then a 2 ½ hour drive. There are only two motels that I know of on the Reservation, which is roughly the size of Connecticut. I often stay at Re-Member, an outreach group on the Reservation, where we sleep in triple bunk beds and sleeping bags. I bring a group of students from my university every spring break to volunteer on the reservation.
What have your learned at Colgate about community organizing and fundraising?
Before attending Colgate, I learned from the Scarsdale community not to be afraid to ask people for help -- our community has risen to the challenge every time I have asked for help; the response to every drive and fundraiser has been overwhelmingly positive!
Working with the support of Colgate University has been amazing. Before entering Colgate I attended their Outreach orientation and learned how the process worked and also got involved in local charities. Last spring I was employed by the Center for Outreach, Volunteerism and Education. The college environment has presented endless opportunities for me to expand my reach, through the school newspaper, clubs, community outreach and fundraisers. Over the years I have developed a network of people who help with most of my efforts. Through my various commitments on-campus I have really grown as a leader and learned how to fundraise and organize successfully. Our current VP is Kelsey John, an education major at Colgate. Kelsey is committed to education reform and to providing Native American children with the tools they need to succeed in education and also pursue higher education.
How many hours a week do you spend on your fundraising – is it difficult to balance this with your school work?
It really varies but the last two years I spent about 20-40 hours per week, and often more. This past spring was very difficult because I travelled a lot, due in part, to the recognition I received for my outreach efforts. It has been exciting to see the response from the public and it has become extremely important to build a team that has a strong work ethic.
What are your goals for the future for the Lakota?
My goal is to support their goals. So far I have concentrated on helping the children and supporting families and schools. I would also like to do more to help make culturally sensitive and appropriate mental health services available to the community.
Describe the Glamour Magazine award and how you leveraged it to receive a matching gift:
I was notified at a three- day event in New York City that I was receiving the Grand Prize of $20,000. About a week later Richard Branson was scheduled to speak at Colgate University and as a member of the entrepreneur club, Thought Into Action, I was invited to a closed question and answer session. I raised my hand, Richard Branson called on me and I gave my 60 second pitch on Lakota Children's Enrichment, told him about the Glamour Award, held up the big pink check and said that I was going to donate the money to my nonprofit. Then I said: "So my question to you is: do you know of a potential celebrity, philanthropist or humanitarian who might be willing to match my own contribution?" He laughed and said that if I could get a Colgate Alumnus to give me $20,000, so would Virgin Unite, his nonprofit company.
Any advice to younger students who want to follow your path?
Go for it now. You do not have to wait until you are 30, 40 or 50 to make a difference in the world and follow your passions. Young people across the country have taken part in our drives and have done amazing things. Edgewood School is mobilized and helping – just last month 10 fourth grade girls raised over $900 and the classes all filled backpacks for children on the Reservation.
What can readers do to help?
We are trying to raise an additional $20,000 via our online Razoo fundraising platform to aid the Lakota. To participate, click here :