Photos from the Scarsdale Forum and the WCC Gala
Thursday, 16 November 2023 12:30
Last Updated: Thursday, 16 November 2023 12:30
Published: Thursday, 16 November 2023 12:30
Joanne Wallenstein
Hits: 654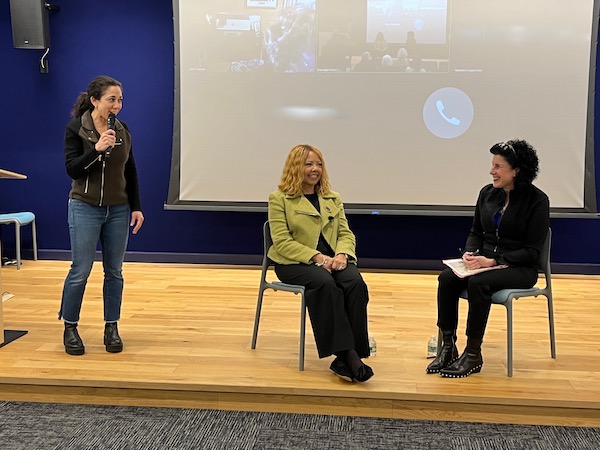 Sarah Bell, Lucy McBath and Diane Greenwald at the Scarsdale Forum.The Scarsdale Forum hosted US Congresswoman Lucy McBath from Georgia on Sunday, November 12. Scarsdale's Diane Greenwald engaged in a dynamic concerning many of the issues plaguing our nation.
(Pictured Above) SUNY Westchester Community College President Dr. Belinda S. Miles, County Executive and Public Service Honoree George Latimer, with Scarsdale residents and WCC Foundation Board Members Ruth Suzman, Elyse Klayman and Dave Berry; Mr. Berry received the "Viking Voyager" Alumni Award.
Westchester Community College Foundation's first annual Transforming Futures Together Gala, emceed by acclaimed actress and singer Vanessa Williams, was held on November 8, 2023, at Tappan Hill in Tarrytown, NY. The sold-out event recognized the launch of the 10th anniversary year of Dr. Belinda S. Miles as President of SUNY Westchester Community College and honored five community leaders, County Executive George Latimer (Public Service Award), Sinforosa "Rose" Tan Kaung and William H.P. Kaung (Community Leadership), Dorry Swope (Philanthropy), and Scarsdale resident David Berry ("Viking Voyager" Alumni Award).