Con Edison to Extend Gas Line Replacement Into Fox Meadow
Wednesday, 01 February 2023 20:02
Last Updated: Friday, 03 February 2023 08:31
Published: Wednesday, 01 February 2023 20:02
Joanne Wallenstein
Hits: 1357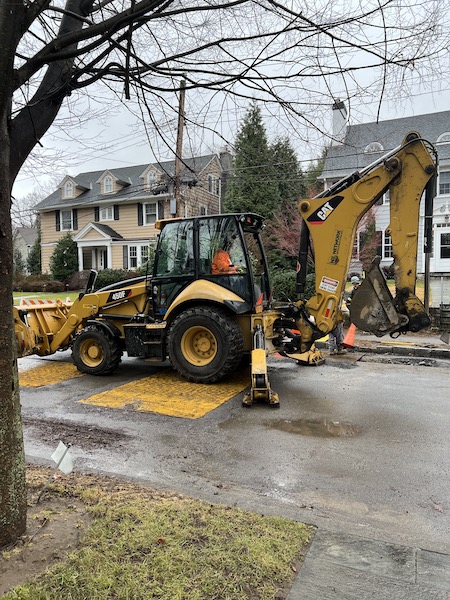 Almost a year later than estimated, the initial portion of the installation of a new gas main that will extend from White Plains to the Bronx is near completion. That portion, travelling along Walworth Avenue to Fenimore Road should be done within two weeks. However, according to Michael Smith of Con Edison, that's not the end of the disruption in Greenacres where the project has been extended to Greenacres Avenue and beyond. This work involves upgrading the gas distribution lines to individual homes and is still in progress. Smith did not give a target date for the completion of the work, removal of the metal plates and road repair.
At a meeting at Village Hall on Tuesday night January 30, 2022, Smith unveiled plans to continue the work into Fox Meadow, along a 1.5 mile route that extends from Fox Meadow Road to Paddington, Whig, Brite Avenue, Church Lane and ends on Crane Road (see the map.)
This portion of the project is scheduled to begin in March 2023 and to be completed by September 29, 2023. The 7,700 expanse of new pipe is expected to be installed at 40 feet per day with work from 8 am to 5 pm on Monday through Friday and 10 am to 4 pm on Saturdays. The utility also plans to ask for an exception to the Village's noise ordinances to begin work at 8 am on Saturdays.
After many complaints about traffic disruptions during the work in Greenacres, Con Edison plans to do the following to minimize the effects of the work on roads.
The plans says:
-All road detour and/or closures will be coordinated daily between Con Edison and the Scarsdale Police Department in advance of the project progressing.
-Coordination with school/camp pick up and drop off when in close proximity to sensitive areas
-Heightened focus on proper housekeeping and material storage will be a priority.
In response to complaints about the noise, the utility plans to:
-Install white noise back up alerts on excavators

-Perform no work before 8 am

-Install jackhammer mufflers

-Use rubber matting under steel road plates
Smith also explained that there will be material staging areas along the route, with the first on Fox Meadow Road between Chesterfield and Butler Roads. While the work is being done, Fox Meadow Road should be open to at least one lane of traffic with intermittent detours depending on the scope of the work that day. They plan to give residents 100% access to their homes and allow for all deliveries.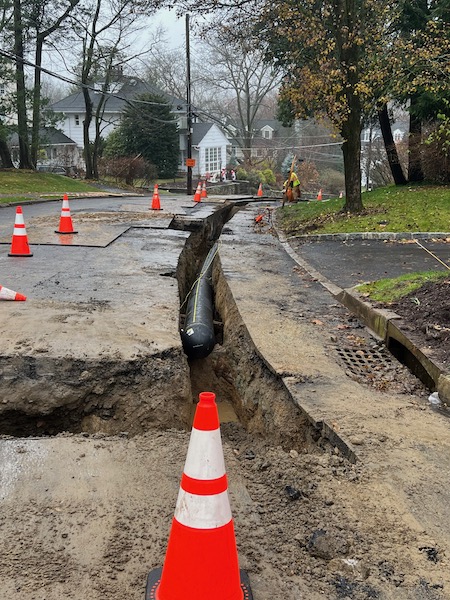 Since the gas distribution service has already been upgraded in this area, Smith believed the project will be completed more quickly.

Once the new pipeline is installed, Smith said that Con Ed plans to lift the moratorium on new gas service to Scarsdale. However Alan Drury, a spokesman for Con Edision sent us the following correction after the meeting. Drury says the moratorium will not be lifted. He wrote, "The project will replace 10 miles of existing 24-inch main, and create a continuous transmission system between gas supplies in Westchester and the Bronx. That will allow us to maintain service to customers in the event of the loss of either supply. The moratorium is unrelated to the Bx-WP project. That project began years before the moratorium was announced in 2019. The moratorium remains in place and we have not announced a lifting of it."

Mayor Jane Veron said, "We had a lot of resident frustration. It was not as seamless as we had hoped. We need a single point of contact when we have concerns." She also asked, "Can we bury an electric line along this route?"
Smith said that Con Edison plans to increase communication with affected residents by placing sandwich boards in affected areas and sending a monthly newsletter to those who live along the route.

Trustee Whitestone asked why the initial portion of the project took a year longer than projected and was told that the scope was expanded with distribution lines being installed to each home.
Trustee Mazer asked if Fox Meadow residents will have gas service disruptions during the project, and Smith said there will only be "minor disruptions."
Mazer followed up, saying, "Fox Meadow Road was just paved – and now you are going to have to tear it up?" Smith said, "Con Ed will do curb to curb paving and leave it better than we found it. But we have created a work coordination group."
Trustee Brew said, "Customers have seen a big increase in their gas rates - will they see a decrease when gas is more available?" Smith said he will work others to get an answer on this.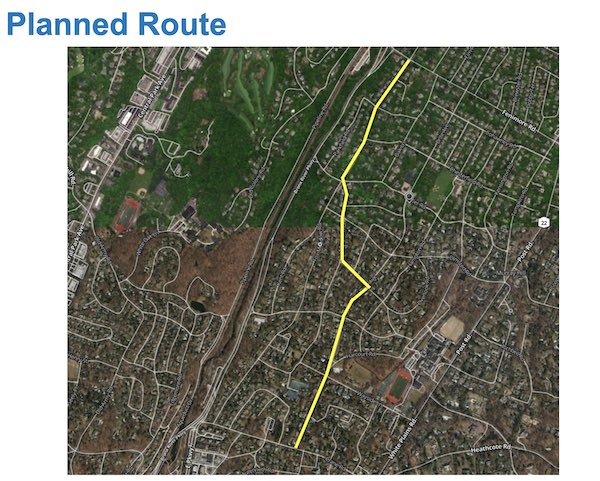 Trustee Gans asked why Con Edison wanted to work on Saturdays – and start at 8 am. He said, "This will be disturbing to people. There should be discussion. Can they work later – until 6 pm instead?
The response was that the longer work day and the additional Saturday will increase the speed at which the project gets done.