Experts Offer Answers to Sensitive Questions About Women's Health
Tuesday, 02 May 2023 13:29
Last Updated: Tuesday, 02 May 2023 21:59
Published: Tuesday, 02 May 2023 13:29
Joanne Wallenstein
Hits: 2217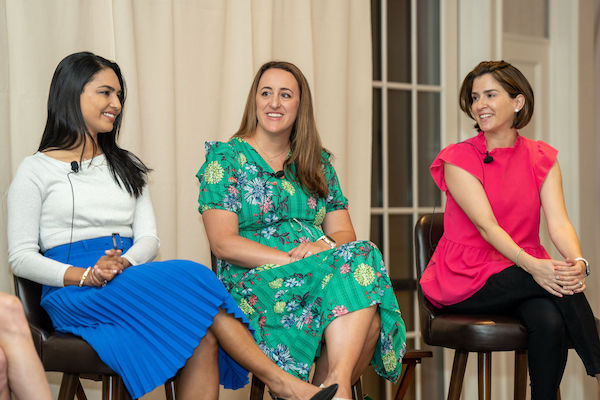 Dr. Anisha Kumar, Dr. Michelle Giannone and Dr. Karin Blecher PazAs women's bodies rapidly change in the decades after the age of thirty, maintaining our well-being -- from our faces to our figures, fitness, sex lives and ultimately our psyches – can feel like an uphill climb. With a variety of physical changes, from thinning hair to a bulging waistline, caused by hormonal fluctuations and aging, the question becomes, "What are the most urgent symptoms to address?"

That's what a panel of experts from White Plains Hospital set out to discuss in a candid conversation focused on women's health on Thursday, April 27 at Quaker Ridge Golf Club. The event, the second of its kind, is the brainchild of Scarsdale resident and White Plains Hospital Foundation Board Vice Chair Dara Gruenberg, who also served as moderator.

Gruenberg posed a wide-ranging array of health questions, submitted anonymously by the attendees, to the six panelists for answers. Gruenberg opened the panel explaining the intent was to remove some of the stigma of aging, to recognize we are not alone in this, and to help women get answers to their questions and to help them navigate and advocate for their physical and emotional well-being as they age.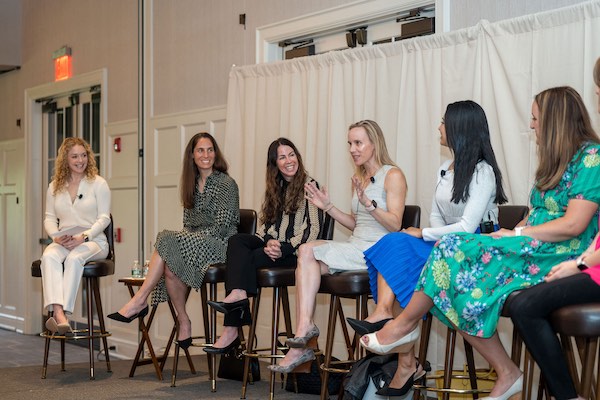 The Panelists
The discussion opened with endocrinologist Dr. Kay Lovig providing an overview of how pre- and peri-menopause impact the body, comparing to the hormonal changes to a "reverse puberty." Anxiety and depression, she explained, are incredibly common as a result, as the brain is highly sensitive to the change in hormone levels.
The first audience question went to Melissa Ferrara, a nurse practitioner with an expertise in sexual health. She addressed a question about falling libido and what can be done to increase sexual desire in long-term relationships. She explained that as we age and our hormone levels fall, testosterone levels drop to half the amount at age 40 than what they were at age 20, leaving many women without the same natural sex drive. She proposed a wealth of solutions from reading erotica to trying two FDA-approved medications and counseled women to seek professional help if needed. She also discussed the importance of open communication with your partner about your needs.

An ever-present concern is weight gain. One attendee asked, "Why is it so hard to maintain our weight as we get older?" Nutritionist Elizabeth DeRobertis explained that, in menopause, weight shifts to the abdominal area as women develop insulin resistance and become more sensitive to carbohydrates. She suggested spacing out food intake during the day and eating healthy snacks such as almonds, yogurt, hummus and cottage cheese that take longer to metabolize and don't cause an insulin spike. She highlighted Dave's Killer Bread, thinly sliced, as among her favorite recommendations for carb-conscious patients.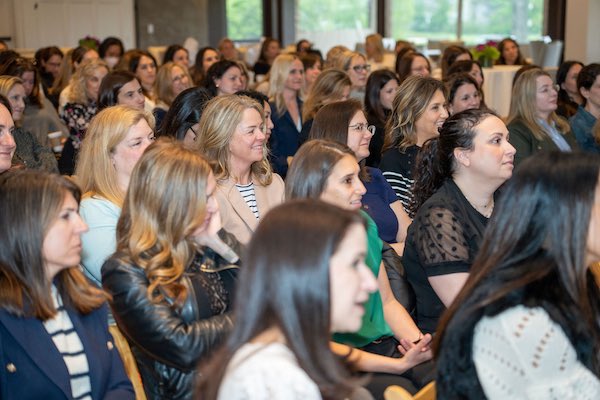 Discussing the impact of aging on appearance, ENT and Facial Plastic Surgeon Dr. Anisha Kumar underscored several key changes to the face. "Everybody's face changes as we age. We lose muscle tone and collagen. There is hollowing of the temples, the fat pads fall, and we develop sun spots."

Dermatologist Dr. Karin Blecher Paz echoed Dr. Kumar's assessment, adding that as we age, skin elasticity decreases and the skin loses its vibrancy. She underscored the importance of sun protection and highlighted the benefits of retinol and a vitamin C serum for younger-looking skin.
For addressing visible signs of aging, Dr. Kumar cited advancements in laser technology for non-invasive treatment of fine lines and wrinkles and highlighted the benefits of a comprehensive skincare routine using products with clinically proven ingredients, such as elastin, as beneficial for many patients.
Another question, also submitted in advance, asked "How important are regular orgasms to health? Do they help your mood and mental health?"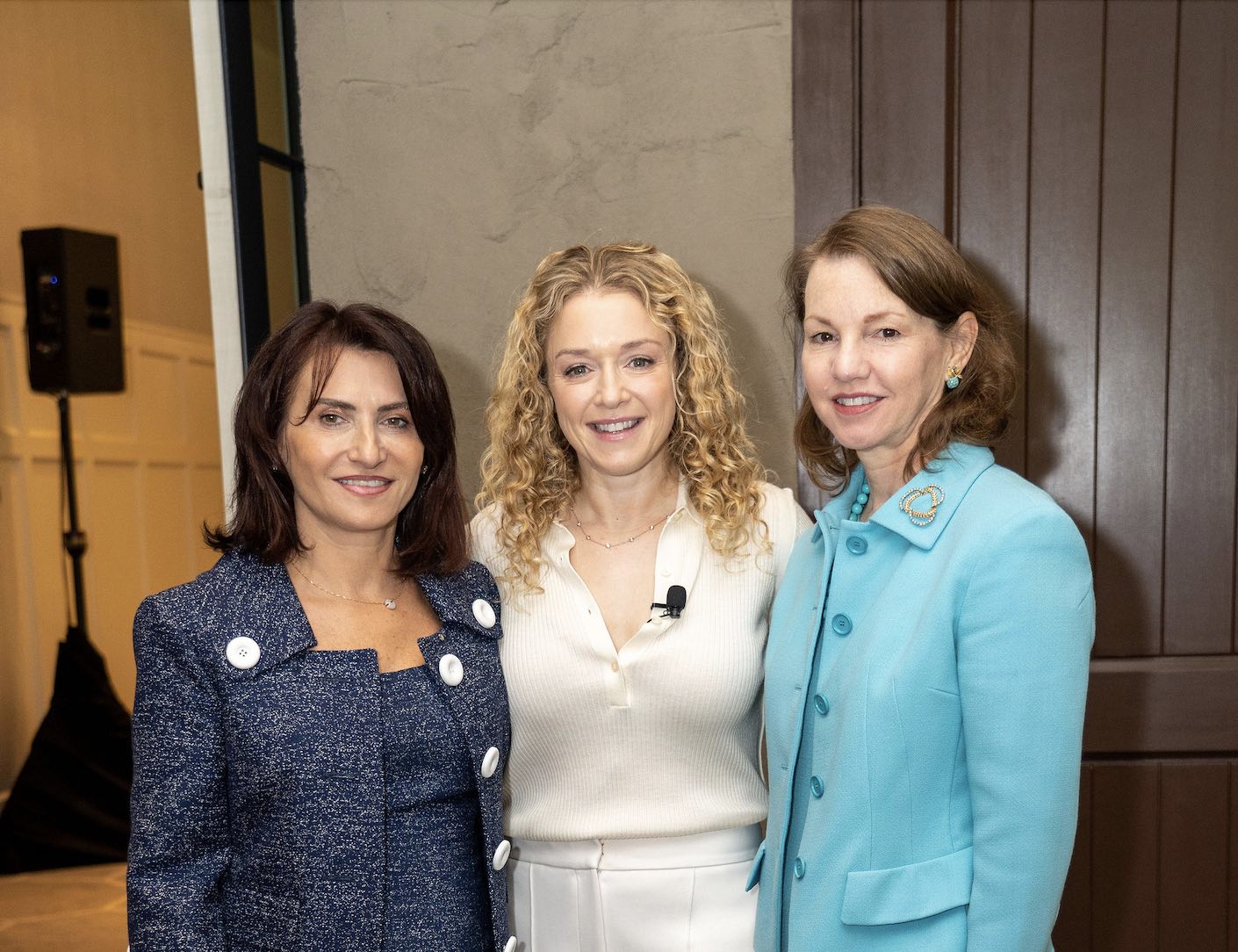 Frances Bordoni, Dara Gruenberg and Susan Fox

Ferrara said, "an orgasm is a stimulation of a nerve ending in the genitals – that sends a signal to your brain which releases dopamine and oxytocin. Some people use orgasms to try to get to sleep. As we age, they can take longer and be harder to have. Orgasm from penetration is a myth – most women need clitoral stimulation. I don't think one kind of orgasm is better than another. Only 30% of women orgasm from penetration."

Ferrara warned women not to let a loss of desire prevent them from remaining sexually active. She said, "You need to continue to use your vagina. As you age, the tissue becomes dryer and thinner and the entrance can get smaller. If you have discomfort, don't wait to get treatment."

Asked how to "freshen the face," Dr. Kumar recommended investing in a quality skincare brand, such as Alastin, and to be consistent with use. Whether it be aesthetic medicine or a comprehensive skincare routine, Dr. Kumar, who performs facelifts, neck lifts and other procedures, emphasized that there is no one-size-fits-all solution for each patient's unique concerns and goals. "It's for you to decide what makes you feel comfortable."

About thinning hair, Dr. Paz said, "hair loss is complicated. Some women go bald as they grow older. For hormonal hair loss, there is no cure." She did say she prescribes Rogaine and supplements such as Vitamin D and Nutrafol. She also recommended the oral medication Minoxidil and injections into the scalp of PRP (Platelet Rich Plasma.)

The conversation turned to hormone replacement therapy. OBGYN Dr. Michelle Giannone said that the results of studies on the use of HRT have been confusing. However, she believes that being on HRT is safe for the majority of patients in the early stages of menopause, in their fifties, and that it can help with symptoms such as hot flashes, mood and sleep.
Dr. Giannone recommended the use of vaginal estrogen cream. Asked who should use it and for how long she said, "Use it until you're not planning to use your vagina anymore." That got a big laugh.
In a discussion about the symptoms of menopause it was noted that each woman has an individual experience — night sweats, hot flashes, thyroid issues, brain fog, anxiety, depression, genital/urinary issues. Though menopause is not a mental health issue but it mimics one.

With so many issues around aging in the mix, how can patients decide what to prioritize? The consensus among the experts was to identify what is most important to address, and to build long-term relationships with their physicians to work on finding the right treatment.

The good news is that more treatment options than ever before, from medications to therapies and surgeries, are available to address a variety of women's health issues. The first step to finding relief is the ability to speak openly with your physician.
To learn more about the physicians and products featured at this event, visit wphospital.org/wthexperts.