Alvin and Friends for Contemporary Southern and Caribbean Dining
Wednesday, 04 January 2017 17:53
Last Updated: Wednesday, 06 September 2017 16:41
Published: Wednesday, 04 January 2017 17:53
Judie Dweck
Hits: 5846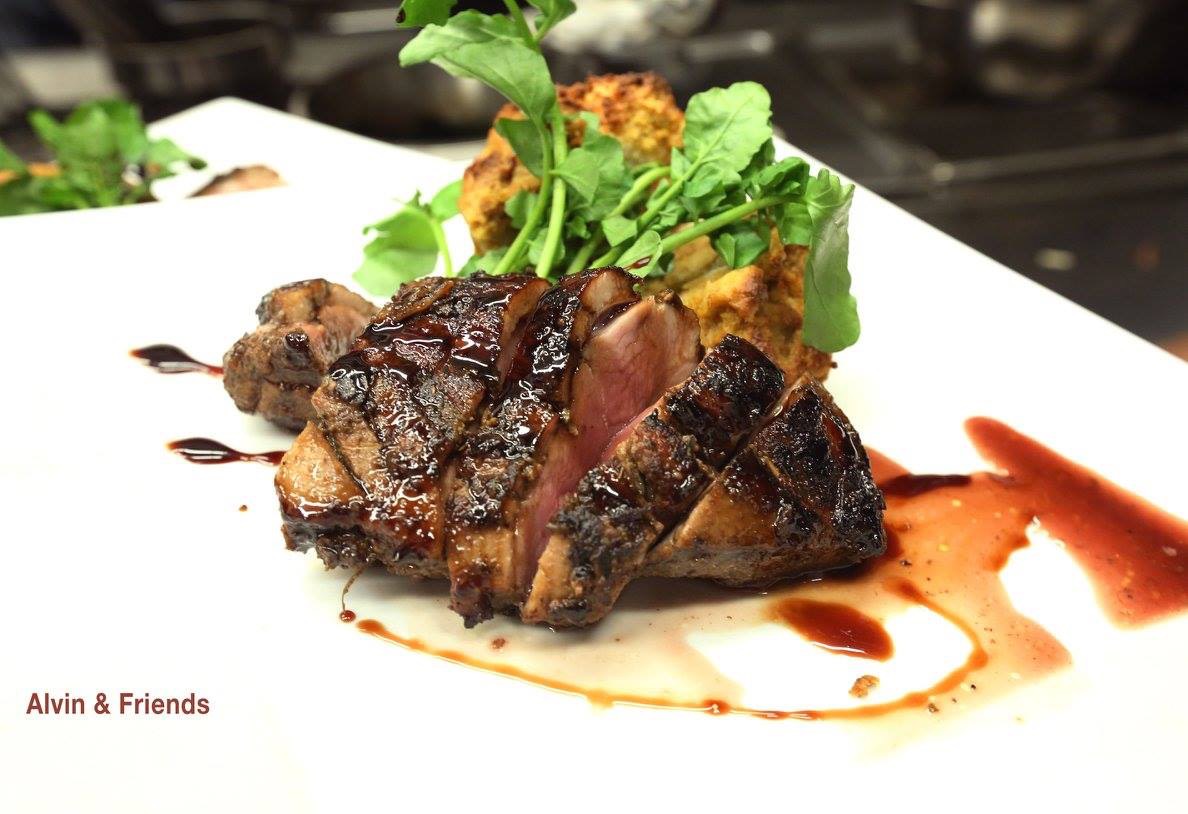 During the many years that I have been writing about restaurants, I have met many interesting people. It is at Alvin and Friends that I met a true renaissance man, Alvin Clayton, the personable owner and host, who greets you with a broad smile, and is a constant presence in the dining room, mingling with his guests. Yes, he is a fine restauranteur, but his creativity spans many areas. He was a well known fashion model for many years and yes, one look at the walls in the dining room, and you discover he is an artist, as well. All of the paintings, many in the style of Matisse, show off his artistic expertise. Alvin Clayton and his charming wife Gwen, bring warmth and welcome to this award winning dining destination in New Rochelle.

Enter the attractive restaurant through a lovely patio surrounded by lush plants. Glass doors open to a 100 seat dining room and bar. The sophisticated space is very special with Alvin Clayton's colorful detailed paintings gracing the walls. How delightful to have the opportunity to savor art on the walls, as well as on your plate. Beyond the main dining room is another room seating between 70 and 80, perfect for private events.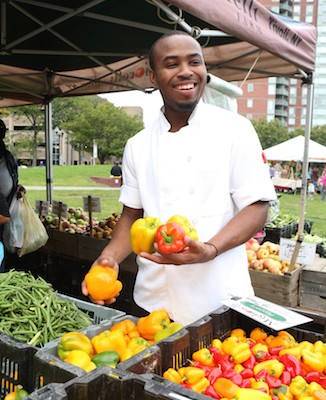 Clayton hails from Trinidad where he learned to cook at his grandmother's side. His favorite dish that she prepared is palau, with caramelized chicken, rice, vegetables and pigeon peas. His painting of her is hanging in the dining room, a remembrance of his culinary inspiration. "We have a varied clientele. We aim to please all tastes. I love instant feedback from our guests. We work hard to keep quality and service where it should be. Everyone is welcome and I aim to be the thread that holds it all together."
Clayton explained that Alvin And Friends offers many events along with their dining experience. There is funky Friday, live music on Fridays and Saturdays and the vault, an open mike night. "I like to make people happy and feel like they are visiting friends. We offer a complete dining experience hitting all notes." How did he move from a modeling career to restaurant owner? "I knew that a modeling career could not last forever. I always loved hospitality and cooking and with the help of friends, I chose to create something new and Alvin and Friends was born. We are exceptional, welcoming, warm and homey with a special energy." Given the opportunity to invite a table of guests Alvin would choose a creative mix including writers, musicians, dancers and artists, people who appreciate the arts. Some ideas for the future are Harlem Renaissance nights as well as using a plot of neighborhood land and planting a garden with vegetables and herbs to use in their dishes.

Heading the kitchen is Chef Kimani Hines who studied culinary arts at Monroe College, honed his skills at Alvin and Friends and then worked at the venerable Oceana in Manhattan where he expanded his knowledge of seafood preparation. He returned to Alvin and Friends to head their kitchen. His roots are in Jamaica where he is the eldest of eight children from a farming family. He interned at many restaurants and hotels "The best part of my work is walking through the door at Alvin and Friends. It's my happy place. I love cooking fish. Every variety is different and I love to play around with it."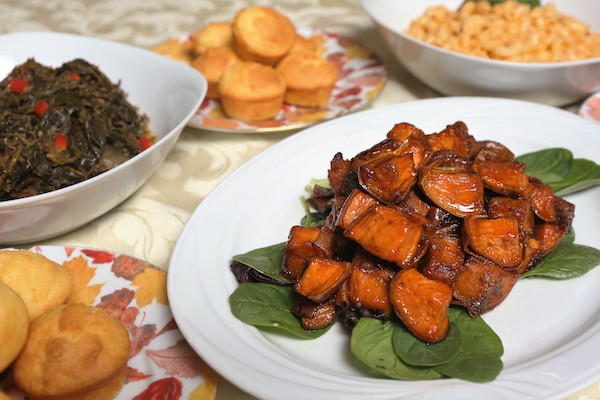 In the capable hands of Chef Hines and Alvin Clayton, I sampled several delightful dishes. Fried green tomatoes were a nice beginning. Firm slices of green tomatoes were encrusted with panko crumbs and stacked atop each other topped with pepper jack cheese, a garnish of watercress and scallion aioli for a nice crisp opener. Next, we enjoyed phenomenal fried oysters. These plump morsels were crusted with cornmeal and fried for a crunchy crisp result. Pickled vegetable relish and tartar sauce flavored with lemon and capers sat beside the super oysters. We could not resist the tostones topped with creole shrimp ravigote.The spicing and flavoring of the shrimp stood out as they rested on the simple tostones.
On previous visits, I enjoyed a rich and delicious curry crab chowder as well as crabcakes. If salad is your choice to begin, there is a southern Caesar wedge, wilted spinach, and to keep up with the times, farro and kale salad. Future starters may include chicken, beef or seafood skewers, and wings with homemade jerk sauce or Alvin's rum punch bbq sauce.
Clayton and Hines chose several fabulous entrees. Jerk rubbed duck breast arrived as tender slices of duck well seasoned with a great combination of spices. India has its curry powder and Asia has its five spice powder. The Caribbean has its jerk seasoning. At Alvin and Friends it is house made with the perfect proportion of spices. Including allspice, thyme and cumin. Add a port wine reduction, sweet potato bread pudding, prepared like a super large muffin, and watercress, and the platter is a still life waiting to be devoured. A smothered pork chop was paired with skin on bourbon candied yams to preserve the nutrients, asparagus in garlic butter sauce and crispy kale completed yet another artistic presentation. Seafood stuffed branzino was the piece de resistance. The deep fried fish was carefully deboned and generously stuffed with seafood. It arrived, head and tail intact and seemed to say ENJOY, and so we did. The flaky fish and the seafood vegetable filling were just divine with not a bone to be found. On a previous visit we tried the signature southern buttermilk fried chicken. It was not to be missed, moist within and crisp on the outside. Yet to be sampled are shrimp and grits, bbq braised short ribs, and caramelized Atlantic salmon. For vegan guests there are several options, as well, such as sesame, soy and ginger tofu and charred vegetable farro "risotto"

For dessert I tried a few bites of the white chocolate banana bread pudding -- rich and tasty. Other options are mixed berry cobbler, coconut cheesecake and rice pudding brulee.

Alvin and Friends serves lunch on Thursdays and Fridays and offers take out as well. Very special are weekend brunches. Sunday is a jazz brunch with starters, salads, omelets, eggs and kitchen specialties. Cocktails and Alvin's rum punch are offered. The Saturday brunch menu is similar without live music.

For a most enjoyable dining experience, add your name to the list of friends at Alvin and Friends in nearby New Rochelle.

Alvin and Friends
14 Memorial Highway
New Rochelle, NY
(914) 654 6549

Recipe: Jerk Duck Breast (Serves 2)

Ingredients:
2 duck breasts
1 bunch cilantro
1 bunch parsley
1 bunch scallions
10 sprigs thyme
6 cloves garlic
¼ cup soy sauce
½ cup brown sugar
1 scotch bonnet pepper
1 cup allspice
1 ½ cups extra virgin olive oil
2 Tbsps. salt
2 Tbsps. pepper

Instructions:

Trim fat on duck to an oval shape and score the fa [make 6 slices into the fat and slightly into the meat evenly. Season with salt and pepper and a bit of olive oil like a lather. Set the breasts in a 2 inch high half pan. Remove stems from the herbs and peppers. Add all herbs, peppers and oil and remaining ingredients to a food processor and pulse to form a coarse wet mixture. Rub the mixture into the duck with love. Cover with plastic and let it rest for 24 hours. Heat a medium sauté pan to medium high. When pan is entirely hot add the duck breasts fat side down. Reduce heat to medium and render down the fat. Drain extra fat as you go along. Continue the process for 5 minutes and then turn the duck over. The skin should be dark brown and crisp. Reduce heat to low medium and continue cooking to medium rare or desired doneness. Let it rest for 3 minutes before slicing. At Alvin it is served with sweet potato bread pudding and a port wine reduction.
Contributor Judie Dweck has been writing about restaurants and food for many publications. She teaches creative cooking to children at Scarsdale elementary schools. Through the years, her articles have appeared in Jack and Jill Magazine, Spotlight, The Pleasure of Cooking and The Scarsdale Inquirer. She balances her restaurant tastings with daily ballet classes.