Come to Scarsdale Village on Saturday for the Scarsdale Music Festival
Thursday, 12 September 2019 08:08
Last Updated: Thursday, 12 September 2019 08:11
Published: Thursday, 12 September 2019 08:08
Joanne Wallenstein
Hits: 2602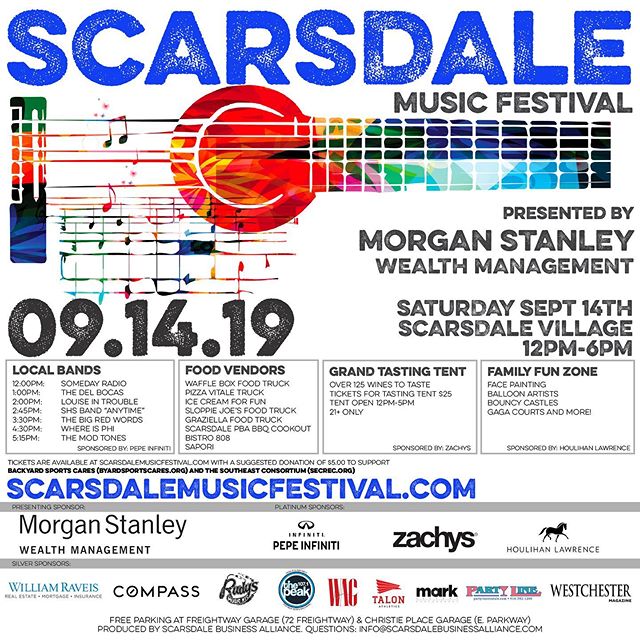 The Scarsdale Music Festival is THIS Saturday, September 14, from 12 - 6 pm in Scarsdale Village. Here's a letter from the Scarsdale Business Alliance inviting you to attend:
Dear Scarsdale: This Saturday, September 14th from 12pm-6pm, the Scarsdale Business Alliance (SBA) invites the entire Scarsdale community to attend Scarsdale's first all day music festival. The event is free with a suggested donation of $5 (to support our local charity partners) with access to all day music, food, and family fun.
The live stage will feature a lineup of local Scarsdale bands: Someday Radio, Louise In Trouble, The Del Bocas, Where Is Phi, The Modtones, The Big Red Words, and SHS student band Anytime.
Zachys will host a Grand Tasting Tent where a big selection of wines and beers can be sampled for $25 for those 21 and over with ID. Tickets and more information is available at www.scarsdalemusicfestival.com.
There will be activities for children at the Family Fun Zone and food from Leila's Crepe Station, Sapori and a barbeque hosted by the PBA.
The event is hosted by the Scarsdale Business Alliance which began only a year and a half ago. The purpose of the SBA is to foster the shared success of a flourishing Village Center and local merchants. We believe that the music festival on Saturday is the perfect way to celebrate our shared vision for the enduring success of our community.
Thanks to participating sponsors: Morgan Stanley Wealth Management, Zachys, Pepe Infiniti, and Houlihan Lawrence.
We look forward to seeing you on Saturday!
The Scarsdale Business Alliance