County Executive George Latimer Defends the Debut of Bicycle Sundays on the Bronx River Parkway
Tuesday, 05 May 2020 09:42
Last Updated: Wednesday, 06 May 2020 08:34
Published: Tuesday, 05 May 2020 09:42
Joanne Wallenstein
Hits: 1862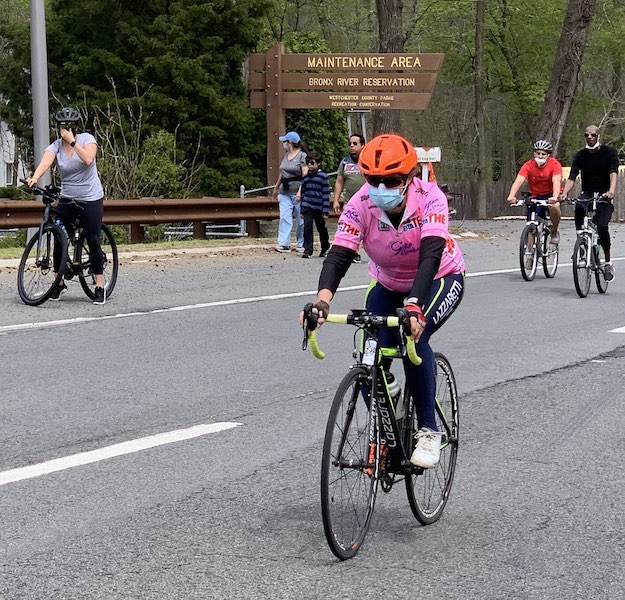 Bikers, runners and walkers welcomed the opening of Bicycle Sundays on the Bronx River Parkway on Sunday May 3, one Westchester tradition that was not cancelled due to the COVID crisis.
County Executive George Latimer made the call to continue this tradition to give residents an outlet and opportunity for recreation after they have been homebound for so many weeks.This year was marked by a change in the route at the north end and by the requirement that cyclists wear masks. Rather than turn around in front of the County Center at the intersection with Route 119, cyclists had to take the exit ramp off the parkway, cross on the overpass and return to the parkway on the entrance ramp on the opposite side.
Participants were also asked to wear masks and maintain social distance, and most complied.
We rode the parkway and saw everyone from serious cyclists, to walkers and families outside enjoying the warm weather and the open road.
Commenting on the event, and the opening of four county golf courses, George Latimer said, "People need a legitimate place to go and if we provide them with opportunities they will be much more likely to follow the rules. Latimer said that the steady drop in the number of active cases and hospitalizations shows that the county's policies are working.
There was a large police presence and many signs posted to remind cyclists of the rules. Though participants were clearly enjoying the chance to get outside, Greenburgh Town Supervisor Paul Feiner made his objections known.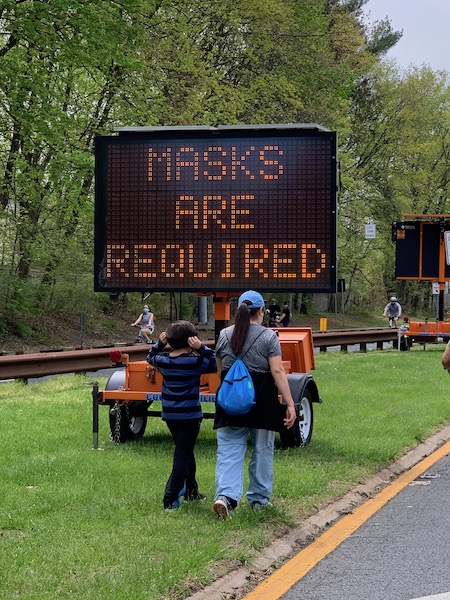 Feiner has convened a Medical Advisory Committee made up of "prestigious local doctors" that recommended that the county delay the start of Bicycle Sundays and hold more in the fall. He quoted the Governor's order that says, "Outdoor recreational activities where individuals come in close contact with each other should be avoided" and cited studies that said that "virus-laden droplets could travel 26 feet and that more than six feet of space is necessary for social distancing."
After Bicycle Sunday Feiner published photos showing violations of social distancing rules and pictures of people not wearing masks and suggested that the route be shortened to prevent riders from bunching up at two points on the ride.
Asked about Feiner's objections Latimer said, "I believe he is dead wrong. It was well-managed and people were following the rules…. he has a right to his opinion but if the situation gets out of control, we will shut it down." Latimer called Feiner's comments an "effort to get headlines…. Paul does not believe you should have parks open and I believe that is misguided." The County Executive continued, "It is more of a battle between ideologies."
Latimer commeneted, "I think the Town Supervisor should work on things that are in his domain. He can work on Central Avenue or Route 119 and enforce the social distancing laws there."
Bicycle Sundays will continue on May 10, 17 and 31 and on June 7, 14, 21, and 28 from 10 am to 2 pm.