Scarsdale Business Alliance Announces Holiday Shop & Dine the 'Dale Initiative and Merchant Raffle
Wednesday, 28 October 2020 16:02
Last Updated: Wednesday, 28 October 2020 16:07
Published: Wednesday, 28 October 2020 16:02
Joanne Wallenstein
Hits: 1430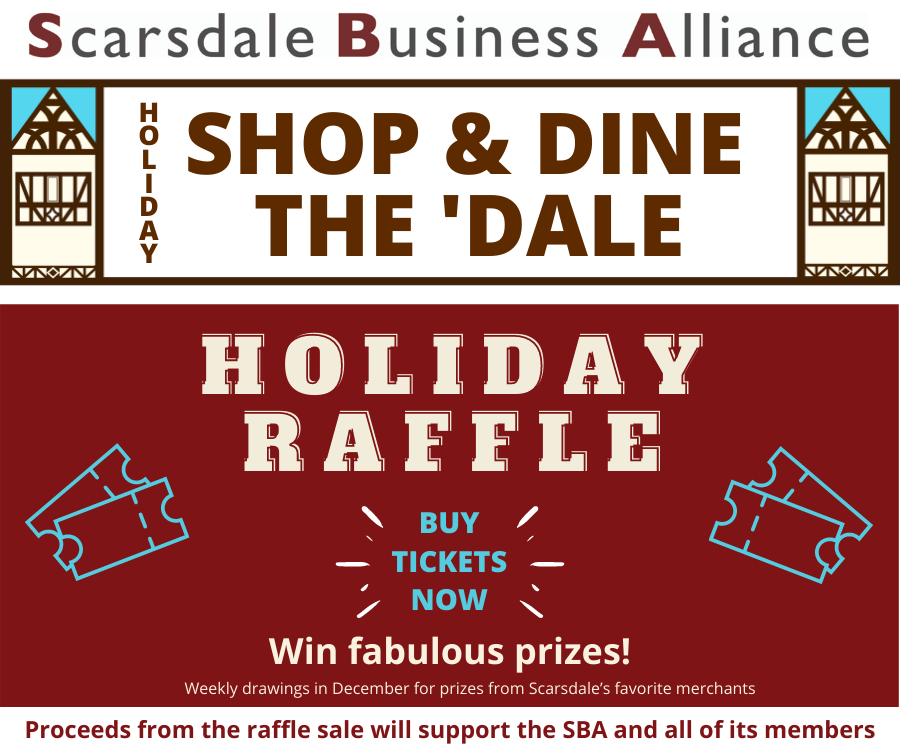 The Scarsdale Business Alliance (SBA) is thrilled to announce its Holiday Shop & Dine the 'Dale initiative, which will take place from November 1st through December 31st. Join fellow community members this holiday season and celebrate our independent and local businesses. By choosing to shop and dine locally, you are investing in our neighborhood and strengthening our community.

This year more than ever, Scarsdale brick and mortar businesses need your support. As sales and dining decreased due to the lockdown, merchant spending has increased in order to meet new safety regulations. Our merchants have invested in helping to keep us safe. In return, we should help them keep their businesses viable.

As a core part of its Holiday Shop & Dine the 'Dale campaign, the SBA will be selling raffle tickets, with chances to win gift cards and items from Scarsdale's favorite merchants. Raffle tickets are available for purchase for $10 each, with a package of 6 for $50 (www.scarsdalebusinessalliance.com). Weekly drawings for winners will take place throughout the month of December. Proceeds from the raffle sale will support the Scarsdale Business Alliance and all of its members

The SBA is a non-profit organization dedicated to supporting the Village of Scarsdale and its local businesses. Like all other businesses, the SBA suffered financially this year as well. Many merchant members were unable to pay their annual dues, and free provisional memberships were given to all 10583 businesses in order for the SBA to offer its assistance and services to its local businesses. In addition, the Scarsdale Music Festival, the SBA's largest fundraising event, was unable to be held.

This spring and summer, the SBA, in collaboration with the Village Board and staff, worked diligently to reimagine outdoor usage of space to support its local businesses. Codes were amended to allow sidewalk usage for the display and sale of wares, and sidewalk cafe footprints were expanded to allow for safe outdoor dining. The Dine the 'Dale tent area has been a huge success in the downtown Village center. The SBA is grateful to its donors, both local property owners and corporate sponsors, whose generosity has helped to create a safe venue for community members to dine and socialize. Key sponsors include presenting sponsor, Scarsdale Improvement Corp., and Platinum Sponsors, Advocate Brokerage Corp., Chubb, Houlihan Lawrence, Julia B. Fee Sotheby's International Realty, Spencer East Realty and White Plains Hospital.

"The Scarsdale Business Alliance has been integral in finding ways to support our local merchants during this unprecedented time," said Deputy Mayor Justin Arest. "It is more important than ever to shop and dine locally. Entering the holiday season, let's make sure that we continue to support the SBA and our retail community."

Please consider supporting the SBA with your purchase of raffle tickets. Proceeds from the raffle sale will support the Scarsdale Business Alliance and all of its members.