All Restrictions on Restaurant Dining to be Lifted May 19, COVID Counts Going in the Right Direction
Wednesday, 05 May 2021 20:28
Last Updated: Wednesday, 05 May 2021 20:35
Published: Wednesday, 05 May 2021 20:28
Joanne Wallenstein
Hits: 735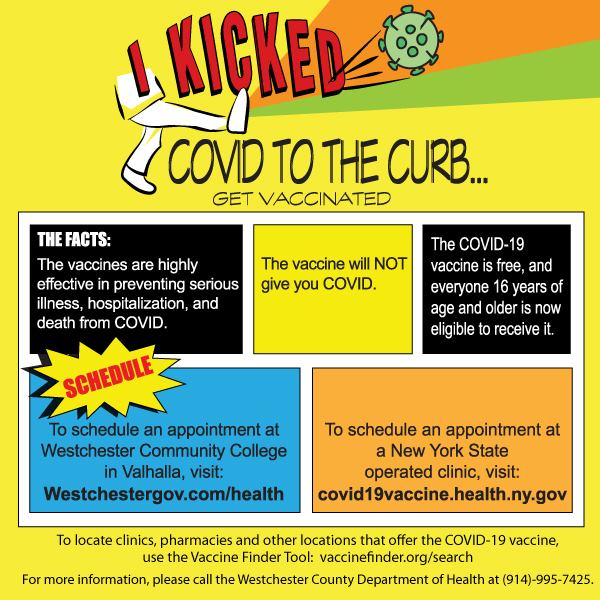 Though only 40% of Westchester's 967,000 residents have been fully vaccinated, it's not an issue of availability. At his weekly briefing on Monday May 3, 2021, County Executive George Latimer reported that between the Westchester County Center, the Yonkers Armory and two county clinics, 338,000 people have been vaccinated. And when you add in other locations, the total is 380,217 vaccinated people in Westchester. In fact, he projects that the county's supply of the vaccine will soon outstrip demand.
In order to vaccinate more residents, the county is opening pop-up or satellite locations so that they can bring the vaccine to neighborhoods where people will have an easier time accessing them. The county has collaborated with the NY Knicks to launch a campaign to encourage younger adults to get vaccinated. The campaign targets younger adults and their parents with posters, a video and a social media campaign in English and Spanish that says, "I Kicked COVID to the Curb." Watch the video here.
In the meantime, all COVID statistics for the county are moving in the right direction. As of Sunday May 2, there were 2,187 active COVID cases in Westchester, a decline of more than 1,000 cases from 3,208 the prior week.
In Scarsdale there are only 14 active cases.
As of Sunday Saturday May 2, 116 people were hospitalized due to COVID, down from 131 the prior week and weekly deaths have fallen into the single digits.
Another positive sign is the news that all capacity limits on restaurants are expected to be eliminated on May 19, though tables will still be required to be six feet apart.
Bicycle Sundays on the Bronx River Parkway kicked off on Sunday May 3 and will continue throughout the summer until the end of October. This is a change from prior years when Bicycle Sundays were suspended during the summer months.
In other news, the MTA reports that subways will resume 24 hour service on May 17, 2021, ending months of nighttime closures.