We Made It Through the Rain: Scarsdale Weathers Hurricane Henri
Monday, 23 August 2021 10:24
Last Updated: Wednesday, 25 August 2021 08:06
Published: Monday, 23 August 2021 10:24
Joanne Wallenstein
Hits: 1429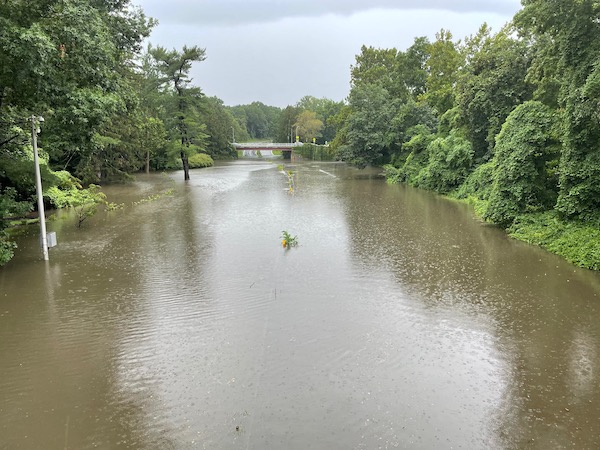 The Bronx River Parkway was more river than parkway. Photo Credit: Kathleen Campbell.Scarsdale appears to have dodged the worst of Hurricane Henri. Though there were some downed trees and branches and areas of local flooding from over six inches of rain over two days, the Village weathered the storm well. On Sunday a large tree fell on Oak Lane and knocked out power to 36 customers and the Bronx River Parkway flooded at Fenimore Road. But as of Monday morning the roads were clear and the storm appeared to be moving on.
On Monday morning we found flooding at one of the high school parking lots – and also noticed that the large seven acre retention basin at George Field was doing its job.
The weekend police report showed the following:
A large tree fell on Oak Lane and knocked out the power to 30 customers around noon on Sunday 8-22.
A large branch fee on Post Road, and a white Honda minivan had a large tree branch wedged underneath in at 3 pm on Sunday 8-22. A towing company was called to lift the car off of the branch.
A clogged storm drain caused flooding at the intersection of Wynmor and Secor Roads at 4:00 pm. Police were able to clear the drain and alleviate the flooding.
Fox Meadow Road flooded at the intersection of Paddington Road at 4:15 pm Sunday and was taped off.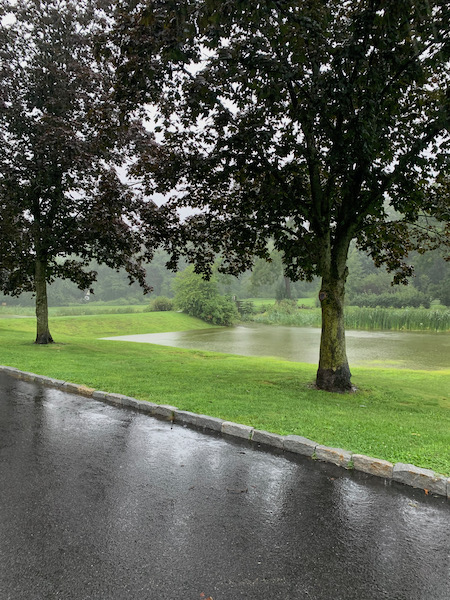 The retention field at George Field Park did its job.
A tree fell on the guest house of a home on Mamaroneck Road at 4:30 pm Sunday. No one was injured.
There was flooding on Brookby Road at 4:30 pm Sunday and it was blocked to traffic.
At 4:45 pm on Sunday Boulevard flooded and was closed.
Tree branches were removed from Palmer Avenue and Griffen Avenue Sunday afternoon.
A tree fell on Saxon Woods Road at 9 pm Sunday and the highway department removed it.
Downed wires were reported at a Brookby Road home at 6:30 am Monday morning.
Commenting on the storm, Village Manager Rob Cole said, "I would like to express deep appreciation for our emergency operating team, including our Police, Public Works, and Fire Departments, as well as SVAC for their well-executed advance storm preparations and many hours spent monitoring the storm and local conditions. It should also be noted that the Westchester County Emergency Operating Center provided excellent municipal support as we all awaited Henri's arrival. ConEd should also be recognized for their high level of advance preparation, as well, reflecting lessons learned from prior storm events that have not gone well.

While the storm was not entirely without incident, those conditions that did arise were promptly responded to.

Because of the training, dedication, and professionalism of our staff, the Scarsdale community is in good hands when confronted with the possibility of severe weather and other hazards.

Finally, please note that because of lingering rain, residents are encouraged to be aware of the continuing potential for flood conditions, including avoiding driving through flood waters, increasing stopping distances, and watching for pooled water on roadways."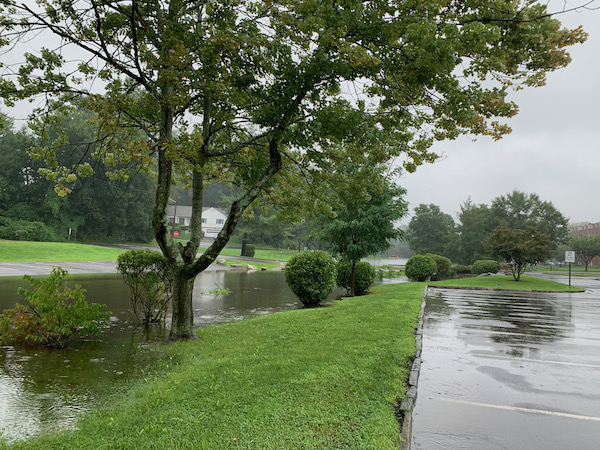 One of the lots at SHS was flooded.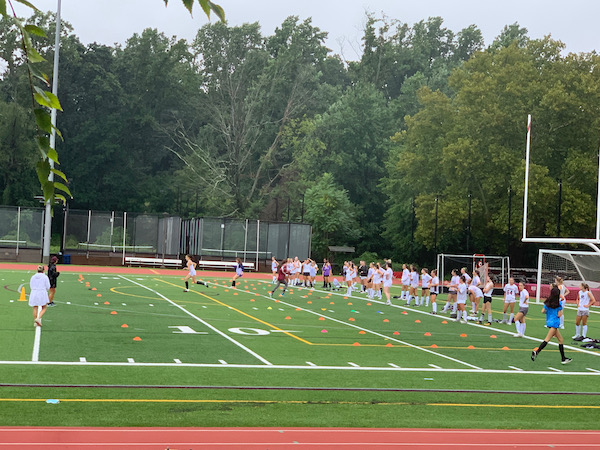 High School athletes were out in the rain on Monday morning.