Hurricane Ida Wallops Scarsdale: 1,100 Without Power, Schools Closed
Thursday, 02 September 2021 08:20
Last Updated: Thursday, 02 September 2021 14:45
Published: Thursday, 02 September 2021 08:20
Joanne Wallenstein
Hits: 1615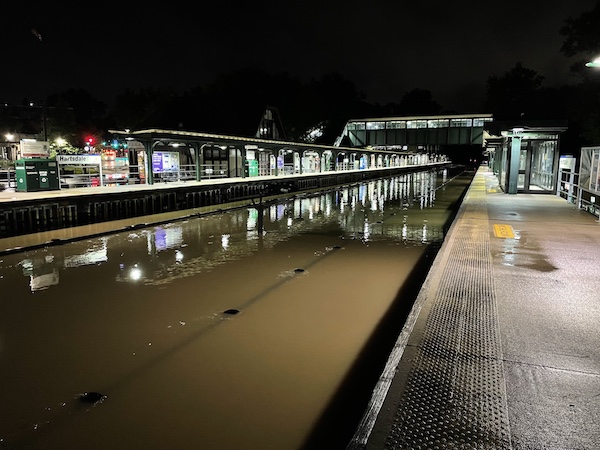 (Updated at 1:40 pm 9-2) We braced for Hurricane Henri but we were walloped by Ida.
After Hurricane Henri failed to pack a punch ten days ago, many ignored the forecast for Ida, which proved to have a far more powerful impact on the Northeast. The massive storm brought record rainfall dropping over 3 inches of water in Central Park in just one hour.
The rains flooded all major Scarsdale roads, leaving the Bronx River Parkway, the Hutchinson River Parkway and sections of the Post Road impassable. At 10:48 pm, on September 1, the Village of Scarsdale warned residents to stay home.
Their email said, "The Village of Scarsdale is presently experiencing widespread flooding. Please refrain from travel until the flooded roadways clear -- vehicles are becoming stranded and it is not safe to be out driving -- stay inside.
If you experience water in your basement, please be cognizant of a potential electric hazard and seek professional assistance in the morning. The Fire Department is not assisting with basement flooding until after the storm has passed.
Please contact 911 with any life-threatening emergency and defer lesser needs until after the storm has passed.
Thank you and PLEASE stay indoors and off our local roadways for your own safety."
We later learned that several drivers had to be rescued from their cars during the night.
The flooding also closed another Scarsdale artery, Metro North Railroad, leaving thousands stranded throughout the area. As of 8:00 am on September 2 service had not resumed.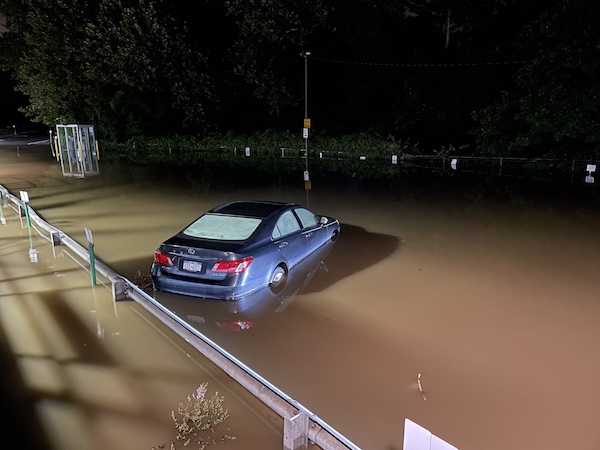 Hartsdale Train Station at 5:45 am: Photo Credit Diane GurdenWater and wind has left 1,100 without power in Scarsdale, and Con Edison is still assessing the damage. The outage map shows outages in Edgewood, Fox Meadow and Heathcote. In addition, flooding at a Verizon facility has caused a widespread service interruption.

At 5:41 am on September 2, Village Manager Rob Cole reported, "The flood waters continue to recede from our roadways, though there may remain problem areas throughout the morning. Residents are encouraged to minimize local travel and to avoid all flooded roadways – several persons were rescued during the overnight hours after having driving into flood waters."
An email from School Superintendent Thomas Hagerman at 6 am on September 2 delivered the sad news that all seven schools have experienced flooding and are c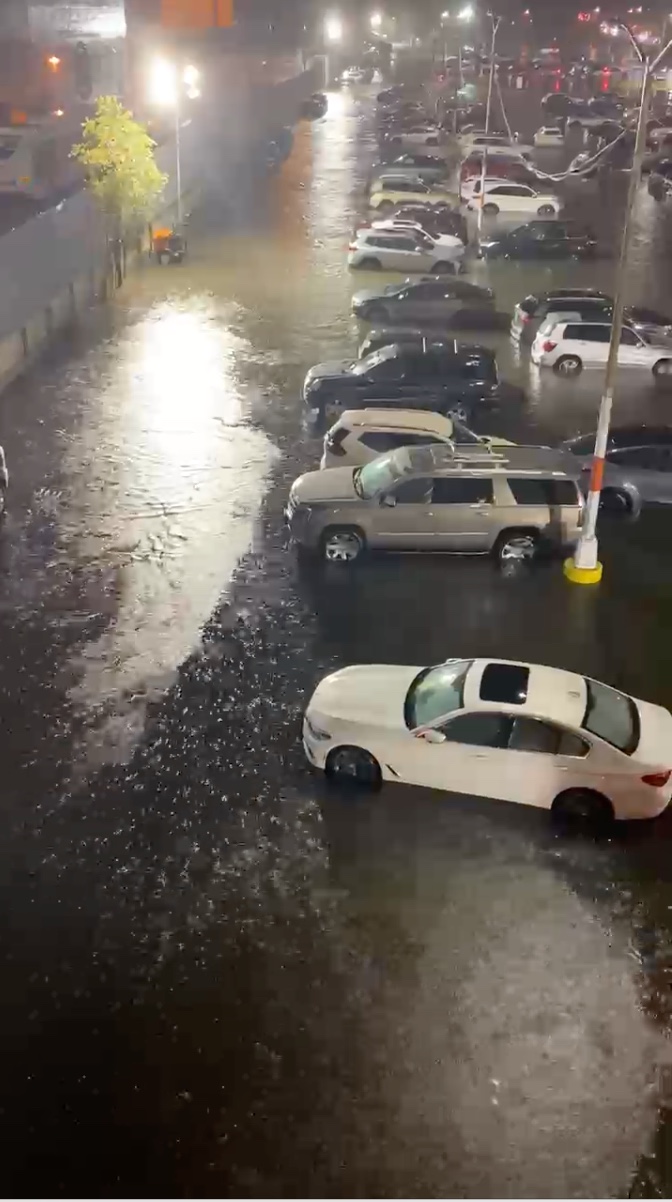 Citifield Parking Lot:11:15 pm September 2. Many found their cars submerged in water.losed, for what would have been just the second day of school. Crews are working to repair the damage and the district hopes to reopen on Friday September 3, 2021. He asked parents to keep children inside away from downed power lines and flooding.
Residents are reporting flooded basements, knee deep in water, with no way to clear it.
In other news, hundreds were stranded at the US Open in Flushing Meadows. Though the matches continued in Arthur Ashe until 2 am, areas outside and even inside the stadium were flooded. The LIRR and subway service were suspended. The Grand Central Parkway and BQE were flooded and those who drove found their cars submerged in water. There are reports that some slept over at Arthur Ashe Stadium as they had no options to get home.
As of 8:30 am, the sun was out but the Bronx River Parkway looked more like a river than a road.

At 1:35 pm we received the following update from Village Manager Robert Cole on the state of affairs in Scarsdale: "I am amidst trying to get the latest ConEd info. The online outage map lists the best available outage updates. Right now, it still reports over 1,100 outages."

"There is a cut and clear crew in the Village and they have three more locations to clear. In addition, they have repair assessment personnel circulating. No estimated restoration times yet and no restoration crews in the Village yet, as far as we are aware; cut and clear is a necessary prerequisite in many cases."

"The Verizon outage appears widespread. One of their facilities was flooded and they are working to repair the damage, as wea have been advised."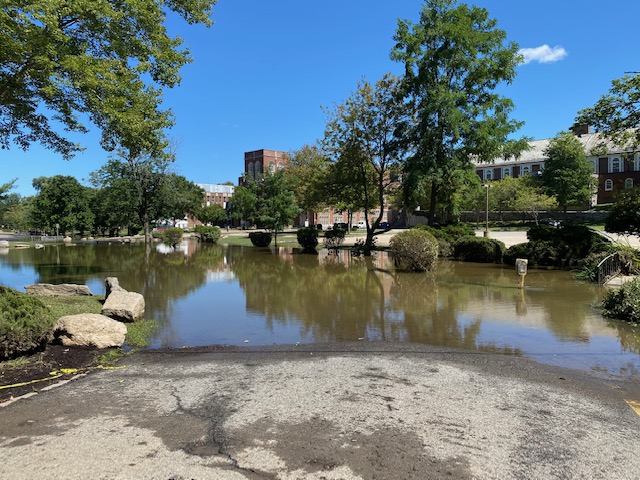 Flooding at SHS by Susan DouglassThe roads still inundated include Brookby, Rugby, and Greendale – they are impassable due to flood waters. Areas blocked by downed wire and/or trees include Paddington/Ogden, Madison/Carmen and the Heathcote Bypass.

Have pictures? Please email them to scarsdalecomments@gmail.com.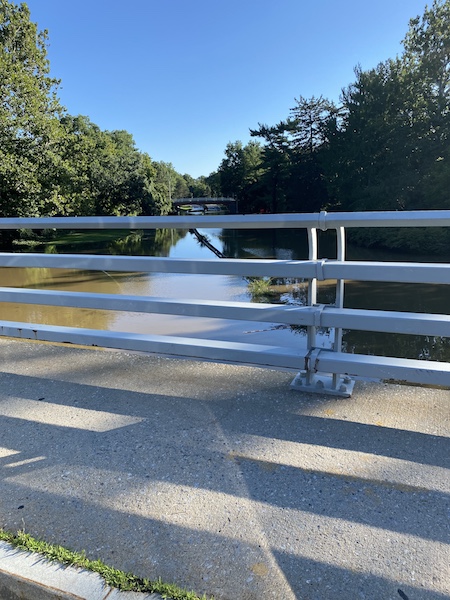 Bronx River Parkway: 8:30 am September 2