Trustees Explore Overhaul of the Scarsdale Pool Complex
Wednesday, 22 September 2021 09:53
Last Updated: Wednesday, 22 September 2021 17:11
Published: Wednesday, 22 September 2021 09:53
Joanne Wallenstein
Hits: 911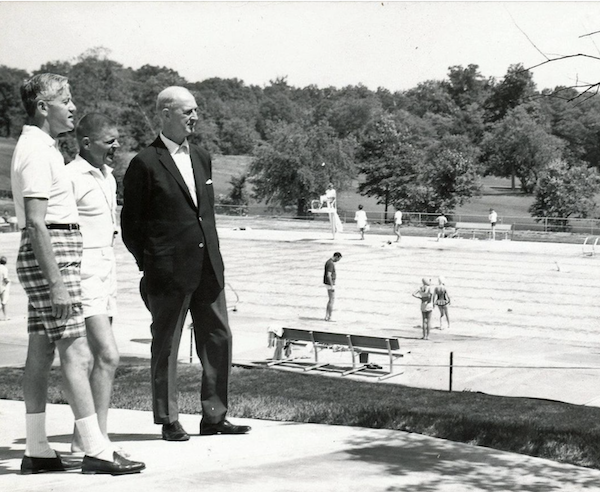 The pool complex opened in 1969 on 7.6 acres previously owned by the American Legion. Pictured above: Mayor Saul Horowitz Jr., Superintendent of Parks and Recreation, Robert Eldridge and Village Trustee, Hartselle Kinsey. When the Scarsdale Pool Complex opened in 1969 the four pools, volleyball court and locker rooms were state of the art facilities. Now 52 years later, it's a struggle to keep the pools and equipment functioning as it has outlived its useful life and is in dire need of an overhaul.
But how much of an overhaul is in order? Do the pools need to be renovated or replaced? Should the complex include water features like sprinklers and slides? How much is the community willing to spend on the work?

According to Mayor Jane Veron, in order to find answers to these questions the Village developed an RFP "to identify outside experts who could lead the study and condition assessment." They received proposals from nine firms, narrowed the field to two and conducted in person interviews and unanimously selected Lothrop Associates who will partner with Ballard & King for the Market Survey Report and The ETC Institute for a statistically valid survey.

The $114,000 bid includes an assessment of the existing pool conditions, a statistically valid survey of residents on their views on the pool and an in-depth analysis of demographics, expected usage and pricing. Once all this information is gathered and parsed, Lothrop will come up with three pool concepts and associated costs for consideration by the community. The consultants said, "The main point is to come to a conceptual design at a cost that everyone would like to build."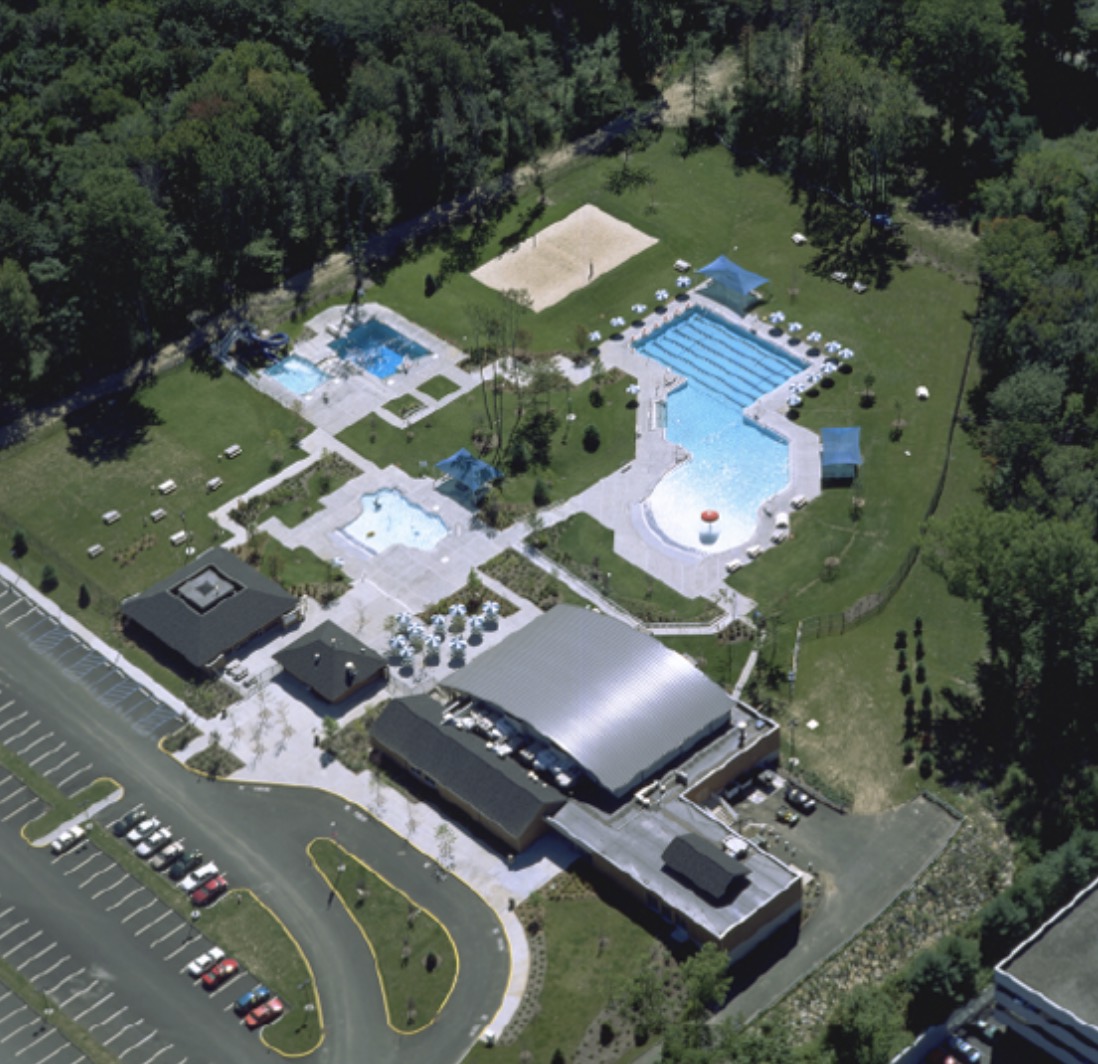 Pool and Communnity Center in Mt. Pleasant

At this point, the Trustees are only deciding on whether or not to hire the firms for the feasibility study. They are not giving the go ahead to do any work at the pool complex.

At a work session at Village Hall on Tuesday night September 21, 2021 the three firms were invited to present to the Board and the public in Village Hall and via Zoom.

William Simmons explained that Lothrop Associates LLP is based in White Plains and has built many municipal and facilities in Westchester and beyond including the Mt. Pleasant Aquatic and Community Center, Kittrell Municipal Pool in White Plains, Leewood Golf Club in Eastchester and the Larchmont Yacht Club Pool Complex. Nine years ago they created a division called Aquatectonic dedicated to pools and are responsible for 80% of all commercial pools in the greater NYC region. They are currently replacing the pool at Playland Park and doing a scoping report for Twin Oaks Public Pool in Chappaqua along with work at many New York City school pools.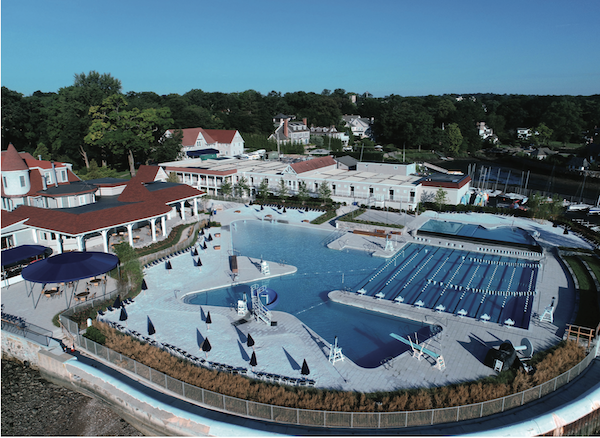 The Larchmont Yacht ClubTheir first step would be to do an existing conditions survey of the pool complex at the same time that Ballard*King Associates does a marketing survey report. Their survey would identify the demographics of potential users, expected participation rates, how much they would be willing to spend and include information about the presence of backyard pools and use of local country clubs. In order to cast the widest net they would use both mail and online outreach to get community input.
They will conduct focus groups and also host open houses with residents to get feedback on what residents want from the pool. The survey results will be analyzed by ECT Institute with the end goal of coming up with a program recommendation based on what the community said they are looking for.
Based on this information, Lothrop will present the Village with three pool concepts and estimated costs. The first might be the most minimal to repair the existing facility, the second might include some bells and whistles like water features and the third could include larger enhancements like water slides, a lazy river or sprinklers. All three schemes will include modern and efficient systems that will save energy.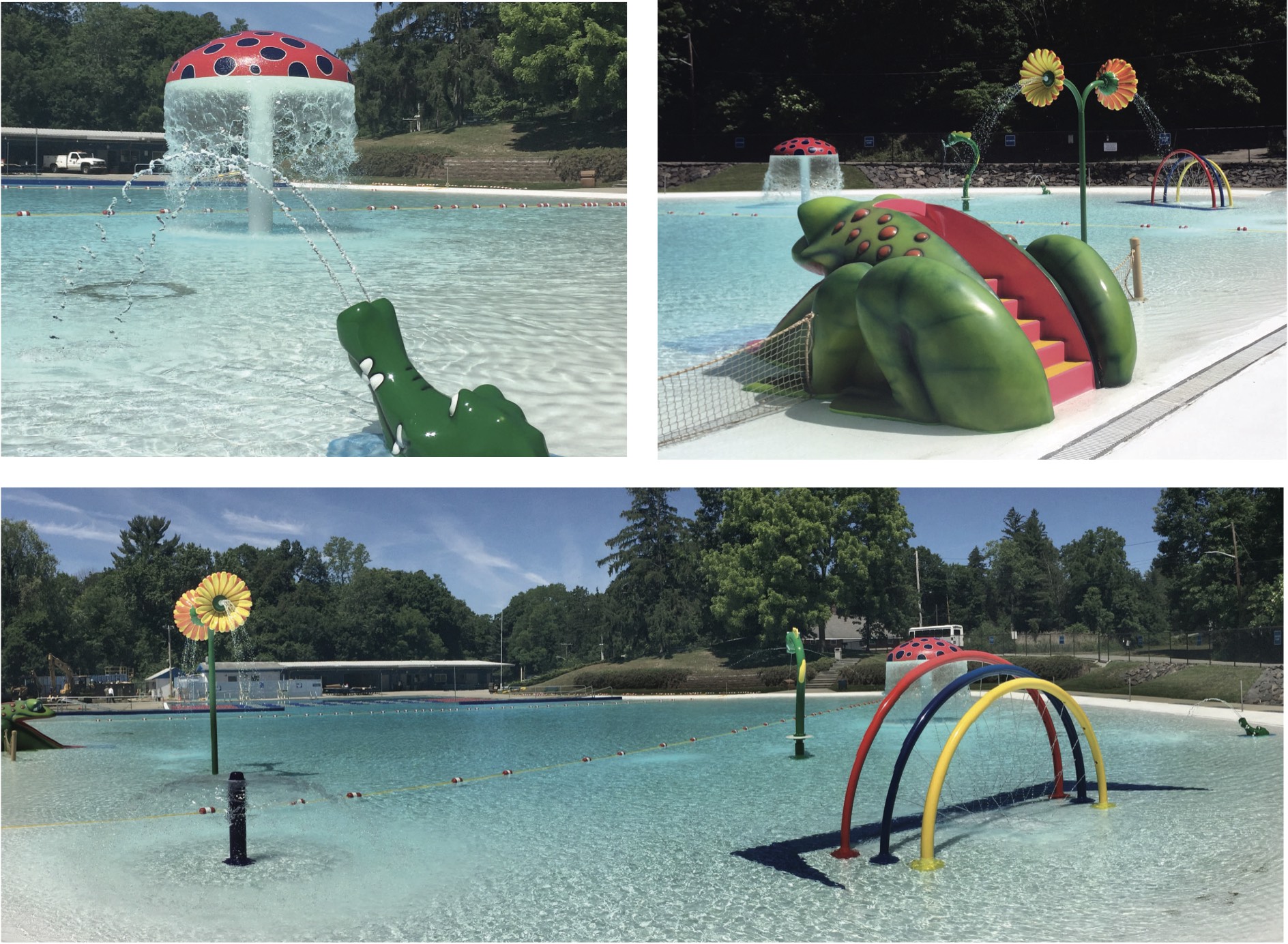 Charles Cook Memorial Pool in Cortlandt Manor
Along with the schemes ,Lothrop will provide operational plans on what it will cost to maintain and run the pools, along with projections of associated revenues, membership rates, penetration rates, anticipated usage for special events and parties etc.
The entire project from approval to final presentation is expected to take 23 weeks or about six months.
The next move is for the Trustees to place a resolution to approve the $114,000 market study and existing conditions survey on the agenda for an upcoming Village Board meeting.