Concours d'Elegance Brings Vintage Cars to the 'Dale
Tuesday, 05 October 2021 14:18
Last Updated: Tuesday, 05 October 2021 20:08
Published: Tuesday, 05 October 2021 14:18
Sophia Albert
Hits: 937
The Scarsdale Concours d'Elegance returned to the streets of Scarsdale on Sunday October 3, 2021 for their 18th annual car show, after a one year hiatus due to COVID.
A beautiful fall day drew a crowd to the Village and the streets were crowded with local residents and car aficionados from far and wide. The show hosts reported their biggest turn out in history, especially by people from outside Scarsdale! In addition to the colorful array of cars, visitors enjoyed live music and a tasty barbeque sponsored by the Scarsdale PBA.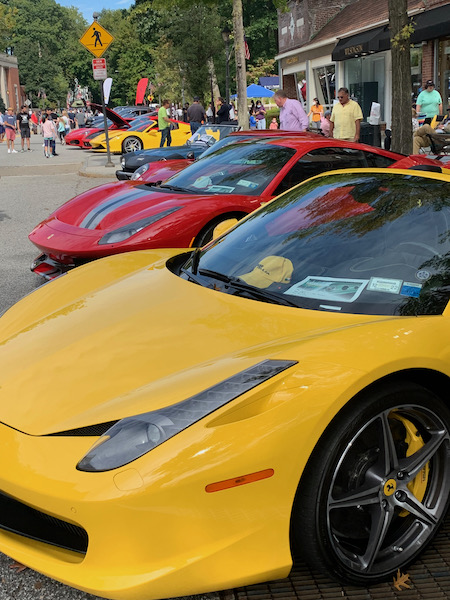 The show had such a wide range of vehicles from vintage collectibles to two monster trucks, a great addition to the Concours this year.
Many of the registrants were regulars who look forward to attending the Concours every year.
Local resident Joe McGee displayed his bright green Porsche to the show. He has won awards in other shows, but he personally likes to come to the Scarsdale Village show to see the different cars and meet the owners, especially on such a nice day.
Corvette collector Larry Sachs has been coming to the Concours d'Elegance since the very first show that was started by SHS students Evan Cygler and Denis O'Leary back in 2003. He brought three to this year's show He has won awards at some of the past shows, including Best Race Car and Best Corvette. He got his first car, a Corvette, at 18 and believes that "Corvettes are superior to any other car. They're faster, sleeker, and lower to the ground."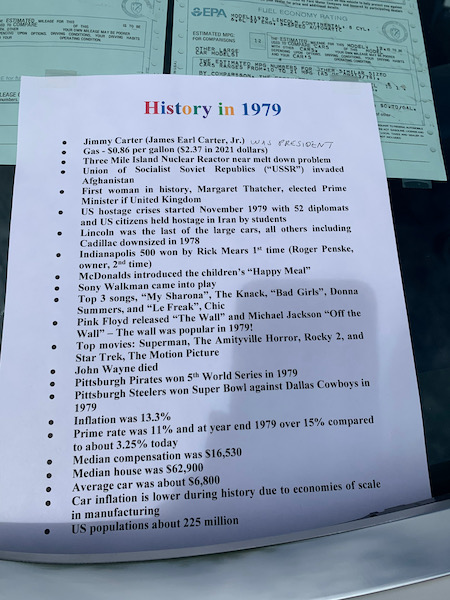 One of the most talked about cars at the show was Lorenzo's 1979 Pontiac Firebird Trans Am, that he purchased from David Lee Roth of Van Halen! The car has been featured in movies such as Smokey and the Bandit and Rocky II.
Many of the cars were older than the people that came to see them. The owner of a 1979 Cadillac with blue velvet seats posted this sign on his windshield to let viewers know what was going on in the seventies when Carter was President, gas was .86 cents a gallon, McDonalds introduced the Happy Meal, Sony came out with the Walkman and inflation was 13.3%.
The top was down on a 1976 blue Cadillac and inside the owner displayed his collection of 8 track music cartridges including Jethro Tull, Elvis and the Eagles.
This Year's Best in Show award went to a light green 1949 Riley MC.
The show raised funds for local groups including the Scarsdale Volunteer Ambulance Corps, Scarsdale Police Benevolent Association, and Scarsdale & Edgemont Family Counseling Service.