Installation of Gas Main Snarls Traffic in Greenacres
Tuesday, 19 October 2021 15:55
Last Updated: Friday, 22 October 2021 08:24
Published: Tuesday, 19 October 2021 15:55
Joanne Wallenstein
Hits: 808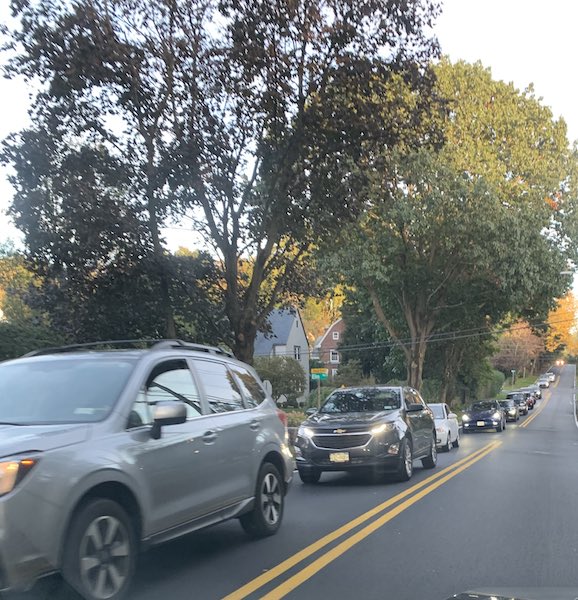 Traffic has come to a standstill in Greenacres, where the installation of a high powered gas transmission line has closed Walworth Avenue between Fenimore Road and Greenacres Avenue on weekdays from 8 am to 5 pm. Work began in August and appears to be progressing slowly. With so many people accustomed to using this primary north south route to travel to and from White Plains and over the bridge to Hartsdale and the train station, the road closure has proven to be a major headache.
Because alternate routes are in heavy use, they are often the scene of difficult traffic conditions as well. Drivers are now using Brite Avenue to travel north and south. But since cars are parked on both sides of the narrow street, drivers often have to stop and alternate passage with dangerous maneuvers.
The situation is further exacerbated by additional road and home construction in the area. Last week, a crew was repairing a gas leak on Greenacres Avenue, large cement mixers were blocking one lane of traffic on Kingston Road, construction equipment was blocking a portion of Brite Avenue at Butler Road and large machinery was also obstructing 38 Brite Avenue further into Fox Meadow where the Village is relocating a stormwater pipe.
One day last week at 4 pm, we found 25 cars lined up to get through the light at Feminore Road and Walworth Avenue, and drivers waiting on roads leading to Fenimore trying to turn onto it, only to be blocked by exasperated drivers attempting to get to Hartsdale.
The blockages turns what is usually a ten minute trip to the Village into 20 to 30 minutes either way.
What's worse, is that this is just the beginning of what was originally a six month project that will disturb residents throughout. Con Edison already appears to be behind schedule.
We asked Allan Drury, a spokesperson for Con Edison, about the schedule for the project and here is what he shared:
"We are currently working between Fenimore Road and Greenacres Avenue. To wrap up work on this stretch as quickly as possible, we will increase our crewing and may bring in new equipment. The excavation along this first stretch has been more difficult than expected.Our goal is to be done by Nov. 18."

"Once we complete this stretch, crews will work from the intersection of Walworth Avenue and Greenacres Avenue north to Colvin Road. We'd like to finish that stretch by early January. Then we will work from Colvin Road to Brayton Road. We plan on completing this stretch by late February or early March. The winter weather could affect the pace of the work.
We will update residents on the schedule shortly."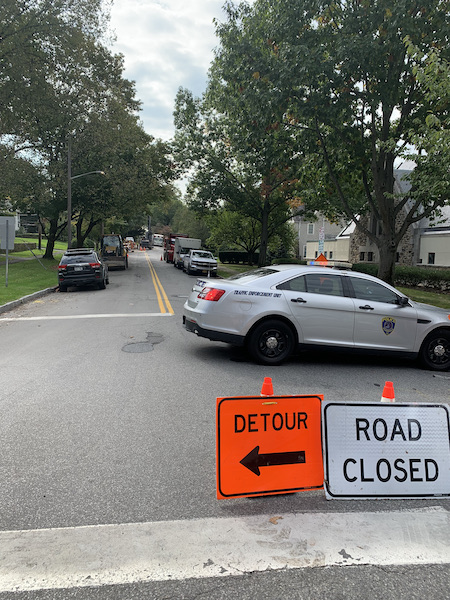 Commenting on the disruption, Andrew Sereysky, who heads up the Greenacres Neighborhood Association called the project "Unacceptable." He said, "Here' what I've been hearing from my Greenacres neighbors affect by the work with a bit of my own commentary.
1) The Con Ed workers and Scarsdale Police officers assigned to the project are extremely courteous and cooperate in all ways possible.
2) With the project going into its' fourth month for only one block, this seems to be an extremely long time. How long can this go on?
3) At this rate, with the pipeline scheduled to go from the White Plains border to Fenimore, the Greenacres' residents living on and depending upon Walworth Avenue will be inconvenienced for years to come. This is really unacceptable."
Village Engineer Dave Goessel explained that this segment of the project is just a small piece of a larger project that will expand the pipeline from White Plains to the Bronx. The utility will apply to extend the pipeline north from Brayton Road to White Plains and south on Fox Meadow Road to Popham Road. Goessel estimates that Scarsdale will be living with this construction for up to five years.
In order to install the 30 inch high pressure line four to eight feet under ground, crews are having to remove rock and displace other utility lines making the work slow and challenging.
And what benefit is there to residents who are forced to endure the disruption? Goessel pointed out that Con Edison pays to repave any roadways they disrupt, allowing the Village to do more repaving than usual this year. But unfortunately the gas that will be transmitted by the line is targeted for other end users. The current gas moratorium that prevents residents and businesses from getting new gas service in Scarsdale will remain in force. What about a price cut to compensate Scarsdale users for the inconvenience of this major infrastructure project right in their neighborhood? No one has mentioned anything of the kind.
We also spoke to Scarsdale's Mayor and Village Manager who were both sympathetic but explained that Con Edison is not accountable to the Village, only to the state who regulates the utility. They suggested we kick this complaint upstairs or upstate to our State Assemblywoman Amy Paulin or State Senator Andrea Stewart Cousins. So if you want to write a letter, please do!
Commenting on the situation, reader Russ Kopp said:
"I admit to not knowing the law or rules as it pertains to a mandatory police presence at road closures like the one at Walworth Avenue between Fenimore and Greenacres Avenues.
Still more, I don't know if such police presence mandates the officer on scene be solely restricted to road closure duties—something their accompanying Police vehicle, with emergency lights actuated, and additional signage, seems to be more than capable of enforcing from my experience.
But if permitted, said officers should also, in my opinion, be directing traffic at the Fenimore Road and Fox Meadow Road/Walworth Avenue intersection when such construction occurs; something I've asked the Police Chief and Mayor (the latter has not answered me) to make happen, without success on my part —precisely to avoid the kinds of traffic reflected in pictures from this article.
All too many times in my experience at this location, said traffic has been back up in both directions on Fenimore Road because the traffic light was red for such traffic, despite the absence of Northbound traffic on Fox Meadow Road to grant right of way (i.e. a green light) to.
Police or Traffic Officer presence directing traffic here would keep this intersection flowing but for the infrequent times that the light is green for, AND Northbound traffic on Fox Meadow Road exists, that an officer can grant momentary right of way to.
It's not like I'm asking the Police to dedicate limited assets to this endeavor. There is already an officer on scene literally standing there."
Russ Kopp