Scarsdale Library Wins Design Award
Monday, 06 June 2022 15:33
Last Updated: Friday, 10 June 2022 11:53
Published: Monday, 06 June 2022 15:33
Joanne Wallenstein
Hits: 909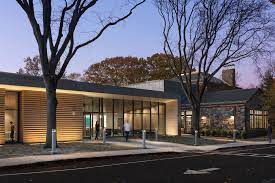 Scarsdale Public Library has won the Society of American Registered Architects -NY Council (SARA NY) Design Award and Dattner Architects will be honored at an awards gala on June 14, 2022 in Manhattan for their remarkable design transforming the Scarsdale Public Library into the exemplary 21st Century library that it is today.

Designed with the feel of a Library in a Park, the Scarsdale Public Library incorporates many natural elements, with stone wall interiors and floor to ceiling windows providing access to plenty of daylight and views of the surrounding nature. The entire building was reconfigured and renovated, allowing the Library to meet many programmatic goals for improved flexibility, technology, usage and access, with 38,000+ SF of usable and modern space.

The Scarsdale Public Library would like to congratulate Dattner Architects for their achievement. We appreciate the thoughtful consideration and creative design work that went into meeting the needs of our community to provide us all with this beautiful and highly functional space.

Upon hearing of the award, Diane Greenwald, Former Scarsdale Public Library Board President and Co-Chair of the Library Building Committee, had this to say: "Though among the busiest Westchester Libraries, SPL's facility was tired, with decades of deferred maintenance and structural accessibility issues. Dattner helped SPL maximize existing building features and expand into the surrounding park, bringing the outdoors in. Dattner's sensitive design improved efficiency and enhanced functionality, integrating old and new design elements from both the original 1950s building and the 1973 addition. SPL now offers one cohesive experience, fully accessible, with modernized technology and flexible spaces for enjoyment for generations to come. I am thrilled every time I walk though this now award-winning place, our Library at the center of our community."

Following a great deal of community input and significant due diligence, in December 2016, the Scarsdale Village Trustees accepted the recommendation of the Library Board to support the improvement project with a $9.9M bond as part of a public/private funding partnership. By May 2018, a robust Capital Campaign committee, overseen by the Friends of the Scarsdale Library, raised $8 million, exceeding expectations by $500,000. Over 500 generous families and businesses contributed.

The Scarsdale Public Library's Community Design Feedback Committee was comprised of a cross section of community members with various levels of interest in and use of the library. The Committee was formed to continue the Library Board's commitment to community involvement in every phase of the planned renovation and specifically to provide feedback to the Library Building Committee during the design development phase. We appreciate all input from interested parties that got us to where we are today, and that helped make the Scarsdale Public Library an Award-Winning Library.
Click here for more information from Dattner architects.
Click here for more information on the history of the construction of the Scarsdale Public Library.