Strong End to Quiz Bowl Season Shows Club's Future Is in Safe Hands
Tuesday, 14 June 2022 10:37
Last Updated: Tuesday, 14 June 2022 17:30
Published: Tuesday, 14 June 2022 10:37
Adam Katcher
Hits: 607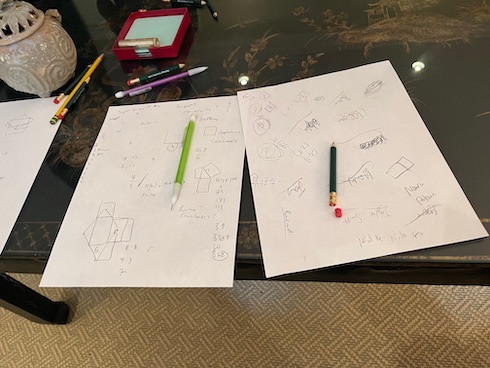 With time a luxury, on-paper problem solving is a huge part of Quiz BowlAre you a Jeopardy fan? Do you like to test your knowledge on random facts about any topic under the sun? Try these challenge questions below!
Questions:
A) For each of the following 10 countries, name their capital and their biggest cities by population: hint – the capital city and most populous city are different. 1) USA 2) Brazil 3) Belgium 4) China 5) Morocco 6) Australia 7) Canada 8) India 9) Switzerland 10) Turkey.
B) The Dedham Lock and Mill painting from the early 19th century of the British countryside was created by which British artist, whose last name can also be a word to describe the governor or warden of a royal castle or fortified town?
C) What is the name of the 13-string instrument frequently played in Japan during the Edo period?
D) The sum of 4 consecutive odd integers is zero. If the absolute value of each of these integers is taken and are then multiplied together, what is the final value?
*Answers to above questions can be found at the conclusion of the article.
These were just a few of the questions posed to the Quiz Bowl team at their national qualification match on June 3rd.
Scarsdale High School's Quiz Bowl team has been one of the clubs most directly impacted by the ramifications of the COVID-19 pandemic. In-person tournaments had to make way for virtual tournaments indefinitely. Still, after over two years with the virus, the vast majority of tournaments remain online. Though for quiz bowl, this might not seem like a big deal, it drastically changes the pace of matches. Rather than buzzing in for answers on a first-come, first-serve basis, both teams now get an equal opportunity at answering questions from given categories before their opponent has the chance to steal from incorrectly contested questions.
This school year with the majority of quiz bowl members onto college, the future of the club was at risk. Only a small handful of seniors and others remained. As the year passed, students from all grades were recruited: seniors already committed to college joined in, juniors came in to revitalize the core of the club, and even some underclassmen started going to meetings, signaling a bright future for the team. Club faculty advisor Michael Egan charged the students with recruiting team members, which proved to be a shrewd choice.
Training for matches is grueling, but not without its fair share of fun. Meetings consist of question after question after question, testing who already knows the answer and drilling in new information to those who were clueless. The questions are from old tournament packets, so every question students ever hear either will be or has been an official question. Upperclassmen, however, frequently bring food and refreshments to make the practice environment welcoming to all and not too intimidating.
On Friday, June 3rd, the first portion of the National Tournament was held. Scarsdale fielded an A and B team, both with the opportunity to head onto the next round. They both had six matches: all teams that won four or more matches automatically qualified to head to the next round, contested on the weekend of June 11th.
Unfortunately, neither the A nor B the Quiz Bowl teams were able to make it past the grueling contest on June 11th. The B team secured one of their highest single-round point totals of the year, but lost to a Catholic school, who were able to answer what felt like a disproportionate number of Bible questions. Nonetheless, making it to the second weekend of nationals was a unique accomplishment in its own way, demonstrating both teams depth of knowledge for seasoned veterans and newer members.
Club President Ned Kronenberg reflected on his time both as a club member and leaders, explaining, "Overall, I had an amazing experience in Quiz Bowl and it was a great club to be a member and leader of. Although this season remained impacted by COVID, it was my favorite as the team saw so much growth, both competitively and in terms of team camaraderie."
In his eyes, proceeding to Nationals was a resounding success. "We were able to win a tournament [this season], and our A and B teams had a combined record of 10-2 in national qualifying, leading to strong finishes in bracket play for both teams."
For those interested in joining the team in the next couple of years, Kronenberg feels as if the future is in good hands. "I am very optimistic," he explained, "and I know that the club is in good hands with our faculty advisor Michael Egan and our next officers and underclassmen."
For the club's leadership, it is now out with the old and in with the new. Fortunately, the "new" does not look to be a step down from the "old" – it might actually prove to be an upgrade. Only time will tell.
Answers:
A) 1) Washington DC and New York City. 2) Brasilia and Sao Paulo. 3) Brussels and Antwerp. 4) Beijing and Shanghai. 5) Rabat and Casablanca. 6) Canberra and Sydney. 7) Ottawa and Toronto. 8) New Delhi and Mumbai. 9) Bern and Zurich. 10) Ankara and Istanbul
B) John Constable
C) Koto
D) 9