Medi Bistro Spices Up the Local Restaurant Scene
Monday, 06 February 2023 08:48
Last Updated: Monday, 06 February 2023 08:54
Published: Monday, 06 February 2023 08:48
Joanne Wallenstein
Hits: 1602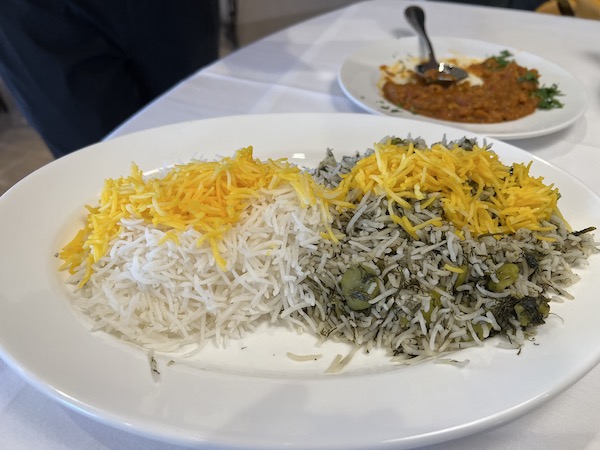 They tell authors to, "write what you know," but in this case, restauranteur Par Shakiban, who is of Persian descent, is cooking what he knows, the authentic cuisine of his Iranian homeland. Shakiban, who many remember as the owner of Patisserie Salzburg on Christie Place has moved on from the food of Austria to the Middle East and is back in our area with a new Persian eatery just over the border in White Plains.
We visited Medi Bistro days after it opened last week. Located in the lobby of 50 Main Street in White Plains, you'll find it just past the Mercedes dealership, with parking in the building to be entered on North Lexington. The restaurant will validate your ticket, so it's free to park while you eat.
The space is just off the lobby of the building and has high ceilings and large glass windows overlooking White Plains. The restaurant has its liquor license and is ready to serve customers at a long bar with an extensive wine list. We slid into a comfortable booth lined with velvet upholstery and sipped pomegranate juice, a Middle Eastern favorite as we perused the lengthy menu.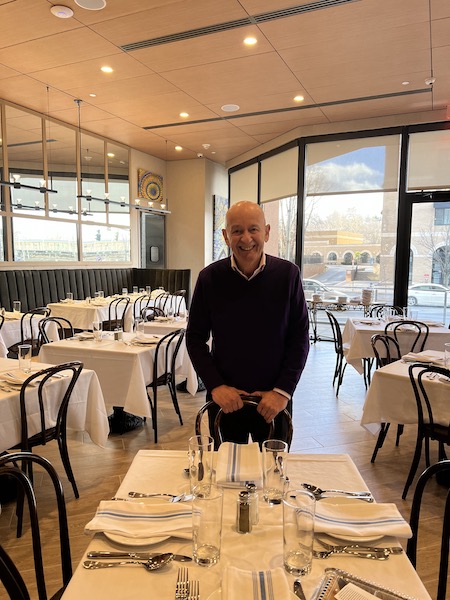 Par Shakiban at Medi Bistro
The top portion, called "Tasters," offered an array of exotic dips including Kashk Badenjoon, fried eggplant puree, topped with crispy onion, mint and cream of whey (fermented yogurt), Mast Khiar which is yogurt, Persian cucumber and mint along with more traditional spreads like labne and hummus. Also among the tasters are house-made pickled cucumbers and vegetables, dolmeh: grape leaves stuffed with rice, herbs and topped with a pomegranate sauce and a very tasty falafel served with tabouli, tahini and pickled beets.
Before getting to the main courses, or the "Feast" as the menu says, we sampled the Shirazi salad with cucumber, tomato, onion, and parsley in a lemon vinaigrette.
It was only lunchtime and we were not sure about how much more we could eat, so we turned to Par for advice. True to the claim on the menu, he brought on a feast which proved to be enough for lunch that day – and a few dinners more with the leftovers we took home.
Everything was well seasoned and exotic, with hints of cardamom, zaatar, fenugreek, saffron, rose water and pistachios.
The menu offers many kabobs – among them are beef sirloin, chicken, Cornish hen, ground beef, lamb, salmon and shrimp, all served with basmati rice. We tried a delicious chicken kabob, bright yellow from its marinade of citrus and saffron. Even the rice was sumptuous, garnished with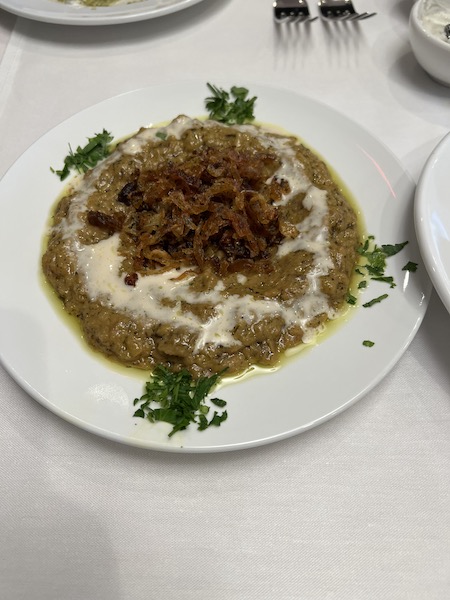 Kashk Badenjoonfragrant orange zest, barberry, pistachios and almond.
Other remarkable entrees were the Chicken Fesenjoon and the roasted lamb chops. What exactly is Fesenjoon? It was white meat chicken served in a thick sauce made from pomegranate and walnuts – and it was delectable. The lamb chops, broiled in saffron, rosemary and garlic were a treat. Gheymeh, was another Persian stew, this one with beef, split peas, seven greens, dried lime, cinnamon and potatoes. All we can say is "yum."
Intent on getting the full experience, we ended the meal with a large serving of pistachio and saffron ice cream which was doused with rose water and topped with sour cherries. It was aromatic and delicious. We topped it off with steaming cups of Persian tea, brewed with cloves and cardamom, served with cubes of rock candy that melt in your mouth as you sip the hot tea.
Par proudly told us that Medi Bistro is his 23rd restaurant – and it's clear that he knows what it takes to create a winning combination of tasty food, good service and hospitality to keep diners coming back over and over again.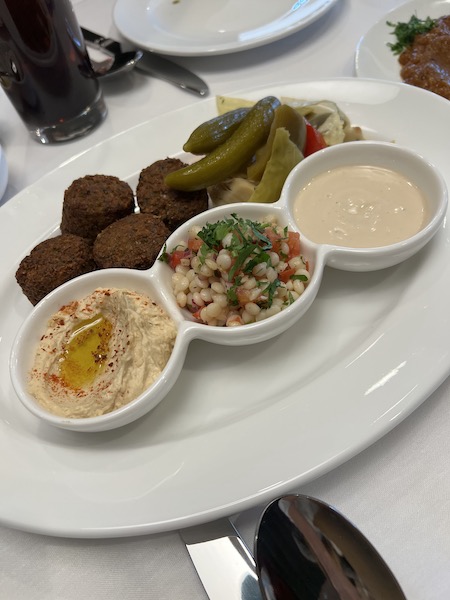 Falafel with hummus, couscous and tahini
We can't wait to go back and share this welcome newcomer with family and friends.
Medi Bistro
50 Main Street
White Plains, NY 10606
https://medi-bistro.com/
(914) 946-1232
Open seven days a week for lunch and dinner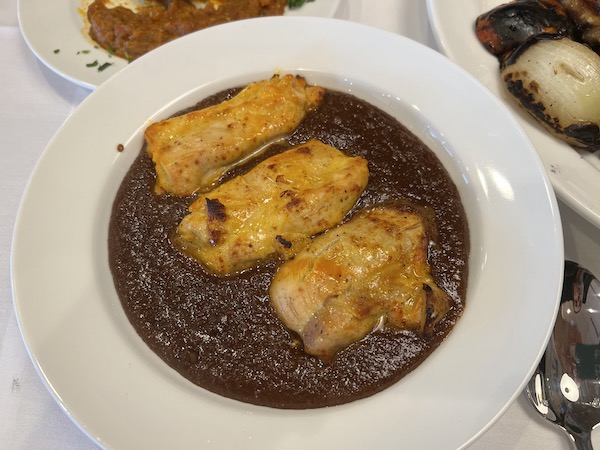 Chicken Fesenjoon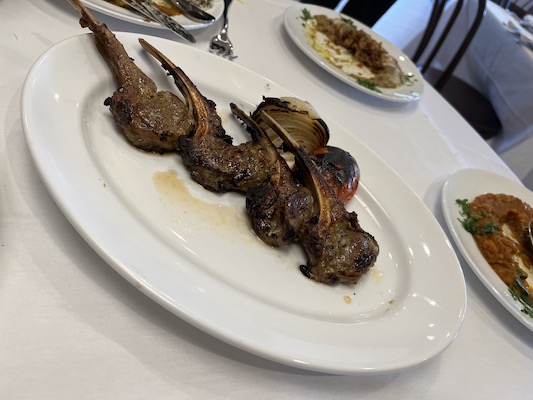 Rack of lamb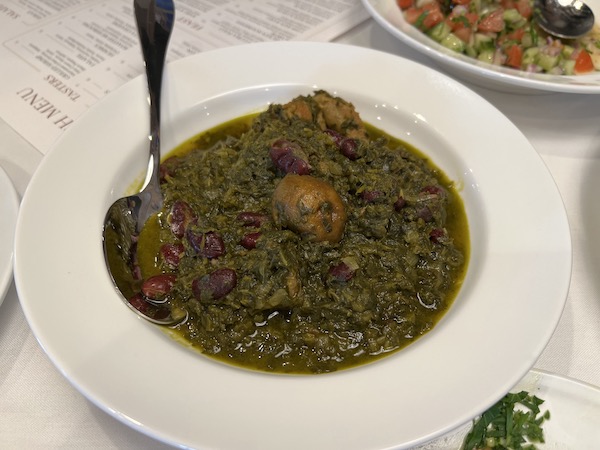 Gheymeh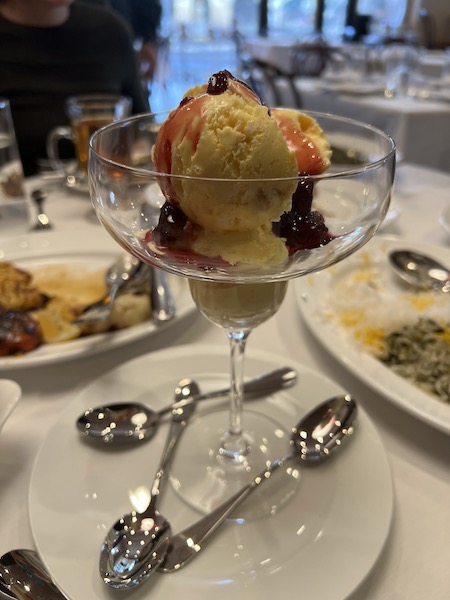 Saffron and pistachio ice cream with rosewater and sour cherries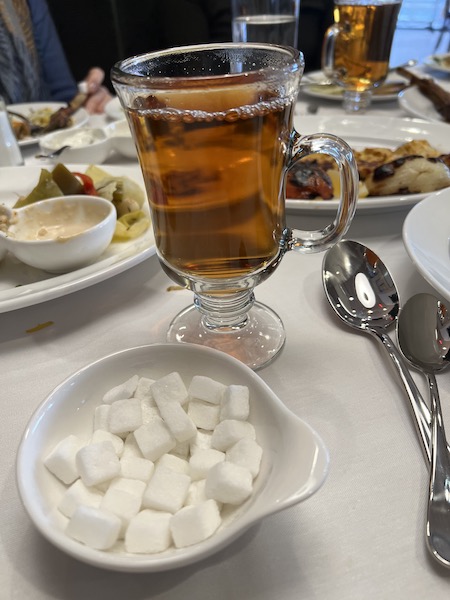 Persian tea with rock candy