Will These Home Be Demolished?
Wednesday, 13 January 2010 17:28
Last Updated: Thursday, 14 January 2010 14:43
Published: Wednesday, 13 January 2010 17:28
Hits: 3823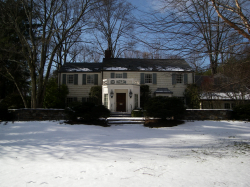 Are these houses going to be razed?  The owners of the four homes shown below have filed demolition permits with the building department. Village code requires that anytime a demolition permit is filed, the applicant must come before the Committee For Historic Preservation to review their request. Neighbors within a 250 foot radius of the house are advised.

At the hearing, the Scarsdale Village Committee For Historic Preservation determines if the building is of substantial historic importance, and if it is not, they grant the applicant a certificate of appropriateness to allow the demolition. The public hearing to consider demolition of the following homes will be held on Tuesday, January 19th at 8 P.M. at Village Hall.
2 Willow Lane – Built in 1951
14 Overlook Road – Built in 1951
26 Innes Road – Built in 1949
51 Sycamore Road – Built in 1954