Enjoy Many Encores at Encore Bistro Francais
Tuesday, 31 January 2017 14:54
Last Updated: Tuesday, 31 January 2017 15:03
Published: Tuesday, 31 January 2017 14:54
Judie Dweck
Hits: 5988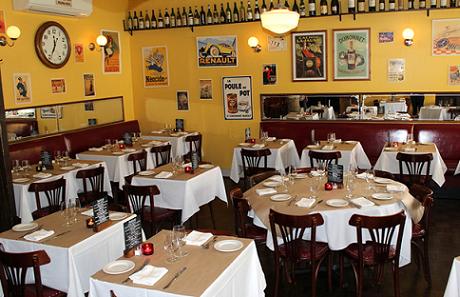 Many restaurants share the word bistro in their title, which generally evokes a small dining spot serving moderately priced simple meals in an unpretentious setting. In Westchester we see Asian, American and Latin bistros, but it is the classic welcoming Encore Bistro Francais, in Larchmont, that has me returning to savor many encores of the casual homestyle cooking of France.
The owner and host David Masliah grew up in Lyon. His uncle owned a restaurant and the young Masliah was fascinated with this culinary atmosphere. He went on to attend culinary school in France and arrived in the United States in 1994, where he honed his skills at the venerable La Panetiere for four years. He then opened a restaurant in Weston, Connecticut and in 2000 he opened his intimate and friendly Encore Bistro Francais in Larchmont. "In addition to the food, ambiance and atmosphere are important for success. At Encore, I stay true to my roots by offering the classics. Our menu has evolved through the years and we try to accommodate all of our guests. The best part of my work is that it never gets boring. If I were hosting a small dinner party at Encore, as I have done in the past, my guests might include many of my friends in the culinary field as well as my wine suppliers. I believe that our longevity in the restaurant business depends upon consistency. We have used the same suppliers for our top quality ingredients forever, and our chef Erwin Perez has been with us since we opened. He is always eager to learn, and watching him work in the kitchen is observing a chef who is truly passionate about his craft."
A tin ceiling, vintage French posters red banquettes, yellow walls, dark woods and mirrors set the scene. The front windows are frosted for privacy. The acoustic ceiling tones down the noise level during busy evenings. French newsprint lines the bread basket on the butcher paper topped tables. The main dining room is cozy and seats about 75. The recently added dining room seats an additional 30 guests and can serve as a private party venue. Weather permitting, you can dine outdoors on Chatsworth Avenue for a true Parisian experience.

A delightful bit of variety arrives when you dine mid week.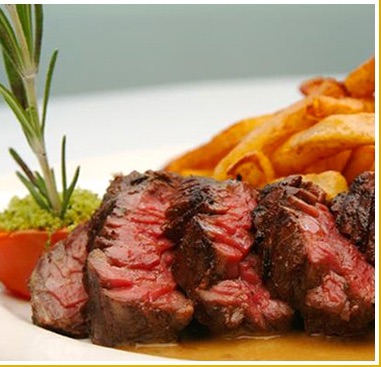 In addition to the menu, Monday night offers crepe night with interesting varieties such as crepe marocaine with chicken, artichokes and harissa or crepe provencale with seafood. Tuesday is mussel night with several preparations and Wednesday is melted cheese night with fondue, raclette and tartiflette. The lunch menu boasts classic quiche, and croque monsieur or madame. This family friendly spot even has a kids menu. There are daily entrée, appetizer and wine specials.

My sampling was a varied selection of classics. Steak frites, onion soup, cassoulet and trout are very popular at Encore. I decided to try dishes I had not tasted here before. I was brought back to childhood with an appetizer of oven roasted marrow bones. As a child, we enjoyed marrow bones in soup at home. At Encore, the bones were sliced horizontally to expose the olive oil, parsley and garlic scented marrow. The three bones were accompanied by an onion marmalade... very good indeed. On a lighter note, we continued with tartare de thon. Capers, shallots, anchovies, fresh herbs and a touch of sesame oil resulted in a flavorful light starter. Back to a classic, we savored a few succulent escargots presented on a cast iron snail dish. Parsley, garlic and butter did not overwhelm these morsels. New to the menu was a hearty dish of grilled octopus. It was carefully sliced and reassembled. Several varieties of beans combined in a ragout to share the plate. Roasted garlic sauce completed this plentiful plate. A classic from Lyon, quenelles Lyonnaise followed. These melt in your mouth codfish dumplings arrived set in a lobster bisque sauce in a gratin dish. A parmesan crisp topped it. These quenelles were a variation of the ones I have enjoyed in the past, prepared with pike. The richness and creaminess of this dish was elegant. Many salads, with Salade Pariesienne being very popular are other possible starters.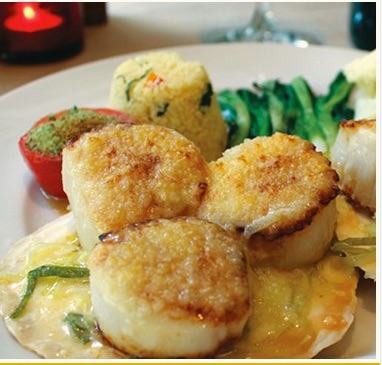 Entrees of meat and fish are varied here. From, the fish choices, we loved Encore's rendition of Saint Jacques au Beurre Blanc. The large sea scallops had a parmesan crust and rested on a leek fondue with a glorious lemon, white wine and butter sauce. Mashed potatoes, broccoli and stuffed mushroom cap completed the plate . Indulging in these rich French classics is a special treat. Bouillabaisse, sole en papillote are waiting to be tried. Among the meats, steak frites and grilled hanger steak have been my favorites with a variety of sauces and a mountain of crisp fries. On my most recent visit, I opted for sautéed sweetbreads. The whole grain mustard sauce complemented the crispy ris de veau. They were hearty and so tasty. Yet to be tried are rack of lamb, duck a l'orange and the famous cassoulet, a crock pot filled with sausage, smoked bacon, duck confit and white beans.

For dessert, I couldn't resist the lemon tart. Like everything else at Encore, it was a generous individual tart with raspberry coulis and topped with chocolate lettering announcing its tart citron filling. It was refreshing and very lemony and offset our rich entrees. Of course crepes suzettes with freshly grated orange zest was also a perfect end to our meal. Poached pear belle Helene and crème brulee are on our list for future meals at Encore.

Enjoy a first time at Encore Bistro Francais and follow up with many encore visits.

Encore Bistro Francais
22 Chatsworth Avenue
Larchmont, NY
(914) 833-1661

Recipe: Tartare de Thon (Serves 4)
16 ounces sushi grade tuna (in ¼ inch cubes}
1 tsp. chopped capers
3 dried anchovies mashed
1 shallot, minced
Juice of 1 lemon
4 tsps. sesame oil
Salt and pepper, to taste
Fresh herbs, to taste

In a non-reactive bowl, mix the tuna with the capers, anchovies and shallots. Just before serving toss in the remaining ingredients.
Contributor Judie Dweck has been writing about restaurants and food for many publications. She teaches creative cooking to children at Scarsdale elementary schools. Through the years, her articles have appeared in Jack and Jill Magazine, Spotlight, The Pleasure of Cooking and The Scarsdale Inquirer. She balances her restaurant tastings with daily ballet classes.