Authentic Italian Food Awaits You at Emilio's
Tuesday, 02 May 2017 13:51
Last Updated: Tuesday, 02 May 2017 14:18
Published: Tuesday, 02 May 2017 13:51
Hits: 5817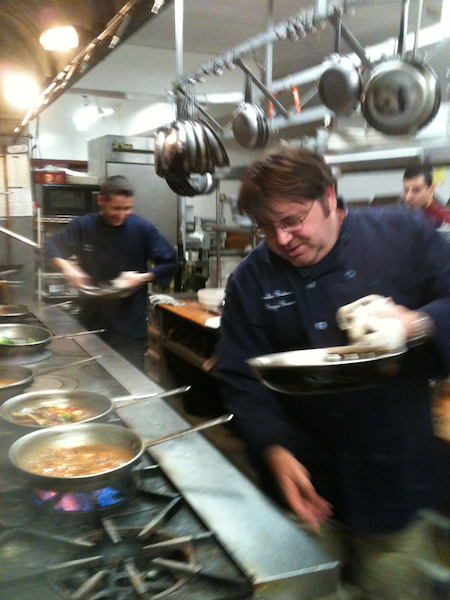 A large white colonial home with pillars, a front porch, and green shutters, with a large parking lot across the street, and you have arrived at the charming Emilio Ristorante. When I first started writing about restaurants many years ago, Emilio was one of the first places I visited. Its charm, welcoming atmosphere, and carefully prepared Italian food inspired me to continue my path of doing restaurant interviews.

It is always exciting to write about trendy new Westchester dining spots, but this week I chose to write about Emilio, which has been pleasing its guests since 1979. As I entered Emilio Ristorante I remembered many happy and delicious meals enjoyed through the years, from graduation celebrations to Valentine gatherings. I couldn't wait to sample both the old and new dishes on the menu.

After owning several restaurants in the city, Chef Emilio Brasesco and his wife Lidia opened Emilio Ristorante in a century old home in Harrison. Several decades later, it is still the go-to place for many diners who enjoy well-prepared and authentic Italian dishes. Emilio and Lidia are gone, but their high standards and principles of running a fine restaurant are now in the hands of their capable and charismatic son Sergio, who gleans new ideas by visiting Italy every summer and checking out the New York City restaurant scene. As he reflects on his visits, he keeps Emilio fresh and current. "I don't believe in change just for the sake of change. My parents are my mentors. They taught me that quality ingredients, care in preparation, consistency, and respect for the seasons will lead to success. You have to love what you do and be totally committed to it. We are a restaurant that makes you feel like you are at home. My goal is to keep doing this until I can't anymore. I am always here." This enthusiasm and energy permeates Emilio Ristorante, where Sergio takes great pleasure in using the finest ingredients to put his special touch on regional classics. Sergio is in the process of refurbishing many of the details at the restaurant, such as new flatware and new chairs. The antique elements give the dining rooms character. In addition to the main dining room, there are several smaller rooms suitable for parties of varying sizes.

"The success of our restaurant depends largely on the people who work here. Many are long time employees. There are so many Italian restaurants and I believe ours is special because we have developed relationships through the years. You can dine here often and always have different dishes because in addition to the menu that changes twice a year, we offer many daily specials."
The first thing that catches your eye as you enter the main dining room is the antipasto table. Baskets filled with rosy tomatoes, multicolored peppers, and fresh flowers are most inviting and indicate the freshness of the ingredients that you can anticipate in your dining experience.

Upon being seated at the white linen clad table, country bread, a platter of fresh ricotta, olives, a chickpea dip, and a ceramic cruet of olive oil kept us happy as we checked out the menu. A fine way to start your meal, as we did is with a selection of small plates .These Italian tapas or cichetti, the Venetian name for small plates, were inspired by Sergio's frequent visits to Italy. Our dishes selected by Sergio were excellent. Zucchini Ripieni arrived with the fresh squash stuffed with lump claw crabmeat. It was lightly breaded and baked for a superb result. Layered eggplant dishes are common on many menus. Here the eggplant slices are layered with bufala mozzarella, smoked prosciutto and red peppers and drizzled with a balsamic glaze- very good indeed. Polpetti di merluzzo were fritters of New England codfish roasted with shallots, olive oil and herbs. A touch of Romanesco sauce added a pleasant taste to these crisp croquettes. Antipasti selections can be ordered by themselves or in multiples. Next a special of the day appeared. Zucchini flowers have become popular recently and those prepared at Emilio were amazing. A myriad of zucchini preparations shared the plate. There were rounds and matchsticks of fried zucchini, but the highlight was the lightly battered zucchini flowers they rested on a bed of radicchio. I'm not sure what made them so delicious but I think it was the addition of a bit of club soda to the batter that gave them a light crisp texture. The dish appealed to all the senses. For those who wish to start with a salad there are many choices. Insalata di burrata with pearl tomatoes, basil, olive oil and parma prosciutto or insalata del Veneto with chopped radicchio, poached pear, candied walnuts, cranberries and gorgonzola with an apple balsamic vinaigrette, to name but a few options.

It was with great anticipation of long ago meals at Emilio that I decided on selections from the Nostra Pasta portion of the menu. You can sense the presence of Lidia Brasesco, Sergio's mom, as you savor the homemade pasta, made from a family recipe. As I lifted my fork to the panzerotti salsa di noci, I discovered that same goodness in these small puffs of Swiss chard and fresh ricotta encased in homemade pasta in a rich walnut cream sauce that I remembered from many meals through the years.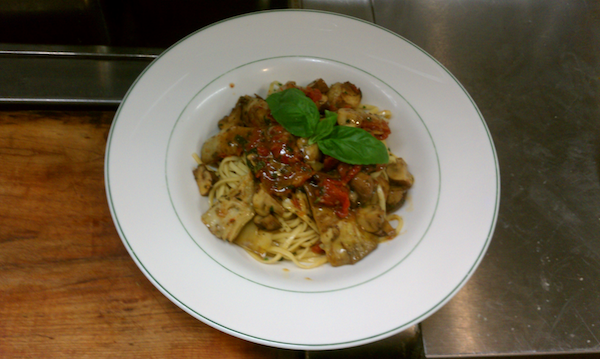 It is no surprise that this is a signature dish at Emilio and it is still excellent. Of course I needed to sample other pasta offerings and Sergio was kind enough to prepare small portions of ravioli del Macelaio or the butcher's ravioli filled with sausage, veal, and ricotta, with a tangy, spicy, marinara sauce as well as homemade angel hair pasta with Bolognese sauce.

Entrees of fish, poultry and meat are top quality, as well. We loved the Faroe Island Salmon stuffed with crabmeat and a classic lamb with fava beans and artichokes. Future visits may include pollo scarpariello or branzino al forno.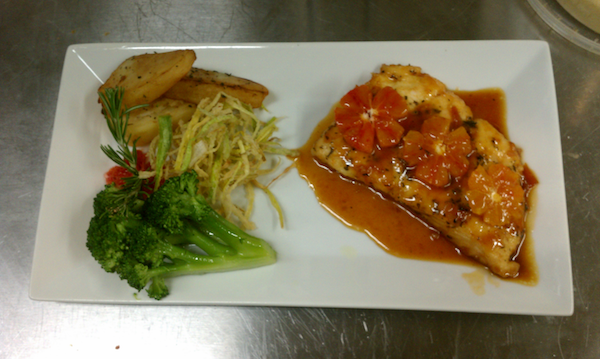 Desserts change weekly and include classic marscarpone cheesecake, poached pear, apple crisp, or inventive versions of ring dings and s'mores. We found blackberry cabernet sorbet and hazelnut chocolate gelato most refreshing.

Lunch or dinner at Emilio Ristorante continues to be a wonderful experience offering the true taste of Italian regional cuisine in a warm and friendly setting as Sergio Brasesco carries on his family tradition.

Emilio Ristorante
1 Colonial Place
Harrison
914 835 3100

Pesce Cagliari
Fresh Fish Sardinian Style
This recipe will work well with most fish aside from salmon due to its distinctive flavor.
8 ounces halibut filet (for each portion)
2 cups pine nuts
2 cups golden raisins or uvetta (available in Italian specialty stores)
¼ cup flat leaf parsley
¼ cup fish stock
Olive oil to coat pan
¼ cup white wine
Kosher salt, to taste (I do not use sea salt, I do not like its texture)
Finely chopped fresh thyme and oregano
Chopped parsley to garnish
Heat your sauté pan to hot, not smoking. Rub chopped herbs into the fish giving it a nice cover. Add salt to taste to the fish. Place fish in pan giving it a slightly brown color. Deglaze with white wine. Add pine nuts and then the raisins or uvetta and finally the fish stock. The raisins will give off their sugar and add thickness to the sauce and add a slightly sweet flavor. I prefer to cook my fish through, but if you like it on the rare side crack it open slightly and look for a "glistening". Garnish with chopped parsley and serve.
Contributor Judie Dweck has been writing about restaurants and food for many publications. She teaches creative cooking to children at Scarsdale elementary schools. Through the years, her articles have appeared in Jack and Jill Magazine, Spotlight, The Pleasure of Cooking and The Scarsdale Inquirer. She balances her restaurant tastings with daily ballet classes.