Inca Gaucho: A Culinary Journey Through Peru and Argentina
Monday, 12 June 2017 15:23
Last Updated: Sunday, 18 June 2017 22:11
Published: Monday, 12 June 2017 15:23
Hits: 7109
Peru and Argentina were very exciting vacation spots for me in the 1970s. Most recently, I had the pleasure of revisiting South America via White Plains at the new Inca Gaucho Restaurant, where many traditional culinary treasures were brought to life again. Inca Gaucho Restaurant is owned by partners Luis Zarate and Edgar Lopez. If the restaurant name is familiar, they were involved in the longtime Inca Gaucho Restaurant in Portchester. Their White Plains venue seats about 70 guests. Zarate indicated that the best part of his culinary involvement is interacting with guests and seeing happy people dining. "It gives me great pleasure to see people smile when they complete a meal with us. In the future we hope to expand so people become familiar with our cuisine."

The black leather menus have inserts of colorful woven fabric native of Peru. The restaurant's décor is colorful, with paintings and artifacts from Peru. Authentic Peruvian ponchos grace the walls, as well. In addition to the dining rooms, there is a bar and lounge area.

The menu embraces the immense diversity of the Peruvian repertoire from its Spanish influence to the indigenous style of the Inca culture, and dishes from the immigrant groups that make Peru their home.

Heading the kitchen is the lovely and talented Chef Angela Vildoso. She attended culinary school in Peru, taught there, and worked in many restaurants. She has been in New York for a year and a half. "My goal is for Peruvian dishes to be known all over our country. My happiness comes when people compliment my dishes. I make everything with love, and our guests fall in love with the food."

Luis Zarate and his cousin, Hugo Yanez, guided me through the menu. Appearing on the table was a bowl of roasted large corn kernels and a green sauce, prepared with milk, cilantro, and pepper, not for the faint of heart. It was a wake-up-your-appetite starter. The appetizer selections were numerous, both familiar and new to me. In a country where there are about 48 varieties of potato, we enjoyed a plate of sliced potatoes with a variety of sauces, classic huancaina, red pepper and basil varieties. The mild potato slices took on the spicy flavors of the sauces. Cold mashed potatoes may not sound appealing, but when they are the base of causa rellena they become a very special celebratory dish. The potatoes are infused with key lime juice and yellow pepper, layered with chunks of chicken and shaped into a mold. Garnished with greens, olives and hard boiled egg they are a delight to the eye as well as the taste. I was excited to sample a quartet of ceviches. Slivers of red onion, sliced red pepper mingled with the citrus marinated fish loved the olive sauce, the spicy yellow sauce and red pepper varieties. They were traditionally served with a slice of large kernel corn on the cob and sweet and yellow potatoes. New to me was an appetizer of choritos a la chalaca. Fresh large mussels were topped with a tangy tomato and onion salsa and returned to the shell. They were light and perfect on a warm day. Slurping them, as you would an oyster, they were a true delight.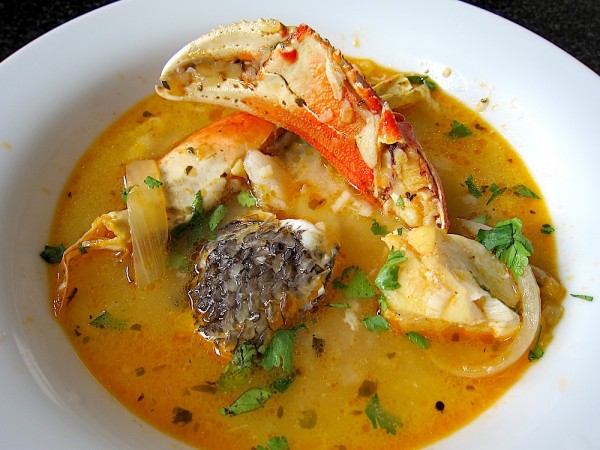 For my next appetizer, I was brought back to the street corners of Lima, where I remember feasting on anticuchos de Corazon. At Inca Gaucho I savored these grilled skewers with beef, chicken and shrimp, rather than with the traditional beef hearts. They were beautifully marinated and traditionally served with corn on the cob , potato segments and a very hot sauce. One could easily make a meal of several appetizers at Inca Gaucho. We have yet to try, empanadas, tiradito, a Peruvian style sashimi, and matambre, an Argentine beef stuffed pinwheel. If a bowl of soup is your desire, there are several to choose from. We just loved the parahuela, a seafood meal in a bowl. This seafood lovers dream included, fish, calamari, shrimp, crab legs, clams and mussels swimming in a rich herb infused seafood broth. Cumin, cilantro, ginger and lime juice added a superior flavor to this hearty large entrée sized bowl of soup. It was a Peruvian answer to bouillabaisse.

We moved onto entrees. We enjoyed a classic Peruvian sautéed dish which was offered in many varieties. Our lomo saltado consisted of tender slices of steak, tossed with sautéed tomatoes and onion. This was set atop, you guessed it, fried potatoes. A mound of rice shared the plate for an excellent entrée. Like every dish at Inca Gaucho, the portions are very generous. In honor of the restaurant's name, we clearly enjoyed many Peruvian dishes, some of which are influenced by other cultures such as pasta or tallarini from their Italian population and chaufa, fried rice, from there Asian population. In reverence to the cuisine of Argentina, there is a large selection of grilled dishes.Parrillada Gaucho, a combination of grilled foods and churrasco gaucho, sirloin steak are among the grilled offerings. With such an extensive menu, It amazes me that the kitchen can handle it so well.

We saved a bit of room for desserts, all of which are homemade. A glass of sweet classic chichi morada accompanied our alfajoes. These cookie wafer are filled with dulce de leche and dusted with powdered sugar. Just perfect to end our meal. We also sampled some of Chef Angela's homemade ice creams of lucuma, a native fruit, chiramoya and passion fruit. Nicely presented in parfait glasses and topped with whipped cream they were refreshing. I will return to try the picarones, mazamorra morada, a purple corn pudding and arroz con leche.

It will take many visits to sample the interesting dishes at Inca Gaucho Restaurant, where it is exciting to indulge in yet another cuisine, served in a warm and friendly atmosphere. Try it soon!

Inca Gaucho Restaurant
6 Quarropas Street
White Plains
(914) 607 7962

Recipe: Causa Rellena [Serves 4-6 Appetizers]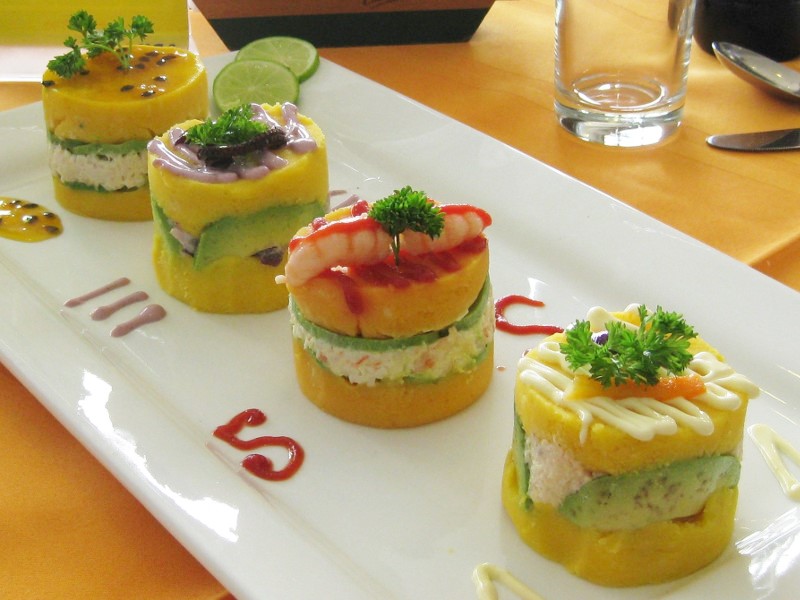 2 pounds Yukon Gold Potatoes
½ cup oil
¼ cup lime or lemon juice
2-3 Tbsps. aji Amarillo chili paste*
Salt and pepper to taste
2 cups diced chicken breast
2-3 hard boiled eggs sliced
6-8 pitted black olives
• Available at Latin markets
Put potatoes in a large pot of cold salted water. Bring to a boil. Cook until tender throughout. Rain and set aside to cool. When cool enough to handle, peel them. Put them through a ricer or mash until smooth. Stir in the oil, pepper paste, salt and pepper and lime or lemon juice. Line a casserole dish with plastic wrap and press it down evenly. Spread half of the potato mixture at the bottom of the dish and smooth it out. Spread the chicken over the potatoes evenly. Spread the remaining potatoes evenly over the filling. Press down gently. Cover it and chill it thoroughly. Remove from refrigerator and discard the plastic on top. Lay your serving platter, upside down over the casserole. With both hands flip the entire dish over so the causa is on the serving plate. Peel off the remaining plastic. Garnish with eggs and olives. Cut into portions and serve.