County Executive George Latimer Broaches Plans to Re-Open
Tuesday, 12 May 2020 09:48
Last Updated: Tuesday, 12 May 2020 09:52
Published: Tuesday, 12 May 2020 09:48
Joanne Wallenstein
Hits: 2037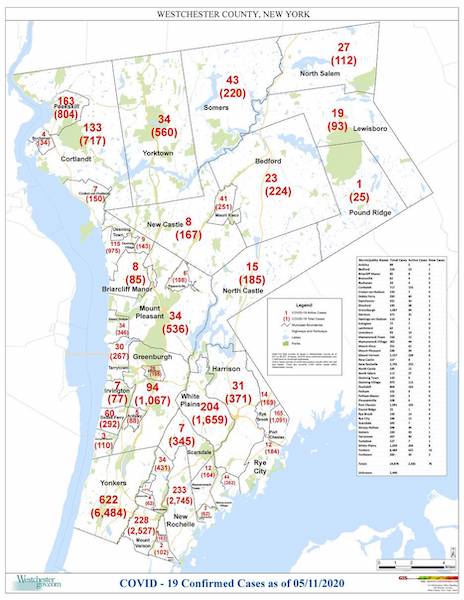 There are a total of 345 cases in Scarsdale with 7 active cases.With the number of active cases and hospitalizations dramatically lower than they were a month ago, County Executive George Latimer gave a brief outline of how Westchester County could meet thresholds to begin the process of re-opening in the coming weeks.-
In a press conference on Monday May 11, Latimer provided the following statistics on the state of the outbreak in the county:
-There are 31,384 total cases which is up 90 cases from yesterday.
-The number of active cases has dropped to 3,377, down dramatically from the peak of 11,000 cases from about a month ago
-Hospitalizations are below 500, down from the peak of 1,100
-There have been a total of 1,227 deaths, and nine people died on Sunday night. There is a continuous drop in daily fatalities.
-The county has tested over 112,000 people, which is 11% of the population. 72% of those tested are negative.
-The county has begun antibody testing of first responders and has test 2,000 people to date. -They are up to 450 tests per day. More antibody testing centers will open in Northern Westchester.
Latimer explained how Westchester County could comply with the Governor's opening plan to re-open in phases. Westchester is a part of the Mid-Hudson Valley region that includes Orange, Ulster, Dutchess, Putnam and Sullivan counties that are required to meet certain thresholds to begin the re-opening process. All the counties in the region must meet these requirements to be in compliance.
Here are the requirements to re-open:
-The region must show a 14-day decline in hospitalizations in a rolling 3-day average to avoid any spikes.
-New hospitalizations must be under 2 for every 100,000 residents – or 20 in Westchester County
-30% of all hospital beds must be available for patient occupancy
-The share of ICU beds should be 30%
-Testing thresholds are 30 people per 1,000 residents
-The county needs to hire 30 contact tracers per 1,000 residents and they are working on that now.
The opening plan is as follows:
Phase 1 includes construction, manufacturing, and select retail with curb-side pick-up.
Phase 2 is retail, real estate, and finance.
Phase 3 will allow restaurants and hotels to reopen.
Phase 4 includes entertainment venues and schools.
According to Latimer, the region needs to continue to meet the thresholds to remain open and move to the next phase.
Her reassured residents that "We are going to get there" saying "We need to get back to sanity and normalcy." He said, "We're close, but we're not there yet."