Village to Increase Space for Outdoor Dining -- Pool to Open in Mid-July
Tuesday, 09 June 2020 22:39
Last Updated: Wednesday, 17 June 2020 08:45
Published: Tuesday, 09 June 2020 22:39
Joanne Wallenstein
Hits: 2634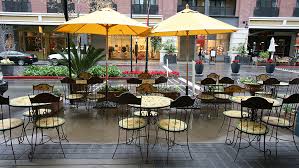 After months in quarantine, Scarsdale is coming back to life. Tuesday June 9 marked the Phase 2 re-opening of Village businesses, including hair salons and outdoor dining.
In order to make more space available to eat and do business outside, the Village held a public hearing and then passed a resolution for a temporary zoning change to allow street level businesses to use the sidewalks in front of their stores to sell food and serve it. Specifically the resolution revises code "allowing for owners and lessees in the Village Center or other owners or lessees of rental or food establishment properties in other areas of the Village, to store, display and or sell goods, wares and merchandise on or directly above Village-owned rights of way."
The Village is working with local business owners to do even more to improve commerce in Scarsdale. See below for an announcement from Deputy Mayor Jane Veron detailing plans for a tented food area in the Village to increase dining space downtown. They are also increasing parking options and extending the length of the Sidewalk Sale.
In other news, after a survey of Village residents about the pool, trustees have decided to open the open the pool for a shortened season from July 18 through September 13. See remarks from Trustee Rochelle Waldman below:
Comments from Jane Veron


Today marks Phase Two of the NY Forward Reopening plan. What that means for Scarsdale is that many of our long shuttered businesses will be opening their doors to welcome you back. The list includes in-store retail, offices, real estate, hair salons and barbershops. The Governor has also made permissible outdoor dining to add to takeout and delivery services.
In record time, our Scarsdale Reopening subcommittee comprised of representatives from the Scarsdale Business Alliance as well as many members of our Village staff came together. I can't overstate how quickly village staff rose to this challenge. They embraced our request to think out of the box and have been incredibly responsive with lightning speed turnaround. In just two weeks, we had multiple zoom meetings and site visits. Leading the charge is Assistant Village Manager Ingrid Richards, Village Engineer David Goessl, our new Village Planner Greg Cutler with help from DPW head Frank Diodati and Dan Pozin our counsel. Village Manager StevePappalardo and Mayor Samwick, thank you for your leadership.
We are excited to announce many upcoming changes that our community will see over the next few weeks throughout our retail hubs. Just a note: each Scarsdale retail hub (that is the Village Center, Garth Road, Scarsdale Avenue, Heathcote Five Corners, Colonial and the Golden Horseshoe) has different needs and ownership. We made sure to reach out to merchant representatives and property owners from every area to understand their desires and put together recommendations. Here are the first of many actions we hope to take:
1.If we expedite the vote on pending legislation after the public hearing tonight, and the vote carries, merchants will be able to make use of their sidewalks to showcase their wares and afford social distancing. This legislation covers Village owned sidewalks.
2. We plan to set up a tented food area in the Village Center for both table service and self serve. The SBA has rallied the membership and will be sponsoring the effort with financial contributions from landlords led by Scarsdale Improvement. The Village will then close Spencer Place from Harwood to East Parkway allowing Parkway Diner and Yeomiji to expand capacity to serve their patrons and also to provide space for takeout from Martines, Bango Bowls, Popojito, Haagen Dazs and others. We're working with Sapori to expand their outdoor footprint with a closer adjacency. And are also hoping to add seating to Boniface Circle. Traffic will be routed around Harwood Circle and out through Chase Road. Discussions with Garth Road eateries are still ongoing.
3. We are hoping to provide outdoor liquor service and are working out the details.
4. We are issuing free Freightway permits for the merchant community so that spaces in the Village Center can be used by consumers.
5. We will be exploring making available Christie Place parking typically used for commuters given the excess capacity. We are also hoping to extend the parking time to 3 hours as this change has been a strong desire of our community.
6. This year we are hoping to have the Village Center sidewalk sale run for 7 days from July 27-August 2.<x-apple-data-detectors://17> There is a tremendous amount of inventory that merchants want to offer to their patrons. We have envisioned a sidewalk sale that is pedestrian friendly, with the closure of the heart of the Village Center. We want to afford ample space for social distancing. We are hoping to coordinate with other retail hubs. More to follow.
7. We are exploring opportunities for gyms and yoga studies to provide sessions outside at our parks or parking lots. Our next step is to coordinate with the recreation department and legal counsel.
Scarsdale residents, we are doing everything we can to bring back our businesses and bring back our community. Please be patient with us. There are no playbooks for us. We are making decisions real time and are relying on our community to be of generous mind and spirit as we will likely stumble along the way. We also ask our residents to respect the Governor's orders and to ensure safety and comfort for your neighbors. Wear your masks, keep a distance and wash your hands. Our end goal is provide vital retail hubs while adhering to the new requirements..
I know I will have more to report each time we meet. A special thanks to Trustee Arest who has been my partner in the reopening efforts as well as to Marcy Berman-Goldstein, co-president of the SBA, who has been working her magic to turn ideas into reality.
The Scarsdale Pool: Comments from Rochelle Waldman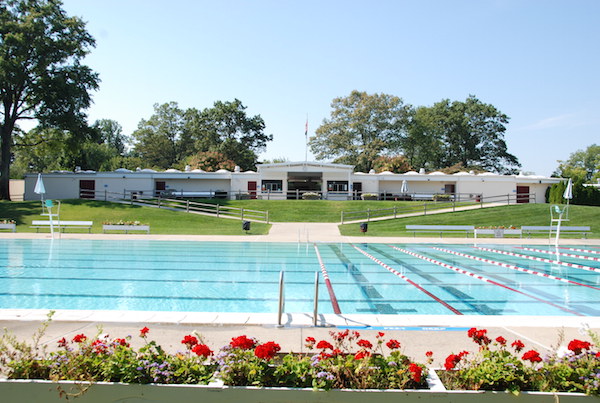 Earlier this evening the Village Board met in in a work session to discuss the opening of the Scarsdale Pool and the results of the survey that went out to the community.
I would like to thank Brian Gray and the PRC for distributing the survey, analyzing the data and your thoughtful presentation to us tonight.
The Village and the Board of Trustees has maintained a desire to open the Pool complex while we await guidance from NYS. The County is opening its pools and has provided its operating guidelines for us to use as a benchmark.
The Recreation department recently sent a survey to the community and we thank the 2,284 residents who responded.
Our intent was to gage interest from the community to make a fiscally responsible decision.
Based on the responses and comments, 78% of respondents said they would be willing to buy a permit for the limited season and the majority are willing to accept limitations placed on capacity and programming as directed by NYS.
We are sensitive to residents needs and appreciate all the comments we received (over 800) and are happy to work with the community to provide this valuable community resource during these difficult times.
While we are still waiting for NYS guidance we intend to open the pool from July 18-Sept 13, an 8 week season at a discounted rate.
Public Comments:
Not everyone was pleased with the resolution to permit street level businesses to utilize the sidewalks to sell and serve. Robert Berg of Tisdale Road challenged the Village's effort to relax sidewalk restrictions to help street facing merchants under constitutional grounds because it did not include other commercial tenants that may be on higher floors. He mentioned that doctors and lawyers might want to meet with people under tents or at sidewalk tables. He also said that the Village did not give proper notice for a meeting they held on Friday June 5 to discuss the resolution, though he did attend the meeting.

Mayra Kirkendall-Rodriguez commented on the resolution to allow business on sidewalks at the public hearing. She thanked everyone for their focus on small businesses and said, "I worked with the Downtown Revitalization Committee with Ms. Susan Douglas and her husband and my husband…. I remind you that in that survey, people do want services, so I urge you to be mindful of how to provide assistance to any of the marriage counselors, therapists, everybody else… so I do remind you to think of business as a broader theme, not only providers of restaurants and clothes."