93rd Annual July 4th Celebration in Arthur Manor
Wednesday, 07 July 2021 07:18
Last Updated: Wednesday, 07 July 2021 14:50
Published: Wednesday, 07 July 2021 07:18
Matthew Martin
Hits: 1052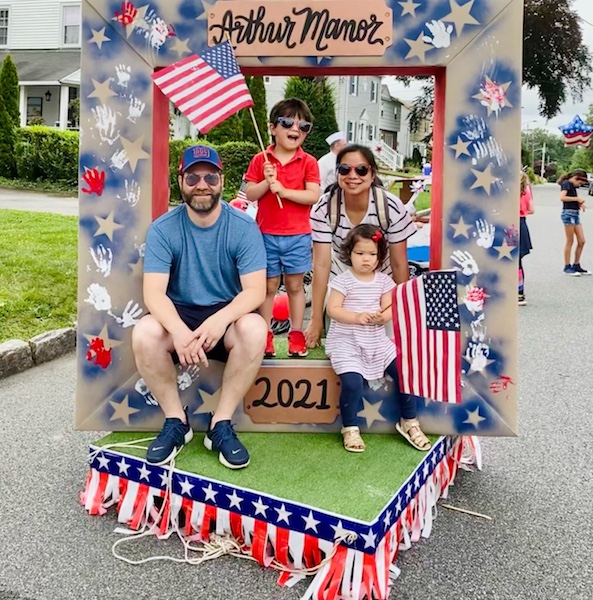 Third Place Winners: Jack (4) and Sloane (2) Callaghan. Stephanie Tsang and Christian CallaghanOn a slightly overcast Sunday morning, July 4th, the Arthur Manor Neighborhood Association held its 93rd Annual 4th of July parade though the roads of Arthur Manor ending with its time-honored patriotic ceremony in Davis Park.
The marchers began gathering at the corner of Bell and Sprague Roads at 9:15 am on Sunday morning. Before the parade kicked off at 9:45, the judges ranked the individual and group marchers in categories such as most patriotic scooters, tricycles, and strollers and floats.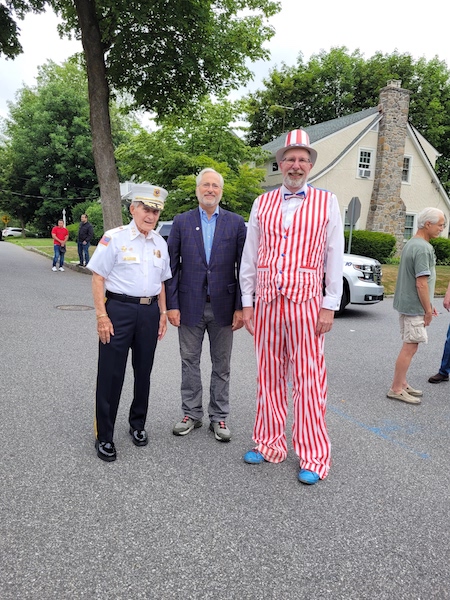 Matt Callaghan, Jon Lewis, Teegan Lee
At 9:45 am sharp, special Scarsdale Police and Fire Department escorts with their sirens blaring accompanied Scarsdale Volunteer Fire Company Number 1 and all of the marchers through Arthur Manor to Davis Park. The parade ended at Davis Park where the traditional 4th of July ceremony was held before the flag pole at the North end of the park.
The ceremony began with the raising of the flag by the Scarsdale Volunteer Fire Company No. 1's color guard and accompanied by the National Anthem, sung perfectly by Arthur Manor resident Richard Gast, which was followed by the recitation of the Pledge of Allegiance. The crowd then observed a moment of silence to remember all of the men and women of the U.S. military who sacrificed so much for liberty and democracy in the United States and abroad.
Scarsdale Village Trustees Randy Whitestone and Jonathan Lewis then separately addressed the crowd in Davis Park on the significance of July 4th and the relevance of this special day for all residents. Village Trustee Karen Brew and Former Village Trustee and member of Scarsdale Volunteer Fire Department Number 1, Matt Callaghan, were also in attendance together with Arthur Manor's own Uncle Sam - played magnificently, as always, by Teegan Lee!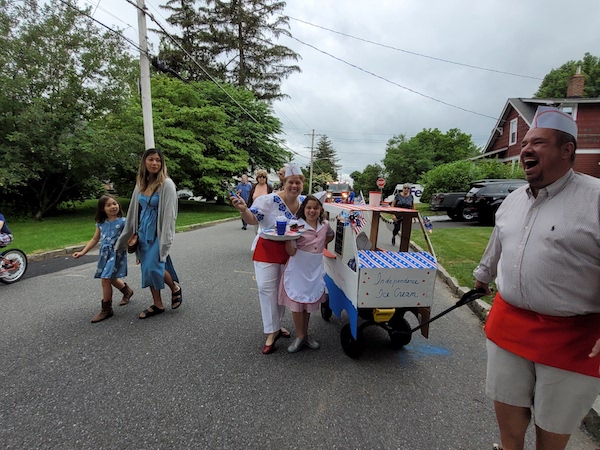 Jeanne Bongiorno, with the winning float Independence ice cream and children Grace and Christopher Horne and husband Chris.Former Arthur Manor President Al Stuart then conducted the awards ceremony for the day's marchers and other parade participants in the various categories such as floats, bicycles, tricycles, etc.. (A complete list of the winners follows below) – with trophies and ribbons awarded to the winners! Because of the risk associated with COVID, the annual games were not held this year – but will return in 2022. Plenty of time to practice the egg toss with your friends!
Local Scarsdale volunteers Mason Marsh and Darlene LeFrancois-Haber were also on hand in Davis Park to demonstrate to interested residents the benefits and ease of the Village's food scrap and composting system.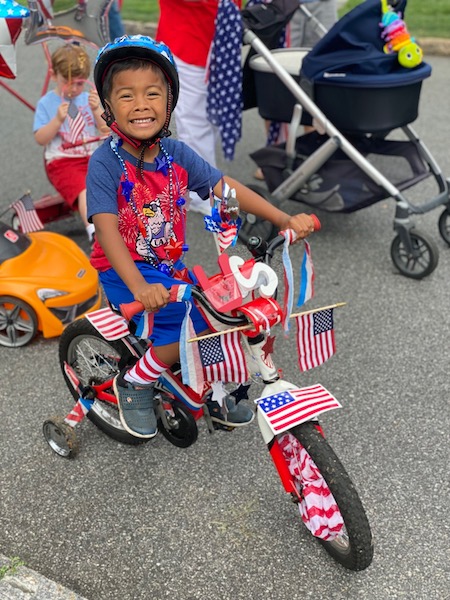 Bobby Kyle CarltonThis annual event in Arthur Manor is only made possible through the collective efforts of the Arthur Manor volunteer residents including the Marcus, Roche, Porco, Bonanno, Bongiorno, Stuart and Martin families, and all of the other Arthur Manor volunteers too numerous to list here.
Arthur Manor Parade Winners:
Patriotic Scooters: 1st place: Malula Schuerlein, 2nd: Michael Selvitella 3rd: Bella Marmann
Patriotic Bicycles: 1st place: Brooke Biondi, 2nd: Zoe Zheng, 3rd: Elliot Chang, Honorable Mention: Johan Schuerlein
Patriotic Tricycles: 1st place: Ryan Rybicki, 2nd: Cole Capossela
Patriotic Carriages & Strollers: 1st place: Oliver Wilcott, 2nd: Michael Rybicki
Patriotic Floats: 1st place: "Independence Ice Cream", Grace and Christopher Horne, 2nd: "Team USA", James and Molly Martin and Caitlin and Collin Maddaloni, 3rd: "Arthur Manor USA", Jack and Sloane Callaghan, Honorable Mention: Johnny Biondi, "Patriotic Wagon"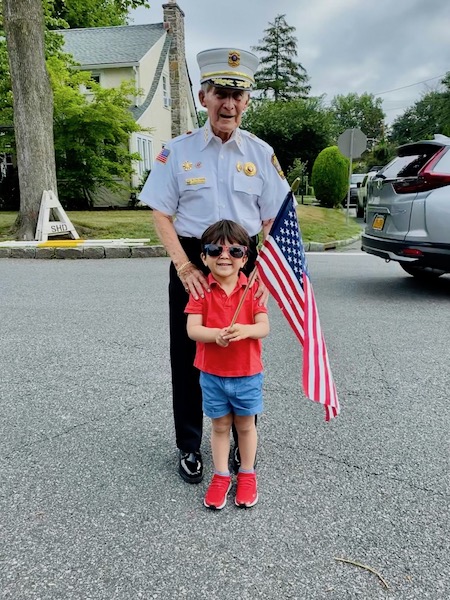 Matthew and Jack Callaghan