FEMA Relief To Be Available for Uninsured Storm Losses
Tuesday, 07 September 2021 10:48
Last Updated: Tuesday, 07 September 2021 11:21
Published: Tuesday, 07 September 2021 10:48
Joanne Wallenstein
Hits: 1405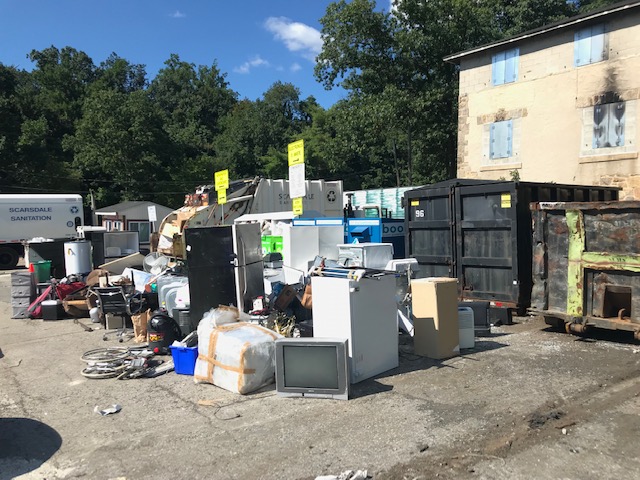 Recycling center Saturday afternoon post-Ida. As one resident observed as he recounted his losses — it's just stuff. However, there was a lot of it. Photo by Jon MarkAs residents clean up flooded basements and towed deluged cars, County Executive George Latimer announced that FEMA relief would be available to both individuals and municipalities who suffered uninsured losses from Hurricane Ida. On Monday September 6, Latimer announced that Governor Kathy Hochul had expedited the Major Disaster Declaration for New York and FEMA will provide economic relief for Westchester.
At a press conference Latimer said he had personally toured areas devastated by flooding in Yonkers, Mamaroneck, Rye, downtown Chappaqua, Mt. Kisco and Port Chester. He said businesses and individuals had disastrous economic losses and the flooding had caused dangerous health conditions from water and mold. He reported 200 cars lost to flooding in the Village of Mamaroneck, abandoned cars along the Hutchinson River Parkway and flooded businesses and restaurants in Port Chester.
Sadly, five Westchester residents died as a result of Hurricane Ida.
In order to assist residents with disposal of wet debris, the County opened their transfer stations for additional hours and ramped up garbage pick up. He also said that there has been an increase in demand at the county's food pantries.
In order to get assistance for uninsured losses, Latimer encouraged residents to take pictures and make lists of lost items and their cost. He said that a mobile disaster recovery center will be made available and residents will also be able to apply online for reimbursement for losses. Find resources and links on the Scarsdale Village website here: Relief application forms and information will also be available at https://www.westchestergov.com.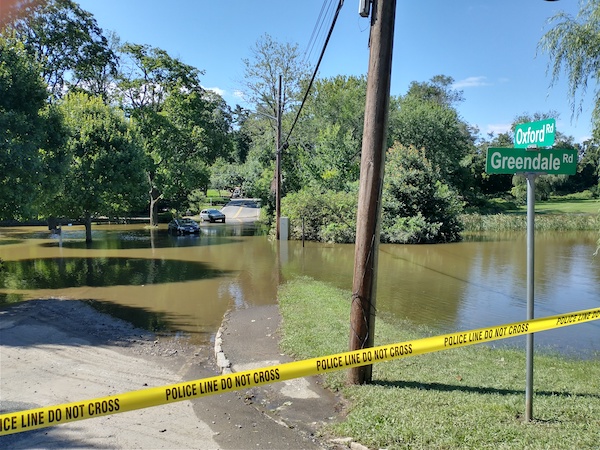 Flooding at George Field the day after Ida. Photo by David Krembs