Three SHS Female Athletes Sign Letters of Intent to Play College Sports
Tuesday, 16 November 2021 16:39
Last Updated: Thursday, 18 November 2021 19:25
Published: Tuesday, 16 November 2021 16:39
Joanne Wallenstein
Hits: 1229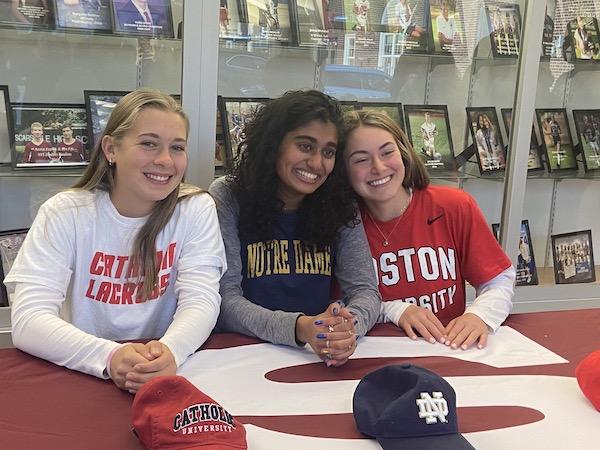 Three Scarsdale High School senior female were celebrated at "Signing Day" on Monday November 15, when they signed letters of intent to play college sports. The event was held at the Scarsdale Athletic Department.
Pictured above are Olivia Franco, Sedna Gandhi and Haley Matusz.
Olivia Franco began lacrosse in second grade! She joined a travel lacrosse team in 7th grade. Olivia began the rigorous recruiting process in high school . But, due to COVID restrictions the recruiting process became very hard because there were no tournaments to play. Therefore, she had to adjust and attended many lacrosse showcases and used film to send to coaches to get recruited. She is going to her top choice for lacrosse at Catholic University of America, ranked 6th in the country for D3 lacrosse .
Sedna Gandhi has been fencing for seven years, has won multiple national and international medals, trained with the Olympic epee fencing team, and won gold at the national championship and Junior Olympics this past summer. Additionally, she will be traveling to Estonia later this week and Spain next month representing Team USA . Sedna signed her NLI for Notre Dame to attend in the fall of 2022.
Haley Matusz has played lacrosse for nine years and on several travel teams throughout her career completing her travel season with Sound Lacrosse. Haley is so grateful for all the bonds and memories made through her recruiting and lacrosse journey. Haley signed her NLI to play D1 lacrosse for Boston University next Fall. She's so excited to join warm and welcoming community at BU!! So blessed!