Swim Across America Long Island Sound Celebrates 30 Years
Sunday, 24 July 2022 19:41
Last Updated: Sunday, 24 July 2022 20:43
Published: Sunday, 24 July 2022 19:41
Joanne Wallenstein
Hits: 1760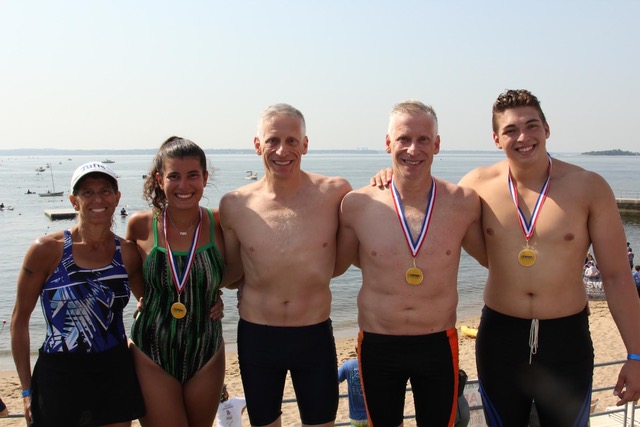 Swim Across America as a national organization was founded 35 years ago in 1987, but one of its earliest annual swims was the Swim Across America Long Island Sound open water swim, based in Larchmont which began in 1992. This year, Swim Across America Long Island Sound is celebrating its 30th anniversary in the New York City area. The core group that started and continues to lead the swim – Frank Webers, Tony Sibio, Jean Fufidio and Josh and Jeremy Glantz – have all had loved ones directly impacted by cancer and are committed to making a difference in the fight against cancer by "making waves."
Swim Across America Long Island Sound is dedicated to the memory of Kathy Webers, who courageously battled brain cancer for over a year. Frank Webers and his wife Kathy had three daughters – April, May and June. The family was heartbroken by the loss of Kathy to cancer at only 42 years old. Her passing led to the start of the Swim Across America Long Island Sound being established with 17 inaugural swimmers swimming in her honor. Sadly, while cancer skipped a generation, June's daughter Jane was diagnosed with leukemia at just six years old. Jane raised money for Swim Across America Long Island Sound by selling lemonade, and in 2019, her Mom June swam in her honor. The family was comforted in knowing that many of the funds raised through Swim Across America Long Island Sound were going directly to Memorial Sloan Kettering, where Jane was treated. Thankfully, Jane, now nine, is a thriving fourth grader free of cancer.
Jeremy and Josh Glantz coached the swim team at Larchmont Yacht Club for four years and the Webers family were always so incredibly kind and supportive of them. Josh and Jeremy were heartbroken when Kathy passed away and wanted to do something in her honor so they decided to bring together a few friends to swim in Long Island Sound in Kathy's memory. It was 1992 and they thought it would be a one-time thing, but Frank Webers had other ideas. As they gathered at the Yacht Club after finishing that first swim, Frank gave them a big hug and said, "Next year we are going to do it again but BIGGER!"
Tony Sibio, chairman of Swim Across America Long Island Sound, has been involved in the organization since its inception in 1992. His son Daniel was diagnosed in 1991 with stage 4 rhabdomyosarcoma, a cancer of soft tissue, connective tissue or bone. His tumor was inoperable and spread to both lungs. Daniel, who was only eight-and-a-half years old at the time, was treated at New York-Presbyterian Morgan Stanley Children's Hospital, which today is one of the beneficiaries Swim Across America Long Island Sound supports. Thanks to an experimental protocol, Daniel has been in remission for 31 years and is happily married with two beautiful daughters.
Jean Fufidio got involved with Swim Across America after her daughters, Andrea, Michele and Maria pushed their mom, a non swimmer, to take swimming lessons so she could participate in Swim Across America Long Island Sound after their father, George was diagnosed with lung cancer in 2001, the same cancer that had taken Jean's father. Deeply affected by their father's illness, Jean and George's daughters, Maria, Michele and Andrea, were determined to make a difference for those with cancer and became involved in Swim Across America Long Island Sound, swimming to raise money for cancer research. Swim Across America Long Island Sound became a family affair with Jean, George, Andrea, Michele and Maria continuing to participate and support something so dear to them. Today Jean is an active Swim Across America Long Island Sound board member, and she continues to swim each year at the New York Athletic Club in Pelham to raise funds. George thankfully survived his cancer diagnosis and is a volunteer in the organization. Jean and George's daughter Andrea, influenced by her direct experiences with loved ones with cancer, is now a registered nurse, helping patients who are undergoing oncologic emergencies at Memorial Sloan Kettering in West Harrison, the same institution that cared for her grandfather and father and one of the beneficiaries of Swim Across America. Andrea's personal family experiences with the devastating effects of cancer have transformed her into a front-line cancer-fighting crusader.

This year, for Swim Across America Long Island Sound's 30th anniversary, the event is celebrating 30 years of making waves to fight cancer and is Swim Across America's largest open water event, having raised $21 million throughout the past 30 years for cancer research and clinical trials. In fact, the Swim Across America Long Island Sound was instrumental in funding some of the most exciting cancer news this year with the news about a clinical trial at Memorial Sloan Kettering which was published in The New England Journal of Medicine and showed a 100 percent success rate in treating patients in a phase 2 clinical trial for advanced rectal cancer with dostarlimab, an immunotherapy treatment produced by GlaxoSmithKline. The clinical trial at Memorial Sloan Kettering was funded by early-stage grant funding from Swim Across America Long Island Sound.
In fact, Swim Across America funding has contributed to four FDA approved life-saving immunotherapy treatments: Yervoy, Opdivo, Tecentriq and Keytruda, and nationwide supports research with more than 60 scientific grants funded each year. There are ten dedicated Swim Across America Labs at major institutions including: Children's Healthcare of Atlanta, John Hopkins Medicine Baltimore, Rush University Medical Center Chicago, Baylor Scott & White Charles A. Sammons Cancer Center at Dallas, Memorial Sloan Kettering Cancer Center New York, Nantucket Cottage Hospital, Palliative and Supportive Care of Nantucket, Adolescent and Young Adult (AYA) Lounge at the Moffitt Cancer Center in Tampa, UCSF Benioff Children's Hospital Oakland and San Francisco and the Seattle Cancer Care Alliance.
Swim Across America is a national nonprofit organization that holds 24 open water swims across the country, from Boston to under the Golden Gate Bridge. The organization has an interesting history as it started with a sunken boat in Long Island Sound at its first-ever open water swim and has turned its passion for swimming and fighting cancer into $100 million that supports crucial cancer research throughout the country.
In honor of Swim Across America's 35th anniversary, the organization is showcasing "35 Stories of Impact" throughout its decades with a special website at swimacrossamerica.org/35. These five founders of Swim Across America Long Island Sound are some of the 35 Stories of Impact profiled.
To learn more about Swim Across America Long Island Sound Open Water Swim or to register to swim, volunteer or donate for the July 30th open water swim, visit swimacrossamerica.org/longislandsound.