Softball Team Says That New Field Does Not Meet Regulations
Thursday, 08 June 2023 09:04
Last Updated: Thursday, 08 June 2023 11:32
Published: Thursday, 08 June 2023 09:04
Joanne Wallenstein
Hits: 937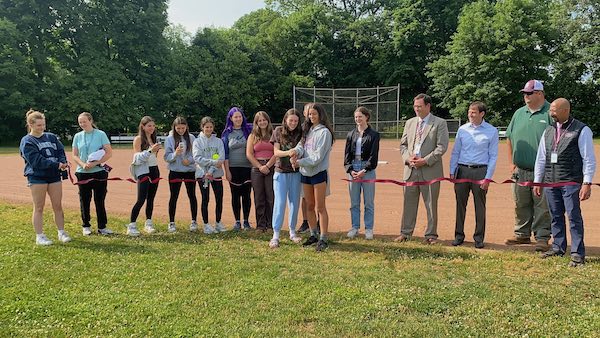 Though the Scarsdale School district touted the opening of a new softball field at Greenacres as a benefit for the SHS girls softball team, it turns out that the new field does not meet specifications and lacks essential features of a regulation field.
On Monday June 5, the district invited the softball team and others to a ribbon cutting ceremony for a new softball field at Greenacres Elementary School. The field is in the rear corner of Greenacres Field and had been closed for the entire spring while it was ostensibly being redone. The girls softball team currently plays at a Village owned field at Supply Field and had been asking for a field that was equal to the baseball field that the boys play on at Dean Field.
Unlike other facilities projects, there had been little discussion about this at school board meetings this year, and most were not aware that any work was in process.
According to parents, the new field does not have the correct dirt to grass ratio so that the outfield is in dirt rather than grass. It also lacks benches, a dugout or a scoreboard. It does little to meet the goal of an alternate facility for the girls and does not achieve equity with the boys facilities.
Sammy Fenigstein, the captain of the Girls Softball Team attended the ribbon cutting at the invitation of the district and had this to say: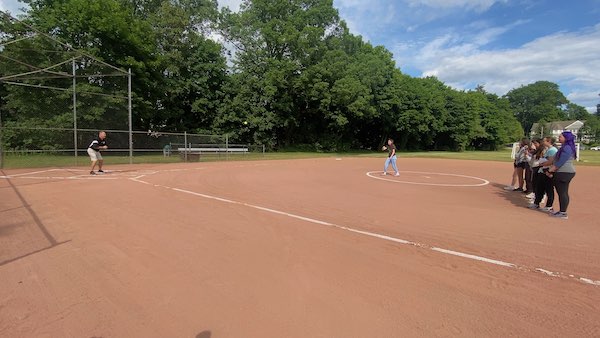 "The Scarsdale softball team was never part of the process of choosing Greenacres as a new field for the team or as a practice field. We found out about its opening just a few days before. We were overjoyed to hear that Scarsdale athletics was taking a step in the direction of equality between men and women in sports, but we then saw that we are being given a field that is not playable.
For the past 20 years, we have been playing on a field at Supply with no dugouts, no scoreboard, and field conditions that are not up to par with Dean field, the boys baseball team's field. Dean field has dugouts, a score board, batting cages, is right on the SHS campus, and so much more. We all thought that we were finally going to get a field that is somewhat close to what baseball has.
Then we went to the ribbon cutting the other day and saw that Greenacres field was still a baseball field (the dimensions were too large to be a high school girls softball field) and its condition was not even comparable to Dean field. We were then asked to do a ribbon cutting at that field. It really just felt like we were being used for a photo-op.
What upset the team the most was when the athletic department announced that we were "smiling ear to ear" when receiving our unusable field. In reality, we were appalled at the injustice now so clearly on display between men and women in Scarsdale athletics. If the school could fix the field issues at Supply, and give us a scoreboard and dugouts there, we would be content. We have been asking for equality between the baseball team and the softball team for many years. Instead we were given an unusable field and it was announced that we were all so happy about it.
As much as the team appreciates the effort put into attempting to make Greenacres a permanent field for us, there is more to be done to obtain equality between men and women in Scarsdale athletics."
Asked for a comment, Superintendent Drew Patrick said, "Skinning the field was a first step in the effort to provide more access for girls softball at all levels. We have work to do on the field to bring it up to a higher level of competition, and we are excited to work together to make these improvements in the months to come."
A field study that includes Village and school owned fields will be done next year to determine what is needed. Officials indicated that this field is only an interim step until that study can be completed and that more could come for the girls down the line.