Legislators Provide Update on Educational Policy and the Scarsdale Schools
Tuesday, 05 February 2019 14:48
Last Updated: Tuesday, 05 February 2019 15:00
Published: Tuesday, 05 February 2019 14:48
Joanne Wallenstein
Hits: 3387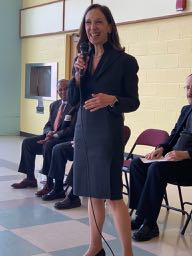 State Assemblywoman Amy PaulinIt was back to school for Scarsdale's representatives on February 1 when the PTC Council hosted a very informative Legislative Breakfast and invited federal, state and local representatives to update locals on how government policy is impacting the Scarsdale Schools. PTC Legislative Advocacy Chairs Elissa Ruback and Lauren Hertzog-Fields assembled an impressive panel to discuss educational funding, teacher evaluations, state testing, the deductibility of local taxes and more.
The panel included Congressman Eliot Engel, State Senator Andrew Stewart-Cousins, State Senator Shelley Mayer, State Assemblywoman Amy Paulin, Regent Judith Johnson, County Legislator Ben Boykin and Scarsdale Mayor Dan Hochvert. Each panelist was introduced by Scarsdale Superintendent Thomas Hagerman and gave a topline speech about what they are doing in the educational arena.
Engel said he had begun his career as a teacher and that "the bottom line in the federal government is money and the federal tax package is horrific for New York State. We give more money back to the federal government than we get… Under the new SALT law, local tax deductibility is limited to $10,000 and we have less federal money coming in."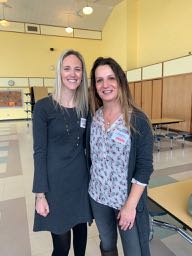 Lauren Hertzog-Fields and Elissa RubackAndrea Stewart Cousins, the newly elected Senate Majority Leader is also a former teacher. She explained, "Up until this moment my party was in the minority for a very long time. After 2016 people woke up and realized the power of their votes…. I am the first woman leader in the history of the state –which is shocking for a progressive state like NY. I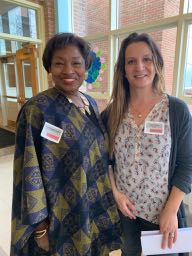 Andrea Stewart-Cousins And Elissa Rubacktook office on the 9th of January and we hit the ground running and we are not going to stop. We passed new legislation on election form, and now have early voting and will allow 16 and 17 year olds to preregister to vote. We have banned conversion therapy, passed the dream act and banned bump stocks."
State Senator Shelley Mayer Chairs the Education Committee and was excited to report the "Decoupling of state test scores from teacher performance, (APPR)." She said the "APPR tied teacher evaluations to the growth rate on student tests – it was a mistake." The vote to change this, "passed unanimously and will allow districts the power to evaluate their teachers." She said, "We are no longer teaching to the test." She called Governor Cuomo's proposal for school funding for next year too low, and said it was a "non-starter." Mayer said, it is a "Most exciting moment in Albany – people are motivated that they can make a difference."
Assemblywoman Amy Paulin, a longtime Scarsdale resident said, "I am proud to represent you." She said the new tax laws that limit the deduction of state and local taxes to $10,000 "impacts our real estate and our school budgets." She discussed plans to sue the IRS because the rules were improperly adopted and said that the Scarsdale Village Board is contemplating joining the suit. She said for many, "their house is their worth," and "this will hurt them and their families."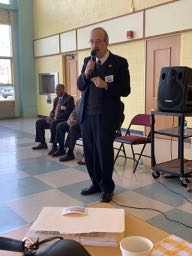 Congressman Eliot EngelDiscussing state funding, she said that Scarsdale gets very little, "5% or about $3.5 million." She said she is fighting the Governor's proposal to reduce state aid for school building projects from 19% to 5%.
Regent Judith Johnson, is a former school superintendent from Peekskill and the first African American woman to serve as a NYS Regent. About Scarsdale she said, "You are the model of what all schools should look like…. We shouldn't take dollars from you to help schools in need." Providing some information on the work of the regents she discussed funding for the arts, saying, "Every child in NYS should have the opportunity to learn music or pick up a paint brush." She also said, "We are changing the graduation standards and what it means to have a high school diploma. We are rethinking the five regents exam to earn a high school diploma…. We are working with the Yale Center for Emotional Intelligence to bring joy back to the classroom."
County Legislator Ben Boykin once served on the White Plains School Board. He said he is now the "spokesperson for all 17 legislators and also your legislator." After an inquiry from Scarsdale Mayor Dan Hochvert he said, "we are going to work on the bike path (along the Bronx River Parkway.)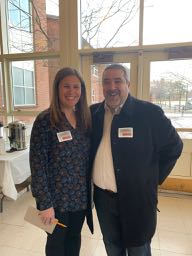 Leah Dembitzer with Scarsdale BOE President Scott Silberfein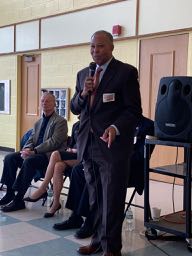 County Legislator Ben BoykinWith just a few minutes remaining, Scarsdale Mayor Dan Hochvert said, "We moved here because we heard the education system is great. The proof is that after college none of my kids came home to live – they all had jobs." He continued, "Cooperation among the people who lead you is now more important than ever. We know everyone is working to improve security – in schools and downtown. We are working together to serve people who live in Scarsdale better."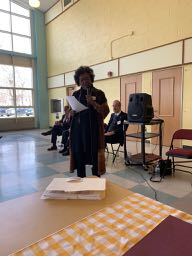 NYS Regent Judith Johnson