Street Food from the World Over at Little Drunken Chef in White Plains
Monday, 18 November 2019 12:41
Last Updated: Monday, 18 November 2019 14:23
Published: Monday, 18 November 2019 12:41
Judie Dweck
Hits: 3319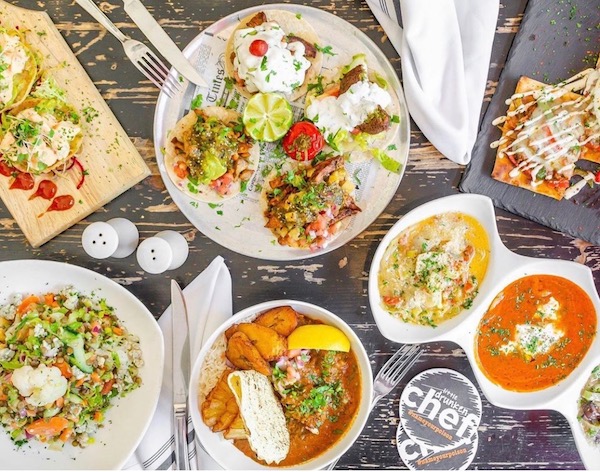 A bright boldly striped awning announces the opening of Little Drunken Chef on Mamaroneck Avenue in White Plains. Here I was , midweek, just a few minutes north of Scarsdale , and upon opening the door of Little Drunken Chef, I was transported to what could have been lower Manhattan, perhaps Greenwich Village, preparing to enjoy a meal at one of their funky restaurants. The décor in this new White Plains eatery is amazing and as interesting as its menu. A painting of a woman enjoying a cocktail greets you at the door. The exposed brick walls are covered with collages of newspaper articles, photos, quotes and bumper stickers. One wall is mounted with a collection of old wooden doors, covered in peeling paint and graffiti. Hanging from the industrial ceiling is lighting constructed from plastic piping. The main level has a large friendly bar on one side, and several high tables. The other side of the room has a long banquette and many tables. The long staircase in the back, with the black risers covered with graffiti, leads to the upstairs dining area, perfect for parties of about 45 guests. On Fridays and Saturdays a DJ and dancing add to the festivities. The design of Little Drunken Chef shows off the artistic talent of owner Bonnie Saran and her creative co-worker Anna Canna.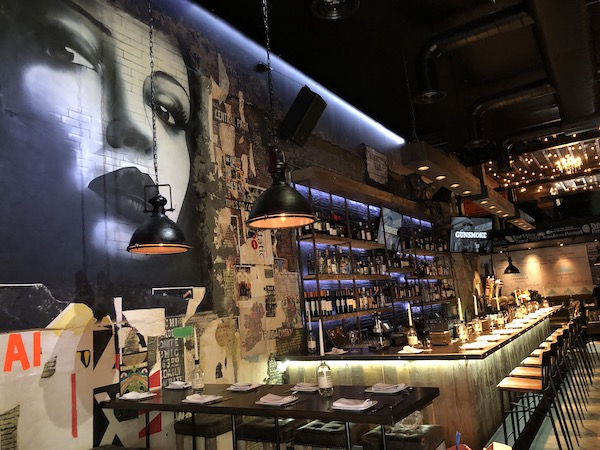 Bonnie Saran the multi-talented owner, is the creative force that brings her concept to White Plains. Some of Saran's other ventures include Little Mumbai Market in Pleasantville and Little Crepe Street and Little Kabab Station in Mt Kisco. Saran's family roots are from India, where her military family moved around a great deal. She is well travelled and added to her culinary knowledge through her visits around the world. She learned a great deal helping her mother in her catering business.

Little Drunken Chef is casual and fun and serves street food from many of the countries that Saran visited. People she met in her travels shared recipes with her. There are tastes of Mexico, Spain, The Bahamas, Greece and India, to name but a few. She also has an extensive catering business. "One of the best parts of my job is creating something out of nothing. I love and get great satisfaction from the planning aspect of my business. My work is very hands on and I can help with all facets at my restaurants. Everything at Little Drunken Chef is prepared in house, and is fresh daily. We do not freeze our dishes. If I were dining at Little Drunken Chef, I would have loved to have my father and grandmother share my table and enjoy dishes such as our goat curry."

The menu here has many categories with interesting selections within each. Choose from Chef's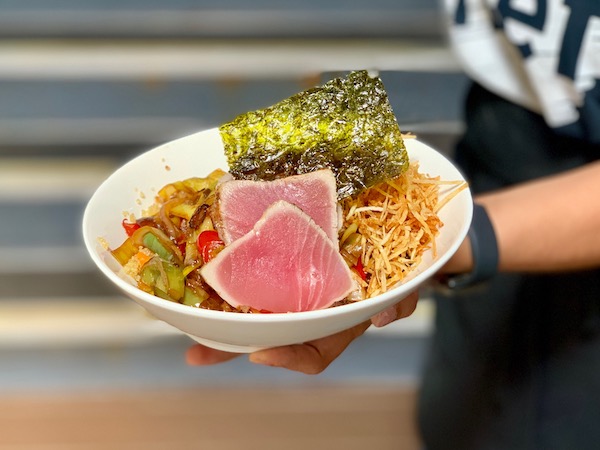 board, soup, tapas, tacos, burger barn, and fried wings, flat breads, big plates, bowls, bunny chow and a kids section, as well. If you are with a few friends, start with the chef's board with your cocktails. Several cheeses, assorted fruits and bread and charcuterie will arrive.
On a cool day, a bowl of soup makes a nice starter. There are several interesting salad combinations which can be topped with tofu, salmon, shrimp, falafel, or chicken and homemade dressings. The organic quinoa salad, beet'em salad and drunken chopped salad are some of the appealing choices.
Of the 20 plus tapas selections we loved the ones suggested to us. Chicken Montadito arrived on a slate tray. The shredded chicken was tossed with a nicely seasoned sauce and sat on a fried plantain. Jamon and Manchego croquettes were tennis sized balls of Serrano ham and Manchego cheese lightly crusted and fried Chipotle mayo gave them a tasty twist. From India a tapas of lasooni gobi was perfect. The florets of cauliflower were enhanced by a savory chili and garlic sauce. One of my favorites was the gambas al ajillo. Here the tiger prawn is served in a cocktail glass with spicy tomato sauce, a crisp crostini and a celery swizzle stick -- pleasing to the eye as well as the taste. Haloumi fries were a not to be missed tapas.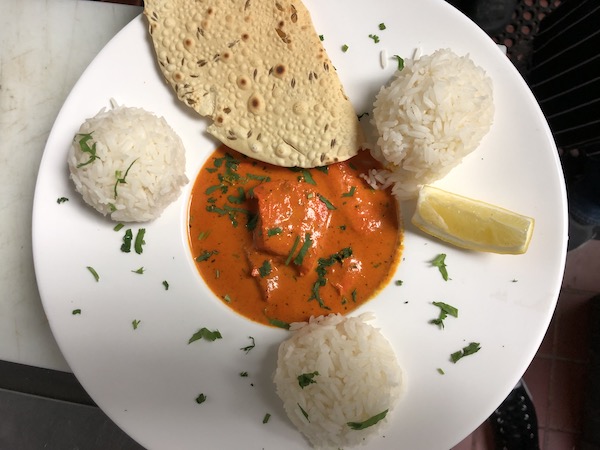 I look forward to sampling cocktail samosas, patatas bravas, roti kebab rolls, crispy calamari and giant wild mushroom ravioli. The presentation of these tapas are creative and original. An example is a dish of chicken empanadas, which arrive attached to a mini clothesline with clothespins .Lots of thought has gone into the creation of every aspect of Little Drunken Chef.

We moved on to the tacos which can be served on white corn tortillas or jicama. We opted for the halibut tacos. The fish was fried to a nice crispiness and was topped with pico di gallo, and tartar sauce as well as cole slaw. We look forward to sampling the lamb, roasted pork, chicken vindaloo and falafel tacos. Five varieties of flatbreads are awaiting your taste, The lamb was beautifully seasoned. Next to be sampled were the big plates. Would it be pan seared halibut, seafood paella, aji tuna or albondigas, (Spanish meatballs)? A platter of tender baby lamb chops was presented to our table. By this time I was feeling very much at home, and picked up each chop and enjoyed every bit of the nicely marinated lean meat. Carrots, cauliflower, squash, and spinach mixed with rice completed this hearty dish.

Future visits will include a selection of bowls, perhaps saag paneer, lamb madras or goat curry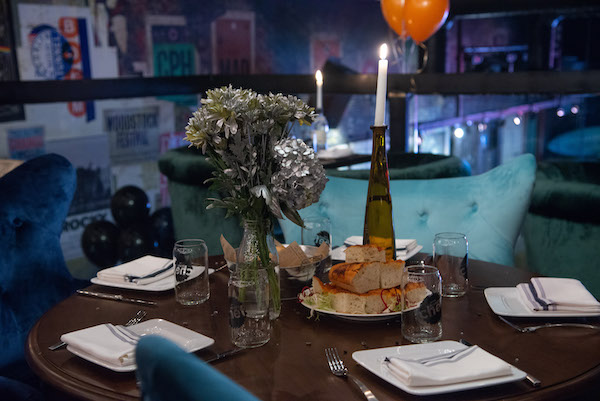 served with rice or quinoa, salad and pappadam. Several Indian specialties can also be ordered in a scooped out bread bowl. There are several vegan dishes and gluten free dishes offered. Just inquire.
Desserts include blueberry or mango panna cotta, churros, or, Knickerbocker Glory, a Sunday variation with whipped cream, ice cream and ginger snaps.

Yes, busy Mamaroneck Avenue in downtown White Plains has become busier with the addition of "the new kid on the block." Once you visit Little Drunken Chef, I'm sure you will return to experience the varied international influenced menu that it offers.

Little Drunken Chef
91 Mamaroneck Avenue
White Plains, New York
914 615-9300