Residents Wary of Freightway Development Plans
Tuesday, 17 December 2019 09:50
Last Updated: Tuesday, 07 April 2020 07:58
Published: Tuesday, 17 December 2019 09:50
Laura Halligan
Hits: 5287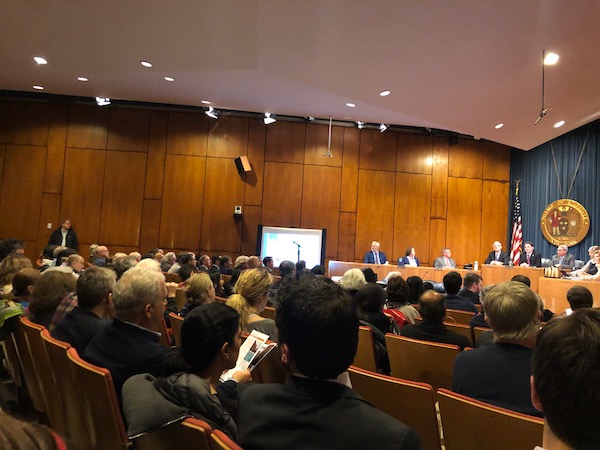 As you've likely heard, at the December 11 meeting about Freightway, the majority of residents present expressed opposition to converting the site into a transit-oriented development (TOD). In particular, they cited concerns about the proposed 200-plus rental/condo units that would serve as a cornerstone of such a design plan. How would the influx of hundreds of new residents impact the school district, the Metro North train station, and daily life in Scarsdale?
Over 30 members of the public lined up to voice their reservations and concerns about preliminary Freightway plans presented by the two finalist development groups. Taken together, the comments provided the village board with much food for thought as they continue to explore whether a TOD is the best choice the village. Here's what some residents had to say:
Two Hours of Comments
Bob Berg (Tisdale Road) opened the public comment session, stating, "Freightway is an undeniable eyesore but the two proposals we've seen… are nonstarters… We're not… looking for another 500-plus new residents to move into non-age-restricted apartments." He continued, "If you can't guarantee that the project will substantially lower our existing residents' property taxes, stop now and let's figure out another plan. I have grave concerns that 220 to 285 apartment units… can ever generate sufficient property taxes to even come close to covering the incremental cost the project will impose on our schools and village services, let alone lower our existing residents' property taxes… Under New York property tax law, apartments receive incredibly favorable tax treatment as compared to single-family homes… This project will substantially raise existing homeowners' property taxes to subsidize 500-plus new residents who will clog our schools and our already jammed Metro North train platform."
Max Grudin (Overhill Road) followed, saying, "restricting construction of multifamily units would entrench what has become known as "economic segregation." That would keep Scarsdale a very homogeneous community that does not relate to the broader American society. At the same time, it is fair to ask that everyone pays their fair share of taxes. In 2016, the village board rejected the Homestead Act. It is not fair to discriminate against one family; it's also unfair to discriminate against 99 percent of families... We've created two different classes of homeowners (single family homeowners and apartment dwellers)… It is important to reconsider the Homestead Act.
Mayor Marc Samwick replied, "Homestead is not able to be acted on right now. Right now… the taxes that are assessed in Scarsdale are consistent with New York State law. New York State provides that you can override a piece of that, known as "homestead." The village board, over the past five years, has twice evaluated whether to enact the homestead tax option… and on both occasions has unanimously voted against that. Next time it comes up, we'll be happy to talk about it some more."
Boning Lu (Jefferson Road) expressed concern about how new rental units would impact Scarsdale schools, and the assumption that only larger, specifically three-bedroom, apartments would house families with school-aged children. "(In New York City) people who live in two-bedroom, even one-bedroom (apartments) can raise school-aged kids… if you don't have restrictions… you cannot prevent (these children) from (going) the schools. I don't think 200 units will only generate 20 kids (as previously projected)." She went on, "We have to learn from other school districts… In Larchmont, they had a large residential unit constructed recently, and their school is overcrowded because they have too many kids… They had to build temporary classrooms… we spend so much, we don't want our kids in temporary classrooms."
Samwick responded, "We all are here for the schools as well... If we believe, at any time, that this development would yield something that is detrimental to our schools and changes the foundation of our community, we don't need to proceed." He added, "What I also want people to understand is these are things that absolutely will be and, by law, have to be studied and assessed."
Bert Cohen (Chesterfield Road) followed, "I'm hearing about paid professionals and consultants, and it really reminds me of the reval. Whatever the arguments were (about) the logic, clearly, in many ways, the village didn't understand the impact on the residents." He continued, "270 apartments might lead you to 500 new students. I don't care what study you have; it's not going to work out... This whole thing is out of proportion to the village and… a parking lot. If we need a different parking lot, let's come up with something else instead."
Bram Levin (Overhill Road) "I think there are so many intersecting issues, which is why we hear such a diversity of comments… One of the things we keep repeating… is that we don't have policy papers… published papers on our economic development… We should have an environmental plan… we don't have an economic plan… we don't have a future plan… We're really working in the dark here… These (proposals) are very limited ideas. They don't solve our traffic problems; they don't protect or show concern for the school issues. The (Bronx River) parkway zone, which is a sensitive environmental area, has really suffered a great loss of trees… there are a lot of people living in this area… We should be dealing with this in a comprehensive, multi-community way. "
Samwick replied, "There is a village comprehensive plan that goes back. There have been other studies that have been done of our village center since. We're standing on the shoulders of that. So, this is not coming out of left field by any stretch… Frankly, the discussion about redeveloping Freightway is decades old."
A bit later, Brice Kirkendall-Rodriguez (Fox Meadow Road) said, "There has been discussion about the expected demographics for 200-plus new rental units at Freightway but we need to also think about the future demographics for… empty nests that are increasingly under pressure… We can make our community friendlier to our longest-tenure residents by minimizing tax burdens and increasing amenities. Freightway offers help in this regard and more."
He continued, "While retail is suffering nationally, it is possible that our woes are amplified by a near monopoly in the village center… Perhaps Freightway offers an alternative to this monopoly and a way to fulfill consumer demand… non-residential, experiential retail opportunities abound, and the market already exists as evidenced by what Scarsdalians spend elsewhere… To see them realized means using the full scope of land available to us. Scarsdale already owns the air rights over Metro North's tracks. It adds about 40 percent to the acreage for the site and more cohesively integrates Garth Road with Scarsdale Avenue and the village center… If our air rights are not part of this project, that value will never be captured… the project scope for Freightway remains smaller and has largely concentrated on rental apartments and parking."
Samwick replied, "Amenities… we want to hear what your priorities and preferences are so we can try to incorporate that, as much as possible, into the development. Air rights: we've had preliminary discussions with everyone about how to best utilize them. Keep in mind the difficulties we had constructing the Popham Road Bridge, which is just 80 feet wide." He went on, "There's only so much value in that land right now; there are a couple of ways you can get that value. You can put it on the tax rolls, you can sell it and develop it – you can get something up front and tax dollars at the back end. If you increase the tax dollars at the back end, you're going to get less up front. We have certain needs up-front, primarily… parking. We also have a number of wants, in terms of amenities and things we can bring to the community. "
Deborah McCarthy (Bradley Road), "I don't think that the path… to address fiscal concerns is the path we should be on… I have a great number of concerns about what is being proposed and how it may detract from rather than enhance the village center. In addition… I have a question with respect to the parking… how much parking is going to be allocated for the residences? When they're talking about 720 spaces, is that for the commuters and residents?" Samwick quickly responded, "That's for the community. Residents would have separate parking."
McCarthy added, "One of the things… these two proposals fail to show is the ability to access the site and to depart the site in ways that would enhance traffic flow… The other thing is… the village should be asking for affidavits from these developers as to their litigation history. Have they been sued; have they settled those suits; what have the suits been about, so we have a better understanding of what their track record is. I can understand the desire of the village to want to develop that site… (but) there is vacant (retail) space in the village and working with the individuals who own that space is probably the most productive step the village can take in that regard."
Samwick answered, "That is something that is already happening; the village manager and I met with (an) owner… two days ago. With regard to other things… We are not supporting or sponsoring the development proposals... These are designed to engage a conversation… we're going through extra steps to involve the community, and involve the community at a much earlier stage than would normally be the case… By having early discussions, we're not having refined plans to dive into."
Marshall Kitain (Butler Road) "A vibrant downtown is a worthwhile goal. The proposed development here is too risky, is too big, and it offers no guarantee of creating the vibrant downtown we would like. Creating this much new housing supply does not serve current village residents... It will pressure the school system infrastructure, particularly if zoned for a single elementary school… Adding significant new housing supply at a low price point depresses existing property values, and the development itself is risky… The potential for unintended consequences here is very large… while transit-oriented developments may be great for some towns, that does not mean it's right for Scarsdale… Listen to your constituents here tonight."
Samwick replied, "We haven't addressed school zones; that's something the school district and board of education determines… I agree with you; just because transit-oriented developments have worked in other communities doesn't mean this is right for 10583. But we want to look at it and make an educated determination."
Kitain followed, "I wholly agree that it's worth exploring. What's being presented here are two, by and large, similar kind of developments. They're not real out-of-the-box thinking… Amenities like squash courts and a pool… a park, a playground… those are real creative ideas and should be presented… once you continue going down one path, it almost becomes a fait accompli."
Zangzhou Hu (Brite Avenue) then discussed the desirable Short Hills school district becoming overcrowded after a new apartment complex was built. She also expressed concerns about Scarsdale's timeline in selecting a preferred developer, as well as the quality of the project analysis to date. Samwick explained that the reason a preferred developer would be "selected prior to having all the information is so that (it will) have enough comfort to spend money to do site due diligence. They will determine what the environmental condition of the site is; they will see where the bedrock is, where the water table is, and what can be built there. That enables the developer with the village to refine the program… in the meantime, we are doing analysis; we are looking at the experience of comparable communities; we're looking at what the experience is with school generation…we're looking at what it is in Scarsdale… We've heard about what is happening in Short Hills… we have not yet been able to confirm that… but it's critically important (to take into account)."
Claudine Gessel (Kent Road) said, "This is just more kids, no matter how you look at it… and, of course, we don't know how many kids there are, we just know they're more. What we also know, from the Greenacres thing that just happened, is that we're pretty maxed out… in every room, with every teacher, in every seat. We are maxed out and people don't want to raise the tax bill… (for more square footage, and more teachers)… what kind of taxes is this generating?" Samwick followed, "Fiscal impact: if it doesn't work, it's not happening… with respect to schools, if we have to build more schools, it's not happening."
Alex Wolf (Harvest Drive) stated, "It seems to me that this project is offering us very marginal benefits in terms of the public amenities in return for huge profits for developers, who come in here, build, and, yes, Avalon will manage their asset. That's wonderful for us… This garage (will cost) $2.5 million to repair. That's less than one-tenth of a percent over a 10-year period during which those repairs are supposed to have a useful life… That's $500 a family over 10 years. So why are we getting nothing for this (development)? We have to accept this residential component to get marginal benefit to the community? …We could have a bond issue and make the improvements that the community wants."
Samwick followed up, "If we think we're getting nothing (with this project), we're done; we'll fix the garage. With respect to the future of the garage, the garage is almost 50 years old. This $2.5 million is just the beginning. There is a lot of money, probably tens of millions of dollars, that needs to be spent over a longer period of time, albeit, but, unquestionably, we are at the beginning of a downward spiral with respect to that garage… That's why it's so important to do the evaluations that we're doing right now."
Fernando Gueler (Taunton Road) stated that he and other residents would like to see a spectrum of options for the Freightway site. He explained the frustration of having to choose just between repairing the garage and a large scale, multi-use project. He also felt that the two finalists' designs were very similar, and presented residents with too few ideas/choices. Samwick explained that all developers were asked to provide designs that reflected existing village center architecture; the two designs presented include features that currently work in these types of developments and are market-driven
Kenneth Clay (Tompkins Road) commented, "It feels like a remedy for an illness I'm not sure we have. We have a parking lot that's in decay; it can be repaired. We may have an opportunity to do some other things… We ought to do a little more to define the needs… I would hope this isn't fully baked; this is illustrative, and that we will give further consideration with community input." Samwick then said, "The way you've said it is exactly right; it isn't fully baked."
Michael Levine (Walworth Avenue) then said, "What is the impact on the public school population and what's the sustainable or acceptable impact? …The visioning study… estimates at most 20 new public school students; that's not consistent with the RFEI from East End, which says it's targeting mature adults and seniors, and young families seeking starter homes in a walkable, suburban location with great schools. LCOR, similarly, (states)
'The intent is to provide a wide variety of residential unit sizes… from families to millennials to mature adults, we're committed to reaching as many groups as possible. Well, families and millennials, millennials become families. People who will have school kids… You really ought to look at this carefully now because it may avoid doing a whole lot of other work if you can't find a way to keep the school population down to the 20 or so you said in the visioning study." Samwick replied, "If there's one threshold issue, it's school impact. We are on top of it."
Soon after, Mayra Kirkendall Rodriguez (Fox Meadow Road) stated, "I think it's fantastic to have this kind of a session; I think it's really great to see so many residents wanting to be actively involved in our municipality and it's essential to have cognizant diversity. It can be hard, it can be ugly, because everybody has a different background, everybody has a different culture, (and) everybody has a different way of speaking. But it's when you really deal with the differences in opinion… that the result is far better. If we surround ourselves with just the people who agree with us, that results in a higher probability of failure… I want this to be a smashing success... The sun is setting on America's longest economic expansion in history… 25 huge retailers went into bankruptcy this year; 30 more are predicted to go into bankruptcy next year… I don't want to rain on anybody's parade… we have to be very careful in our due diligence – the financials of the bidders, the economics of the project, and hopefully, that's coming at some point soon… and any reputations risks to Scarsdale. "
Residents raised a number of other issues and urged that any development feature sustainable design; asked the village to improve communications efforts related to the project and engage more residents; questioned if the developers could drastically reduce the number of proposed residential units; reinforced the need for the village to serve current residents rather than future residents; and asked their neighbors to debate the issues respectfully.

If you were unable to attend the meeting, you may view the developers' presentations and provide feedback via Scarsdale.com.
Following the meeting, John Gliedman of Lyons Road sent this letter to Scarsdale10583:
Meetings like the one publicized by the mayor and held on December 11, 2019 are so important because they help focus and foster advance planning. I fear there was no such meeting in the town to our east, Mamaroneck, when it learned in 2014 that 300 new families had been added as residents due to various trends, including new construction.
The signs of overcrowding began the following year, but they erupted in 2017 with news that rezoning of school assignments was on the table. A map had been prepared showing the new assignments, as the Chatsworth and Murray Avenue schools had become overcrowded. This triggered petitions and public meetings in early 2018, when parents who had moved to be walking distance from their school suddenly faced long trips to their proposed assigned school.
There is nothing inevitable about Scarsdale to say that this could not happen here. Take the Freightway out of the equation for the moment. Demographic pendulums have a way of swinging back and forth. Overcrowding is an ever-present risk. Now, add Freightway apartment development plans into the equation. Why risk a self-inflicted problem of overcrowding into our community? Surely our local store profits and the cost of sustaining Freightway are problems that we can isolate and solve without triggering new, worse issues?