How Well Do You Know Your Art History? Local Art Advisor Launches Daily Quiz to Keep Art Alive During the Pandemic
Tuesday, 28 April 2020 15:24
Last Updated: Tuesday, 28 April 2020 15:30
Published: Tuesday, 28 April 2020 15:24
Joanne Wallenstein
Hits: 2455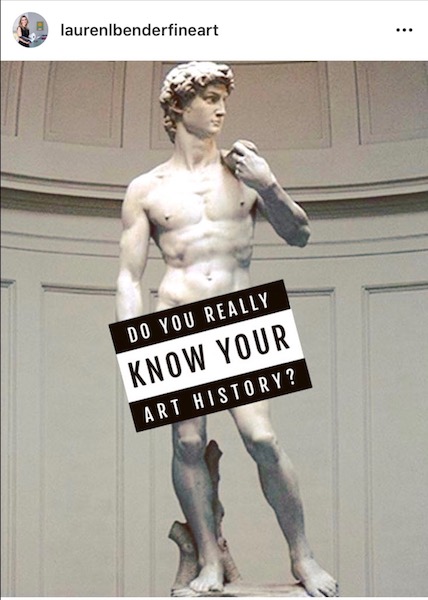 Which piece of public art was removed from New York City due to citizen outcry? Was it Keith Haring's 1986 Crack is Wack mural, Richard Serra's 1981 Tilted Arc, Damien Hirst's 2005 The Virgin Mother or Christo and Jean-Claude's The Gates (2005)? If you answered Serra's monumental sculpture, Titled Arc, you would have won -- or at least skidded in as a runner up -- on Lauren Bender's daily Instagram quiz, How Well Do you Know your Art History?
With galleries shuttered, spring auctions postponed and upcoming art fairs a pipe dream, art advisor Lauren Bender has taken to Instagram, but not to post a photo of a recent installation or current exhibition. To Lauren, quarantine called for something more: equal parts stimulation, distraction and, of course, some friendly competition.
On her Instagram page, Lauren put a virtual call out to all armchair historians, trivia buffs, friends, colleagues, followers and just about everyone else stuck at home, inviting them to participate in a daily art history challenge.
Every weeknight at 8 pm, she posts the day's challenge on her Instagram "story". Quizzes vary in genre and time period and range from the academic to the dishy. The first participant to correctly respond via direct message wins. Winners, and often the runners up, are announced the following day at 5 pm. Responses have been overwhelmingly enthusiastic, and Lauren has gotten a kick out of reconnecting with old friends and colleagues and even meeting several new clients.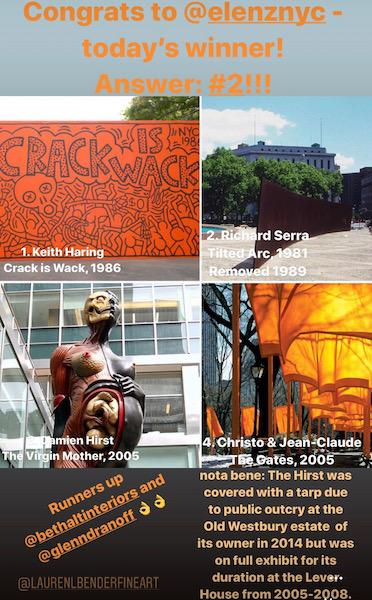 A resident of Scarsdale since 2011, Lauren is an art advisor, independent curator and owner of Lauren Levin Bender Fine Art Advisory LLC. She has been working in the New York art world for over two decades, guiding clients in the formation, acquisition, deaccession and management of modern and contemporary collections.
Asked about the impact the pandemic is having on the art world, Lauren said, "In a way, there is a candor and informality
going on right now that is making the art world more accessible and democratic."

To serve her clients from a distance, Lauren has been guiding both novice collectors and longtime art enthusiasts through online exhibitions and viewing rooms as well as joining live talks that she says wouldn't have been possible when she was running around the City. "Artists have been taking over their galleries' Instagram accounts on a weekly basis providing not only greater insight into their processes but also a window to their personalities, studios and homes," Lauren said.
"A screen will never replace experiencing a work of art in person, but this terrible moment in time has forced everyone to slow down," said Lauren. "I'm not saying it's all rosy – art professionals and artists alike are struggling and the pandemic will undoubtedly affect some of the art world's infrastructure like art fairs -- but it's important to remember the art world existed long before the commercial art fair," Bender points out.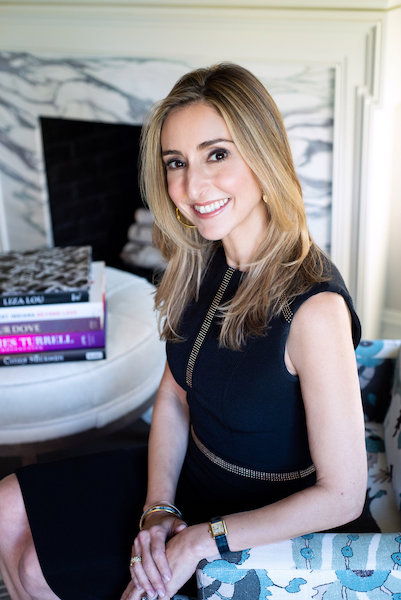 Lauren Bender"We're all waiting to see not just when, but also how, the art world will fully reopen its doors," said Lauren. "But for now, it's clear collectors are starting to resurface, whether to begin acquiring again or just eager for cultural experiences they've been missing."
Lauren points out we often forget that some of today's most celebrated artistic achievements stemmed from unprecedented historical moments. "Much of the world's most iconic works of art were created under duress or worse," said Bender. "Think of Picasso's Guernica or Dorothea Lange's Migrant Mother. What artists will make of this time has yet to be seen. It's something for us all to look forward to."
For now, Lauren remains at home in Scarsdale, cooking, cleaning, home schooling, and carrying on as an art advisor - sheltered in place. Play along with Lauren or just follow for fun on Instagram @laurenlbenderfineart.